Registration open for 2021 Iowa Farm Bureau Economic Summit Webinar Series, featuring leading experts with valuable insight into critical issues and decisions facing farmers in 2021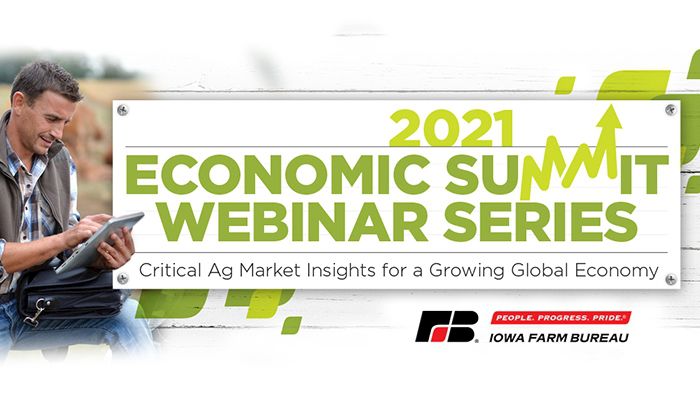 The Iowa Farm Bureau Federation (IFBF) opened registration today for the 2021 Iowa Farm Bureau Economic Summit Webinar Series and unveiled participation by nationally-renowned experts, such as USDA Chief Economist Dr. Rob Johansson and the incoming USDA Chief Economist Dr. Seth Meyer who will respectively be current in their roles at USDA when they speak during their scheduled sessions. These experts, along with several others, will share valuable insights into economic drivers impacting markets, including opportunities to lock in profits and manage risks, which is welcomed news as farmers navigate a volatile ag economy.
"We are excited to welcome a robust line-up of experts, including both the outgoing and incoming USDA Chief Economists to our program in 2021. Farmers will receive an Iowa, national, and international perspective during several sessions that will help them shape on-farm decisions impacting their bottom line," says Dr. Sam Funk, IFBF director of ag analytics and research.
The free six-part webinar series kicks off Thursday, Jan. 14, at 1:00 p.m. and will take place each Thursday through February 25, apart from Thursday, Feb. 18, due to UDSA's 2021 Agricultural Outlook Forum.
In addition to receiving the latest information and insights on factors impacting ag markets and farmers' bottom line, webinar participants will be able to submit questions to the panelists during the webinar through Zoom chat.
Registration is free for both members and non-members at www.iowafarmbureau.com/EconomicSummitWebinarSeries.
Iowa Farm Bureau Economic Summit Webinar Series Schedule:
"The Mix: Positive and Negative Signals in Agriculture's Financial Picture" -- January 14, 2021 1:00 p.m. CST
There are two sides to the balance of drivers impacting farmers in 2021 and moving forward.
Speaker: Dr. Rob Johansson, Chief Economist, USDA
"Challenging Brazil: The Push and Pull that is Brazilian Agriculture" -- January 21, 2021 1:00 p.m. CST
Brazil holds several advantages for production agriculture systems – and quite a few drawbacks at the same time.
Speaker: Cláudio Serafini, Brazilian Agricultural Guide
"Insights Iowa: Informing the financial picture for Iowa's primary crops and the decisions made" -- January 28, 2021 1:00 p.m. CST
Using the annual projection for the costs of production in corn and soybean crops, we will draw a financial picture from historical market conditions in Iowa and choices that are available to Iowa producers.
Speaker: Dr. Alejandro Plastina, Economist, Iowa State University
"Make the Best Better: Improving Iowa's Market Dynamics Through Transportation" -- February 4, 2021 1:00 p.m. CST
Investments toward improving the marketing capacity of U.S. crops with water transportation are front-and-center. Let us explore the economic drivers that have led to the U.S. strength of transportation logistics in export markets and the reasons for investments being required as we go forward.
Speaker: Mike Steenhoek, Executive Director, Soy Transportation Coalition
"Advantage Iowa: Where are we at in Iowa Crops and Livestock after a Pandemic Year and where are we looking moving forward?" February 11, 2021 1:00 p.m. CST
What changes have occurred in light of the COVID-19 pandemic? Let us explore the prospects for Iowa crops and livestock and highlight key items to watch moving forward.
Speakers: Dr. Chad Hart and Dr. Lee Schulz, Economists, Iowa State University
"Read the Signs: Federal Data and Factors for Keen Awareness" -- February 25, 2021 1:00 p.m. CST
Information flows are powerful, but none as much on the aggregate as WASDE – and we have the former Chair of USDA's World Outlook Board who produced that authoritative document.
Data shifts in the WASDE impact Iowa (and the world's) farmers. We will examine where we are and what drivers should we be examining closely from the one who helmed what is arguably one of the world's most important regular publications.
Speaker: Dr. Seth Meyer, Incoming Chief Economist, USDA
Want more news on this topic? Farm Bureau members may subscribe for a free email news service, featuring the farm and rural topics that interest them most!