Iowa Farm Bureau members showcase sustainability of agriculture at 2019 Iowa Farm Bureau Annual Meeting in Des Moines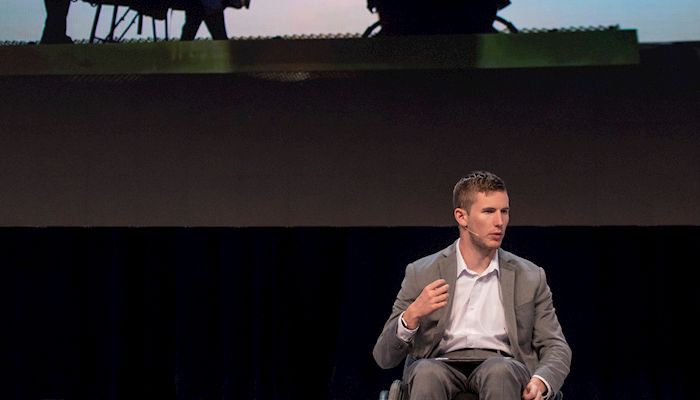 Keynote speaker Chris Norton inspires Iowa farmers on People, Progress and Pride that leads to perseverance through adversity
New ideas and motivational messages inspired Iowa farmers gathered in Des Moines for the 101 st Iowa Farm Bureau Annual Meeting at the Community Choice Credit Union Convention Center. The Iowa Farm Bureau Federation (IFBF) gathering focused on the 'People, Progress and Pride' of agriculture in 2019, because despite the many economic, weather and regulatory challenges facing farmers, agriculture remains the strongest sector driving the state's economy, accounting for one out of every five jobs in Iowa.
IFBF President Craig Hill says the 101-year-old grassroots organization remains strong because of the innovative programs and ideas that ensure the sustainability of farming today. Hill talked about how the IFBF mission of 'People, Progress and Pride' fortified our members in many ways in 2019 . "We know that true greatness of Iowa agriculture stems from our people. People who work hard every day to build their operations, care for their families and support their communities. That sense of caring for others showed through clearly earlier this year, as flooding overwhelmed farms and communities of southwest Iowa, as well as parts of Nebraska. Farm Bureau members, and their county Farm Bureaus, stepped up to provide meals to those working day and night to clean up flooded farms, homes and businesses. In times of need, members respond. And when it comes to 'progress,' we need look no further than the role of efficiency in agriculture. You know, in 1950 the U.S. dairy herd was 25 million cows. Today, it is 9 million cows, yet milk production is up 60%. And, the carbon footprint from milk has been reduced by two-thirds. This is an astounding and remarkable accomplishment! We should be proud of our people, our progress and the way our organization comes together and remains strong through grassroots advocacy. That's what got us through 100 years and will keep us strong for 100 more," says Hill.
IFBF farmers packed the room for break-out sessions on a variety of topics, including farm stress. The expert leading the discussion was Dr. Larry Tranel, dairy specialist and psychologist, Iowa State University Extension & Outreach. "When we take a look at stress, it is normal and can push us to grow. When it starts affecting us physically, our cognition of how we think about things, our ability to focus and hamper our decision-making capability, then we realize it has gone too far. Tranel also cautioned farmers from being intimidated by the prospects of getting help, because help comes in many forms. "Becoming intertwined in others' lives, we can often find new perspectives and mindsets. A lot of people are often helped better by a family member, friend or pastor or someone they feel comfortable with or that they trust than a trained counselor."
IFBF farmers also came to hear about statewide progress in nutrient reduction from the state's leading experts. Matt Lechtenberg with the Iowa Department of Agriculture and Land Stewardship (IDALS), Iowa State University Professor Dr. Matt Helmers, Shawn Richmond with the Iowa Nutrient Research and Education Council (INREC) and Adam Schnieders, water quality coordinator with the Iowa Department of Natural Resources (DNR) covered a variety of topics while focusing on the importance of establishing a baseline to work from and research that has been completed since the Nutrient Reduction Strategy has been launched that identifies important practices, such as saturated buffer and cover crops. While cover crops practices might get the most mention, they agreed there are many other ways farmers are taking on the challenge of improving water quality, including their embrace of the 'Four R's of nutrient management: The Right Source, Right Rate, Right Time and Right Place, which are moving the needle. In addition, the evolution of innovative 'edge of field' conservation practices are seeing double-digit reductions in nitrates and some of those practices weren't even around when the Iowa Nutrient Reduction Strategy (INRS) was put in place in 2013, including saturated buffers and bioreactors. The group also agreed for the need to complete a baseline conservation survey which will show the great strides Iowa farmers have made in conservation since the 1980's and since the INRS has been established.
Another big draw at the 101st IFBF Annual Meeting was keynote speaker, Chris Norton. Norton, a former Luther College football player who suffered a devastating spinal cord injury in a game, now tours the nation inspiring others on how to overcome challenges. Norton also keyed in on IFBF's theme in his motivational address, which brought the crowd to their feet. "There will be times you miscalculate a move, you take a hit, you're knocked down, and no matter how hard you try, it feels like you'll never get back up. Everything you've been working for appears to be slipping away. You question, was it worth the effort to keep trying. Life as you know it has forever changed. Over the course of our lives, one way or another, we all get hit and knocked down. But what's most important after the fall is that you stand back up. I know in my heart that if I could re-learn to stand after being knocked down, then you will too."
Watch recorded live streams from Annual Meeting
More Annual Meeting news
Want more news on this topic? Farm Bureau members may subscribe for a free email news service, featuring the farm and rural topics that interest them most!