Global manufacturing entrepreneurs and celebrated Des Moines County farmer and advocate presented Distinguished Service to Ag Award at 101st Iowa Farm Bureau Annual Meeting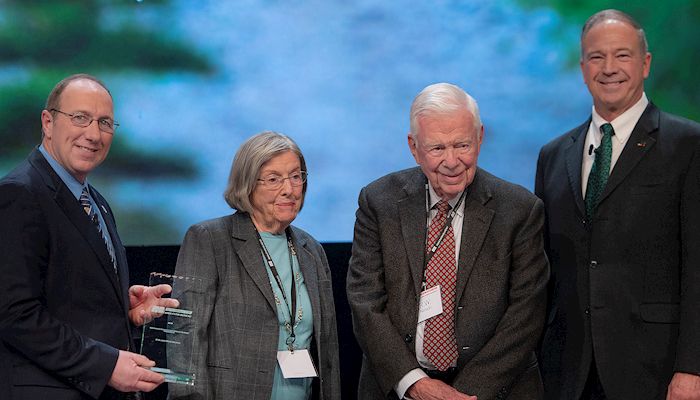 Successful entrepreneurs whose product offerings touch and impact the lives of billions and a lifetime of dedication to Iowa agriculture and local community has earned three individuals the 2019 Iowa Farm Bureau Distinguished Service to Agriculture Award. R.W. and Mary Nelson of Des Moines and Carol Messer of Yarmouth were recognized with the prestigious honor during the Iowa Farm Bureau Federation (IFBF) Annual Meeting in Des Moines, Dec. 3-4.
The Nelsons, co-founders of Kemin Industries, a leading global provider of food technologies, launched their manufacturing plant when they were farming in an old wool barn with just two product lines. Today, Kemin Industries maintains manufacturing facilities in nine countries with operations in more than 90 countries. Founded in 1961, the Nelsons have grown the family-owned business to an international leader in food technologies, major local and global employer, and established a philanthropic culture providing scholarships, volunteer services and charitable giving around the world.
Kemin Industries provides shelf-life, flavor, color, and food safety solutions with a focus on innovative solutions as the world population grows toward 9 billion people and the demand for protein soars. With production facilities around the world, Kemin employs about 700 people in Des Moines and 2,800 workers globally. The Nelsons were inducted into the Iowa Business Hall of Fame in 2006, adding to a robust list of recognition and achievement.
R.W. Nelson has long dedicated his time and talents to professional and community leadership positions, serving, and continuing to serve, on more than a dozen boards and committees representing industry trade groups, banks, and community organizations. R.W. holds four patents and has been recognized internationally for his innovations, including recognition from Presidents Nixon and Carter for his role driving international trade and exports through Kemin's global impact and reach.
Mary Nelson serves as chair of the Kemin Charitable Contributions Committee, organizing and leading initiatives with local and global impacts. Some recent humanitarian efforts led by Mary include fundraising efforts to help recovery efforts in the aftermath of Hurricane Katrina along the Gulf Coast, raising emergency aid to replace fishing boats lost to a tsunami that ravaged a fishing village in India, and fundraising to build a school in China.
In its Distinguished Service to Agriculture Award nomination, the Polk County Farm Bureau noted the lasting impact the Nelsons created, establishing a culture of caring and giving through their strong sense of responsibility to the global and local community.
Carol Messer's passion for agriculture and community service stretches for more than a half century, impacting the lives of hundreds. For the past 50 years, Messer has been an active member of the Des Moines County Farm Bureau, 4-H and Extension, and served on the Des Moines County Fair board.
Messer's passion lies in promoting agriculture and telling the story of farming today, and she's been a strong advocate for the Ag in the Classroom program, which provides agriculture education resources to Iowa youth. Messer has long been an active volunteer with the Des Moines County Farm Bureau sharing the story of modern agriculture and has never been shy about telling her story to lawmakers and other elected officials.
Messer was a pioneer, serving as one of the first Des Moines County and IFBF Women's Committee Chair and has also been a county voting delegate. For her lifetime of dedication and commitment to the 4-H, the organization inducted her into the Iowa 4-H Hall of Fame in 2013. The Des Moines County Farm Bureau called Messer's service to agriculture and Farm Bureau "unmatched" and credits her leadership and effort for getting more women involved in Iowa agriculture.
The Distinguished Service to Agriculture Award honors individuals who have played a significant role in the agricultural industry at the local, state and/or national level. This is the 40 th year for the service award. The two winners received plaques honoring their achievements and will be added to a permanent display at the IFBF headquarters in West Des Moines.