Gov. Reynolds discusses farm priorities; tips for maximizing corn yields and cutting costs; and steps to diversify your farm and prepare for the next generation | The Spokesman Speaks Podcast, Episode 28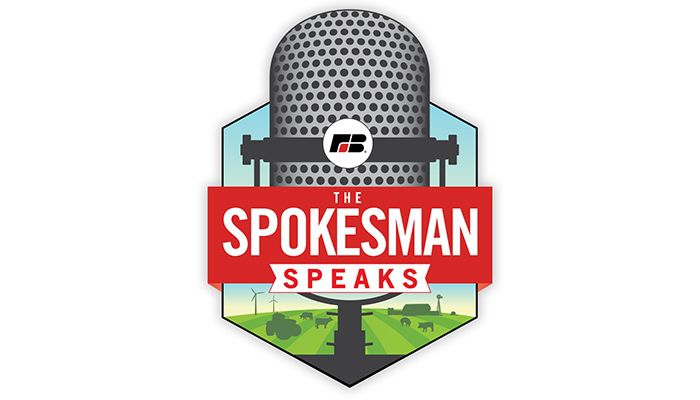 Listen to The Spokesman Speaks Podcast in your favorite podcast app
Welcome to Episode 28 of The Spokesman Speaks podcast. This episode features Governor Kim Reynolds' speech at Iowa Farm Bureau's 2019 Annual Meeting, regarding pending trade deals and biofuels. Also in this episode: crop expert Ken Ferrie gives tips for maximizing corn yields and cutting costs, and Iowa Farm Bureau's Farm Business Development Manager, Amanda Van Steenwyk, shares advice for farmers who want to diversify their operations or pass the farm to the next generation. If you have questions for Amanda, you can reach her at avansteenwyk@ifbf.org.
Click here to view the transcript +

Narrator: Welcome to The Spokesman Speaks, a podcast from Iowa's leading agricultural news source. Brought to you by the Iowa Farm Bureau. Now, here's your host, Laurie Johns.

Laurie Johns: Welcome to The Spokesman Speaks Podcast. This is our December 16th edition. This episode is packed with insights and practical tips from Iowa Farm Bureau's 2019 Annual Meeting. It includes an address by Iowa Governor Kim Reynolds, expert advice on assessing the conditions in your fields to help you maximize yields and lower costs and tips for diversifying the farm or passing it onto the next generation. We'll start with Governor Reynolds who kicked off the annual meeting with a speech on trade and biofuels and she had a new executive order on biofuels. Now when it comes to trade, we're all hoping for some good news. We did get something recently when Congress announced its intent to pass the USMCA trade agreement this week. Finally, right? Hopefully we'll see some movement on the other priorities that the governor mentions in the weeks ahead. Now, as for that speech, let's hear what she had to say.

Governor Reynolds: Thank you for the invitation to be part of the Iowa Farm Bureau Annual Meeting, especially as we celebrate the dawn of Farm Bureau's next century year one built upon a strong legacy of advocacy and rooted in Iowa's rich agriculture heritage. The next 100 years is a new frontier for this organization that's so vital to Iowa producers and I'm extremely proud and grateful to be a part of it. There's no doubt that as we stand at the threshold of this new era facing real challenges, 2019 has been one for the record books. A crop here that began with historic flooding and is ending with some of the most challenging harvest conditions in recent memory. Trade disputes that magnify the volatility of the commodity market and the ongoing battle to bring our homegrown biofuels to their rightful place at the pump for American consumers. Pick up any one of the stacks of ag publications from the kitchen counter or tune in to your favorite farm broadcaster over the noon hour, their speculation and forecast for the future at every turn. It's exactly why this moment is so critical because solving the problems of the next 100 years requires us to think differently today. It's up to us to shape the challenges of uncertainty into opportunities for growth and that means continued diversification, innovation and of course collaboration. The time is now to come together and make sure that the voices of our farmers and cutting edge agribusinesses are heard and thanks to the Iowa Farm Bureau and the relationships we've formed together, we're turning up the volume on agriculture, not only in Iowa but across America and around the globe. Every opportunity we have to forge relationships face to face is invaluable and it continues to be a top priority of mine. It was an honor for me to lead the recent trade mission to Japan and every experience showcased the power of long-term partnerships. Ag was very well represented with a strong delegation including president Craig Hill. Farm Bureau, District 7 Director Rick Plowman, along with Secretary Naig, key commodity groups and producers. A fun part of the trip was seeing displays of Iowa premium beef in supermarkets in Tokyo and sharing samples with customers in Yamanashi Prefecture, which is a sister state that we will be celebrating 60 years next year. And I can tell you not only are Japanese consumers hungry for our products, we talked a lot about leaner beef, but they appreciate that Iowa's brand is second to none in terms of safe, reliable quality products. And our timing could not have been better while they're the U.S. and Japan trade agreement was being considered by Japan's Diet, which is their version of Congress. It's passed through the lower chamber and it's anticipated to pass through the upper prior to December 9th. Upon completion, this agreement will allow 90% of food and agriculture exports from Iowa to Japan free of tariffs, and it's set to put our exceptional products back in their rightful position in the Japanese marketplace. If there is one thing that I brought home from Japan, it was optimism. That our trade partnerships are strong, demand is high and even more opportunity exists to grow markets beyond our borders. Another step in the right direction was the recent announcement that China will allow U.S. poultry back into the country, opening up a critical market for our poultry and ag producers that's been closed since 2015. But when it comes to international markets, two of our largest customers are our neighbors, Canada and Mexico. And the Trump Administration successfully negotiated a strong balanced and modern trade agreement that brings NAFTA into the 21st century. It's been a year since USMCA was signed by president Trump and it's long past time for Congress to do the same and ratify it. Every day that goes by is a missed opportunity for families, farmers, small businesses and manufacturers. And I want to thank Farm Bureau both here in Iowa and nationally for keeping the pressure on Congress to get this trade deal done and it really does help in our trade negotiations with China. So to have the U.S Japan and to have USMCA ratified again, puts more pressure on China for them to get that done. Here at home Iowa farmers deserve their chance at the unlimited potential of the clean energy future. And together with Iowa Farm Bureau and AFBF, we're fighting for that chance every single day. The value of ethanol and biodiesel to this country have been proven time and time again. Reduced dependence on foreign oil, lower prices at the pump, a cleaner burning fuel, a reliable market for corn and soybeans and good quality jobs throughout rural Iowa and America. As the number one ethanol and biodiesel producer in the country, we will continue to lead the charge in defending the RFS and holding the EPA to the terms of the deal that was negotiated with president Trump in September. From countless phone calls and meetings to testifying to formal letters and to rallying fellow governors, I won't rest, we won't rest until our message is understood. And that is 15 billion gallons means 15 billion gallons, plain and simple. Because it's real. People in places like Merrill, Crawfordsville, Emmetsburg, Sioux Center were biofuels facilities have been shuttered, who live with the decisions that are made in Washington, D.C. And again, I know that many of you here today added your voice and submitted letters to the comment period. So again, thank you. I take great pride and it is an honor to be part of a coalition that's working tirelessly to protect a robust RFS, to provide producer and blender tax credits, fund the Renewable Fuel Infrastructure Program and hold the administration accountable. But we also need to look for opportunities at the state level to drive domestic demand. And that's why I'm announcing my fifth executive order with you today, which will require that all state vehicles with diesel engines purchased from today forward will support the use of B20 biodiesel. It's my hope that by instituting this executive order in Iowa, it will inspire other governors to consider making biofuels a priority in their states as well. So the executive order condensed reads in part, whereas biodiesel production is a growing vital industry in the state of Iowa, essential to the health of the agricultural economy, sustainable environment commitments and local jobs. And whereas the number of biodiesel retailers in Iowa has increased 231% to 792 since 2010 and the total on-road biodiesel gallons sold has increased 708% to almost 56 million gallons. And whereas Iowa is the nation's leading producer of biodiesel and should also be a leader in ensuring diesel engine manufacturers support biodiesel blends, thereby furthering, Iowa's economy, environmental sustainability and value added to agriculture. Now therefore, I Kim Reynolds, governor of the state of Iowa do hereby order that all state of Iowa executive branch agencies shall ensure that any procurement solicitations including but not limited to requests for proposals or requests for bids for the vehicles containing diesel engines shall require the responses to certify the engine manufacturer has provided explicit written support for the use of B20 biodiesel signed December 3rd, 2019. So when I look into the next century, I'm reminded of what Will Rogers once said the farmer has to be an optimist or he wouldn't still be a farmer. From weather at home to markets overseas to bureaucratic decisions made in Washington, D.C. So much of Iowa's farmers success hinges on factors seemingly out of their control. If more than a century of Iowa Farm Bureau has taught us anything, it's that farmers cannot simply sit back and help someone else fights for our interest. We have to stand together and carry our message loud and clear. People. Progress. Pride. That's what Iowa Farm Bureau is all about and that's really what Iowa is all about as well. Everywhere I go, I describe our state as one big small town and for that I'm extremely thankful and that's why we're constantly shining a light on our rural communities through the Empower Rural Iowa Initiative that's investing in rural Iowa, connecting rural Iowa and growing our next generation of leaders. It's because of leaders like every one of you here in this room that I see this new century as one that's full of promise. You're innovative, tenacious, resilient, adaptable, and driven to keep your boots on the ground with your eyes on the horizon. So thank you for the incredible privilege of serving alongside you as the governor of this great state and thank you for your unwavering support of this beautiful, beautiful place we call home. God bless you and God bless the great state of Iowa and the United States of America. Thank you.

Laurie Johns: Doesn't it feel good to hear that from the governor? We appreciate Governor Reynolds joining us at the annual meeting and offering her support for farmers and Farm Bureau members. All these things matter to an Iowa farmers bottom line. And on that note, let's pivot from that news from the governor to a technical conversation on maximizing yields and reducing costs in your field. While Ken Ferrie might not be a household name like governor Reynolds, we know he's a bit of a celebrity in farm country. I'm guessing you've probably seen or heard of his field trials in Farm Journal. Ken presented at our annual meeting about how farmers can match their crop fertility to the environment and hybrids. Spokesman writer Tom Block caught up with Ken afterwards to hear more.

Tom Block: We talked about today matching your crop fertility to the environment hybrid, this appropriate topic for this time of year as guys, if they haven't already made their hybrid selections, they're going to be doing it here soon. What are the key factors that you have people look at in terms of not only the hybrid selection but the placement on your farm?

Ken Ferrie: A lot of what we talked about today is not all hybrids are created equal, so they respond different to different environments and different management practices and that type of thing. And as we start to think about next year's hybrid selection, trying to actually pick hybrids for certain locations. So instead of just picking the top five yielding hybrids in the county plot, how do we position a hybrid for field for farm? So if we have a droughty or type farm, how do we protect ourselves? If we have a high horsepower farm, how do we go after that? So trying to learn more about your genetics so you can position it better. And then the more you learn about the genetics, the more you can manage your fertility program to fit that hybrid or it's genetics.

Tom Block: I like how you related it maybe to like an NFL draft or a sports draft where you say you don't just go after maybe the top player, but you pick the player that fits best onto your lineup.

Ken Ferrie: Right and we always kind of drive home the point you take each farm individually or each field and you identify the strengths in that field, and you play to those strengths, but you also identify the weaknesses. And then you got to figure out how do I farm around that weakness, whether it be poor drainage or high pH or whatever the conditions are. Should always know the weakness of it. Then we go back and try to pick from the lineup, which one's going to best take care of the weaknesses and, and take advantage of the strengths. We don't want to put a workhorse where we need what we'd call a racehorse hybrid at the same time, a racehorse hybrid put into a tough environment. It could be pretty disappointing.

Tom Block: And you talked about with today's technology, we can do this. We have the ability to do, you know, the variable rate of maybe variable hybrid, you know, switching hybrids within the same field.

Ken Ferrie: Yeah. Today the technology to do this is out there in front of us. So a lot of times we were waiting for the technology to catch up. Today you can change your end rates on the go. You can change your population on the go and you can change your genetics on the go. So not only can we pick the right genetics per field, we can actually change them within the field. So situation, if we have a sand hill that we're dealing with and it turns into a lone bottom or something like that, we can actually choose a hybrid for each of those locations. And that's, you know, something that our dads and definitely our grandfathers couldn't do as far as being able to, you know, change a hybrid to fit the actual field.

Tom Block: Yeah. And, and you talk about when you do that, you can not only see some big yield differences, but also maybe save a little bit on the seed or back off from the population that way. So, what, what are some of the economics behind this?

Ken Ferrie: The economics of course is yield is the top one. That's what you're going for. But then once you identify the hybrid, that fits in that position does it need that population pushed or doesn't it. Does it respond to a funder side of business? So your inputs can change drastically. Doesn't always guarantee your inputs will go down, but the odds are that they probably won't go up at least and the yield will respond to that environment.

Tom Block: Now as a crop consultant you talked about you do 150 field trials, I think about something in that range. What can farmers do, you know, on their own farms, on their own fields, if they can't do something of that scale, how can they learn what works on their farm?

Ken Ferrie: You know, probably the most valuable plot I think that farmers can do is the variety plot we're talking about corn. But they got to take it further than just planning the plot and harvesting the plot. And sometimes you see the, the grower puts in a variety plot and then treats it not uniform compared to his operation. So he might put that variety plot near the road, for instance, in an old pig pasture that's high fertility and they may spray it with a fungicide and they may add extra nitrogen to it. So it really shows good from the road and then do none of that in their practices. So the information coming out of that plot may not be of much value. The plot needs to be introduced to the same practices as the rest of his farm. And then our recommendation would be to do it in a low and a high population environment. So we use population in introduce stress and then be able to identify how the hybrid response to that stress. And I'm not talking about extremely high populations. I'm talking about, you know, maybe 22,000 to 36,000. But then we need that plot where we get access to it from year-round. Look at how it emerges. You can quickly pick out those that struggle to emerge and then to study the, the varieties, and compared to what we call a ringer. Pick one variety you're very comfortable with and put it scattered throughout that plot or could be your check, but look at leaf structure, look at tassel type, look at height of the plant so you can take all the genetics that you're trying to learn about. And you can say, well, it's taller or shorter than the hybrid that I know it's an open, structured, leaf structure versus a closed structure. So you start to make notes throughout the growing season and start to understand what are the different characteristics in that plot. Then you can visually lay it out on the tailgate and look at what's the ear look like at 22 versus 36,000? How did it change? It will shrink from 22 to 36 that your size will go down. But if you look at the year, it'll tell you how it's shrinking. Is it in kernel number, is it in ear length, is that in girth? That gives you some insight then on how to manage what kind of management styles at that variety is going to need to give you the best performance.

Tom Block: Sure. And that leads us right into the nutrition part of it, right. Talk about the kind of hybrids that might need some early nitrogen versus, you know, maybe a fungicide mid-season and different responses that way.

Ken Ferrie: Yeah. So you know, how a hybrid handles stress gives us a lot of insight in how we manage it. So if the hybrid struggles, early season stress can take defeat out from under and you have to design a plan that really keeps that variety in good shape as it's coming through emergence up through basically at least knee high because that's when we set the girth. And if we have hopefully have a tough go at it in the spring and the variety is sensitive to that stress, you're going to end up with 12, around 14, around instead of 16 or 18. And as we look at through the growing season your length is affected. So running out of it anytime in that rapid growth stage can triple those hybrids where you're linked to an issue. And then we have the kernel depth. So a lot of our new genetics today rely on kernel depth to give it the push that it needs to be high yielder and that kernel depth all comes in the last 30 days of grain film. So those are the hybrids that respond to late in applications or fungicides or stuff like that. And you need to put it in a position where they can take advantage of them. Put in a hybrid that finishes strong in depth kernel in your sandy soil, there's good odds you're going to run out of water and August in that variety is not going to like that situation. It needs a stronger finish.

Tom Block: Yeah. And a farmer would know what's happening on his farm. But as far as the seed, the hybrid itself, these are questions he should ask his dealer. You know, his seedsman, if he hasn't found out things on his own farm.

Ken Ferrie: A good seedsmen is really working hard to learn this but it's not an easy thing and the varieties change pretty fast. But once the seedsman understands this he can help his customers make those decisions. Sometimes it does hide in the print. In the glossy book. For instance, a variety may have very high disease scores, but it suggest in the management of that hybrid at a response to fungicides. Well if it's got good disease ratings and still responds to a fungicide, that would be an indicator that it likes stay green cause that's what a fungicide does. Keeps us greener at the back end of the season. And if that hybrid is responding to a fungicide, it's most likely a hybrid that is responding to depth of kernel. It's really putting its pack on at the end. Some of the genetics we've had on our plot can add as much as 60 bushel to the last 30 days. So that's depth becomes an important factors. You've got to finish strong with those genetics. Might be something in there that says that this hybrid, you know, responds well to high fertility and starter fertilizer and that would be an indication that hybrid probably is going to be flexing in girth if it has a poor start.

Tom Block: Yup. And if all else fails or in a perfect world, never let that corn never let that plant have a bad day. Right?

Ken Ferrie: So, the concept behind never letting corn have a bad day is you keep it happy at the beginning, the middle and the end. And you don't have to worry about what type of corn it is. So situation where you treat them all the same, but that one practice can catch you all the way across. Now there may be times when you're treating a, uh, a hybrid with a late season application or a fungicide that it doesn't pay. But if you don't know that hybrid, it kind of protects you from having it run out at the end.

Tom Block: Tighter margins, you know, low crop prices. Guys may be looking places where they can maybe save a little money. What do you recommend, you know, as far as that, I always hear you can't save your way to a good crop either. So, where's the balance and trying to conserve some resources as far as economics go?

Ken Ferrie: Well yeah, I think you've got to keep economics in play and yield is a big part of that. And when we look at thousands and thousands of acres of yield maps every year, what are the main factors that pop to the top between farmers, between fields? And as a soil testing company I'd like you to tell you that fertility is on top, you know, good fertility, big yields, but it's pretty low on the list. Meaning it might be 10 or 12 down on the list. The number one on the list is water management. So that includes, everything from managing compaction population to irrigation to just what the year brings. But water drainage, it all comes under water management. That's number one that shows up across many farms we work with. Number two is variety selection, how well the grower has picked his varieties for his situation. So it's number two on a list or one of the big dogs and many growers do not spend enough time in that decision making process. They're choosing based off of other things. Then they would rather somebody pick the hybrid forum and they might start choosing off a price and that type of thing without investing the time into learning the genetics. And that's kind of what we're talking about today is there's a lot to learn about the varieties, but it is so important. It needs to be one of the, one of the front things that you do before you spend. Most guys spend way more time choosing the accessories for their new pickup than they would on variety selection and a variety of selections going to be key.

Tom Block: Yup. And are there any nutrients that may be overlooked that we don't think about? You mentioned sulfur being one of them that you see response in corn to sulfur as that has declined in the environment over the years. Anything else? Nutrients that maybe guys overlook that they should be testing for?

Ken Ferrie: You know, sulfur's one that I think most farmers are aware of now and more of the universities are catching up to it. That this is something we need to take a closer look at. Picking the right end rate is a challenge. Picking the right timing and placement is a way bigger challenge. So timing and placement of is quite a bit more important than the actual rate. So, situations where you're going to keep this corn plant happy, you know, all the way through. PH is something most farmers have understood that from a pH perspective you're trying to balance that the pH not so much for the crop you're grown as it is for the biological activity is taking place in the soil for the soil health side of it. But I would say those are probably the big three that need a lot of focus to make sure, you know, from a nitrogen perspective that you're getting enough on to get the job done based on the yields that you're shooting for.

Tom Block: And as far as soil testing goes, what are your recommendations there? Grid testing, zone testing, or is there a combination?

Ken Ferrie: There's, you know, it depends on where you live and how much diversity that you have and variability in the field. You know, our company is based on zone management, so we're looking at soil type topography. Yield maps are big in that whole process. So trying to try and to let the field tell you how it's yielding and then test it that way. So in a scenario where the more, the lack of their ability that you have opens up different opportunities, but a lot of the guys, especially here in Iowa, they probably get the opportunity to firearm five different soils in one pass through the field. So those soils need to be separated out and the topography needs to be separated out. So, you're looking at your 150-bushel ground different than you would your 250-bushel row.

Tom Block: And I'm just interested in kind of a different track here. You said you've done some work out in Maryland, Chesapeake Bay watershed, where nutrient management is a huge issue. What are some things that you're testing for out there? What are you learning on how those people have to operate?

Ken Ferrie: So, we're looking at some things like what nutrient program produces the best yield, which is different than what they can apply. So you can do some research out there, but as the work that we've been doing out there would indicate that their limiting factor in a lot of cases is the amount of N and phosphorus they can apply, especially the N. So they know their N rate is their limiting factor. So how do we get the most out of what we're allowed to apply? So it's, it's heavily regulated. They go through audits and they have to prove what they've done and they can be fine if they're not doing it right. So scenario where it's a little bit different and trying to pick the right rate and going with it. And there you may know the right, right, but you can't apply it. So, scenario where how do you squeeze everything out of what you're going to apply to get the job done.

Tom Block: Yeah, there's a challenge. Agriculture is not a one size fits all, doesn't fit into a neat regulatory box.

Ken Ferrie: It's a lot of regulation going on. Unfortunately it's been going on, you know, 18 years or so would not a lot of success. So that's another challenge with all this regulation there isn't a real clear path to how we've cleaned up the water. So, it's a challenge that the Maryland farmer has to deal with that I'm hoping it doesn't come this way.

Laurie Johns: Like what you're hearing? Ken packs in a lot of great information and we know that you're probably eager to learn more. You can get in touch with Ken by heading out to the website for his consulting company, which is CropTechInc.com. Okay. We know that you've got a lot on your mind right now. You're thinking about the trade agreements and biofuels market that governor Reynolds mentioned. Maybe you've started contemplating the hybrid you're going to plant next spring. Or maybe you're thinking about planting a crop that's completely new to you in 2020. And if that's the case, you'll want to stay tuned for our next interview. Amanda Van Steenwyk is Iowa Farm Bureau's Farm Business Development Manager. In her role she keeps her ear to the ground for emerging farm market opportunities. She also leads our Take Root Program which helps families successfully transition their farms from one generation to the next. Amanda sat down with Farm Bureau PR specialist, Caitlyn Lamm to discuss the niche opportunities in Iowa agriculture and transitioning the farm to the next generation. Here's their conversation.

Caitlyn Lamm: So, Amanda thank you for joining us. How long have you been with farm Bureau and what is your role?

Amanda Van Steenwyk: This spring I will be with Farm Bureau for five years. My role is the Farm Business Development Manager. Through that I get the opportunity to work with farm families that are interested in passing the farm onto the next generation. Our program that is called Take Root. We do a handful of workshops throughout the state every year. It's really about helping the families get their conversation started setting goals and finding out how they want to transition that farm to the next generation. So that's one of my big responsibilities. In addition to Take Root, I also work with farm families on some financial management type things. I have an ag lending background, so I'm well versed in understanding balance sheets and cash flows. So I do help farm families understand what those balance sheets and cash flows mean and how to communicate to your banker about those. So by way of all of that I have started to get more involved in alternative markets or diversification type areas for farmers. So just helping connecting resources to whether that be to other professionals working in that alternative ag field or other producers that are operating in the alternative ag space.

Caitlyn Lamm: That's a really good skill set to have, especially with that ag lending background. As we look at, you know, different surveys and reports coming out about farm bankruptcies or even a recent Iowa State University survey said 44% of Iowa farmers are saying they're struggling to pay their bills. And we know that a lot of farmers hold occupation off the farm so they are looking for ways to add value. And we know at this year's Iowa Farm Bureau Annual Meeting, we heard from farmers like Kate Edwards in Johnson County who grows fruits and vegetables through community supported agriculture and Steve Howe from Fremont County who raises hogs outdoors antibiotic free for a niche market. So these farmers have found success in those nontraditional arenas. So, what advice might you have for farmers who are seeking out those niche or nontraditional crop or livestock opportunities?

Amanda Van Steenwyk: I think the biggest thing that you have to do up front is find a mentor. Find somebody who's operating in that space. Or maybe it's an extension professional or somebody that has a background in that area. And sometimes depending on the crop, it might not be somebody within the state of Iowa. You really may have to do some research on that end to find a mentor and ask lots of questions because if we're moving into a nontraditional crop or livestock or whatever it is more than likely it's something that we're not falling in on. So if I told my dad that I wanted to, you know, put seven acres into organic tomatoes, he would not be my mentor. While he would probably be my biggest cheerleader.

Caitlyn Lamm: Oh, yes, of course.

Amanda Van Steenwyk: He would have to point me in a different direction. So it's when we're going to this nontraditional space it's something where many generations haven't already done in front of us, like our corn and soybeans and hogs and cattle. So it really is important to find somebody that has been doing it and to ask lots of questions. The other piece of advice I would say is start small cause it's a lot easier to take those hard lessons on a smaller.

Caitlyn Lamm: You're not throwing all your eggs in one basket, per say.

Amanda Van Steenwyk: Start out that small, work out the kinks and continue to create those goals and meet those goals and continue to grow so that you can continue to be successful.

Caitlyn Lamm: And so, then when you think about those farmers that you've connected with who have found a mentor who have started small and they have found success in what they're growing or raising, you know, what types of things have made them successful?

Amanda Van Steenwyk: I would say the biggest thing would be willingness to learn and adapt. I think that's the case. Those are all the same skill sets that are all of our farmers that we work with have. But it's really important as you move into those niche markets to be able to, maybe sometimes you have to put your pride aside and ask a few additional questions as you go into those other markets and really keep that willingness to learn and to adapt and really continue to be resilient in those. All those things I think that our traditional farmers have across the board. But it's really important as you move into a new area.

Caitlyn Lamm: Oh yeah, absolutely. And then even when we talk about traditional family farms here in Iowa, we know that a big part of having a successful family farm is being able to pass it on. And you had talked about, you know, in your role working with take root and doing farm succession and we know from Iowa's ag census that the average age of farmers continues to rise and in fact, you know, more than 12,000 farmers over the age of 74 are still in charge of day to day decisions on their farm. So there's definitely a need for that assistance. And what advice do you have to families who maybe haven't started that conversation yet and how do you start those difficult and sometimes overwhelming conversations?

Amanda Van Steenwyk: The biggest thing is it's never too early to start that planning and having the conversations with your family members and through the Take Root Program, we stress a lot that it really starts with your goals. So getting that owner generation to sit down and decide what their goals are for the next five, 10, 15 years. And then most importantly, communicating them with their family members and that includes farming and non-farmers. And then returning the expectation back on those family members to also have goals and communicate those goals so that everybody can move forward as a family unit and a farming unit to help reach those goals. Because if mom and dad want to retire and 10 to 15 years, that's going to affect the next generations goals as well. So maybe they need to do some things in order to position themselves to be able to take over that farm in the next 10 to 15 years. So, it's really important to, to start that communication early rather than later.

Caitlyn Lamm: If you're listening make a goal And I'm sure that's a big part of your Take Root Program, but what other types of things do you go through with these families? Explain more about that and if you have any upcoming sessions.

Amanda Van Steenwyk: Yeah. So communication is the big thing. And that communication starts from, like I've said, the goal setting, but we talk about family meetings, we talk about some estate planning tactics, what it looks like to, if you need an LLC set up or a trust versus a will or buy sell agreement. So we talk about those specific tools, but really focus on what it takes to get you to that this estate planning part. And that is really the communication in the goal setting and getting everybody around the table. We have the sessions coming up in Montgomery County, Webster County and Linn County this winter, so those will be in January and February.

Laurie Johns: Be sure to mark your calendars for those upcoming take root workshops in Linn, Montgomery and Webster counties. Now here are those dates. The first Linn County workshop is January 16th. Montgomery County is January 27th. And Webster County is February 3rd. Space is limited at those workshops, so don't wait. Head out to IowaFarmBureau.com/TakeRoot for details on how to sign up today. As we wrap up this episode of The Spokesman Speaks Podcast. I'd like to bring your attention to two more upcoming opportunities. The first opportunity is Iowa Farm Bureau's How to Get $4 Corn Workshop. That's a series which is being hosted at locations around the state all winter long. This new workshop series was developed by the Center for Farm Financial Management at the University of Minnesota and it's designed to help farmers market their corn and soybeans in these tight margin times. The second opportunity is Iowa Farm Bureau's Young Farmer Conference, which is January 31st and February 1st. It's in Altoona. If you're a young farmer, you'll definitely want to make plans to join 500 of your closest friends and peers at this popular conference that just keeps growing every year. Registration is now open for the How to Get $4 Corn Workshops and the Young Farmer Conference and you can find more information about both of these opportunities by going to our website IowaFarmBureau.com. That's all for this episode of The Spokesman Speaks Podcast. Be sure to tune in for our next episode on December 31st when we'll have more interviews from Iowa Farm Bureau's 2019 Annual Meeting, including a discussion with Chris Norton, the inspirational Luther College football player who overcame a devastating spinal cord injury to walk at his college graduation. And along the way, he inspired millions of people. You don't want to miss that. Until next time. Thanks for reading The Spokesman. Thanks for all the great stories and the inspiration and thanks for listening to The Spokesman Speaks.

Narrator: Thank you for listening to The Spokesman Speaks, a podcast by Iowa Farm Bureau. Check out more podcasts and articles from The Spokesman at IowaFarmBureau.com/Spokesman. You can also find and subscribe to The Spokesman Speaks Podcast in the Apple Podcasts app, Google Play, and other popular podcast apps. We appreciate your ratings and reviews and welcome your feedback at Podcast@ifbf.org.


About The Spokesman Speaks Podcast
Since 1934, The Iowa Farm Bureau Spokesman has been Iowa's leading agriculture news source, and today it is the largest circulation ag newspaper in Iowa. While the Spokesman newspaper is available exclusively to Iowa Farm Bureau members, The Spokesman Speaks podcast is available publicly, reaching farmers on-the-go with stories that matter to them. You can find episodes of the podcast here or subscribe and listen in your favorite podcast app, such as Apple Podcasts, Google Play, Spotify, iHeartRadio, Stitcher, TuneInRadio, or Radio.com.
We release new podcast episodes every other Monday. Episode 29 will be released on December 30, 2019.
Want more news on this topic? Farm Bureau members may subscribe for a free email news service, featuring the farm and rural topics that interest them most!