Market volatility, trade uncertainty, risk management and new opportunities top discussion at Iowa Farm Bureau Economic Summit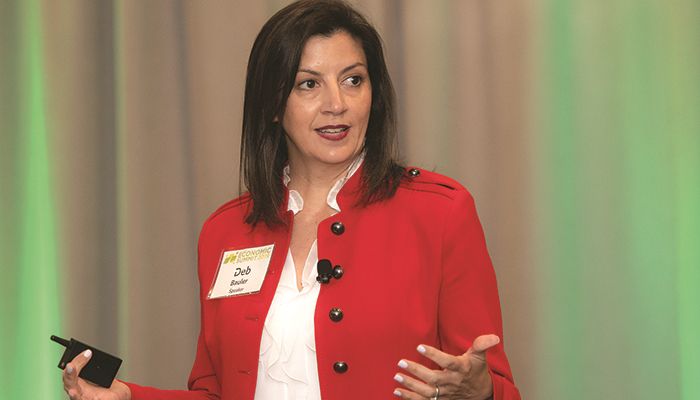 More than 200 farmers gathered in downtown Des Moines for Iowa Farm Bureau's Economic Summit to gain valuable market insight and opportunities to manage risk and find profit opportunities as farmers struggle through the sixth year of a downturned ag economy.
Governor Kim Reynolds opened the Economic Summit sharing her affinity for Iowa agriculture as a leading driver for Iowa's economy. Governor Reynolds shared an impassioned commitment to remain a strong voice for Iowa agriculture. "Farmers exemplify tenacity, grit, and determination in the face of low commodity prices and natural disasters. I'm honored to be part of a coalition to advocate for Iowa agriculture," she said.
"Trade was a major topic of discussion among attendees," said Iowa Farm Bureau President Craig Hill. "With one-third of Iowa-grown soybeans and a quarter of Iowa's hogs raised for export, international trade is critical to our farmers and Iowa's workforce overall."
John Hinners, Vice President of Industry Relations with the United States Meat Export Federation (USMEF), says market access with some of our largest trading partners, including Mexico, Canada, China, and several other Asian countries, face an uncertain future. "As farmers continue to increase efficiency and generate high-quality food with international demand, it's critical they learn how to best take advantage of export opportunities to stay on course with production numbers," Hinners said.
"Farmers are really good at what they do– producing, but we are reliant upon export markets to market what we produce," he said. "As countries accumulate wealth, they can afford and demand more high-quality protein. We have to put priority in the Mexico and Japan markets, because we don't want to be left behind. It's important to our next generation and our legacy."
Debra Bauler, chief information officer with Cargill Protein and Salt, discussed how they incorporate blockchain technology in response to consumer demand for more information about their food. One example she gave focused on their signature Honeysuckle White Turkey, where consumers can scan a tag and learn about the family who raised the turkey including where it traveled before reaching their refrigerator.
"This is an exciting time, and the goal is to have a technology that solves problems, and we hope that blockchain does that," said Bauler. "We know that consumers have more questions and want to know how and where their food is raised and who was involved in raising and marketing it. Blockchain provides a great opportunity to connect consumers and farmers."
The passage of this year's farm bill legalized hemp production nationally, and the Iowa legislature followed suit by passing the Iowa Hemp Act, with restrictions, in the state. Robin Pruisner, State Entomologist and Ag Security Coordinator with the Iowa Department of Agriculture and Land Stewardship (IDALS), told attendees that 'hemp is not legal in Iowa right now, though we expect it to be starting next year.' Pruisner cautioned attendees to 'think long and hard about something that seems too good to be true' adding that hemp marketing greatly differs from corn and bean sales. Unlike traditional Iowa grain, which can be pre-sold and marketed, hemp growers are encouraged to secure a contract and aren't likely to get paid until after the crop is processed.
Richard Fordyce, Administrator, UDSA, Farm Service Agency (FSA), provided an update for summit attendees on the implementation of farm bill programs. The farmers were particularly interested in the disaster relief bill and disaster recovery programs following devastating flooding this spring, although Fordyce warned there is a lot to digest, and encouraged working with local FSA officials and utilizing available farmer resources such as www.farmers.gov.
Despite the complexity of risk management programs from the farm bill, Fordyce noted Secretary Perdue's goal to modernize the Department of Agriculture to make program updates and descriptions more easily available to farmers. By utilizing technology to host the information online, farmers can navigate programs easier to make the best decisions for their farms.
"We know many farmers are struggling right now and we hope the summit provided them with some additional tools they can use as they continue to navigate these challenging times," said Hill.
For more information about the Economic Summit, subscribe to the Spokesman Speaks Podcast. The July 15 podcast episode will feature interviews with several of the Economic Summit speakers.
Want more news on this topic? Farm Bureau members may subscribe for a free email news service, featuring the farm and rural topics that interest them most!