Making a positive difference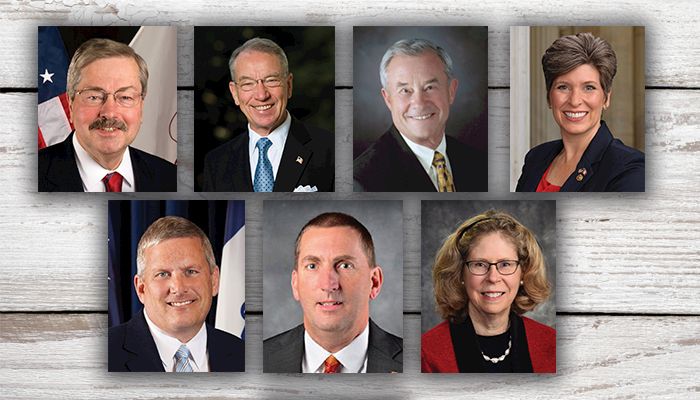 In its first century of serving farmers and rural communities, Farm Bureau has been a key driver in improving Iowa agriculture, our state's economy, the environment and education to make Iowa a better place for all Iowans.
As we celebrate our centennial, we asked seven Iowa leaders to tell us what makes Farm Bureau impactful. Here's what they said:

Terry Branstad, former Iowa Governor and now U.S. Ambassador to China

"Farm Bureau has always been there to make sure that farmers get a fair shake at both the state and national levels. But Farm Bureau is more than a voice for agriculture, it's also been a great voice for rural Iowa, and frankly, the whole state.
The organization is always looking for ways to improve agriculture and make progress, whether that is in improving water quality, reducing soil loss, creating new markets for farmers or making the tax and regulatory structure fairer.
I believe that Farm Bureau's legacy is a progressive organization that is always looking toward the future. That's clear in how Farm Bureau focuses on youth, education and always building new leadership."
Charles Grassley, U.S. Senator

"Farm Bureau is the organization that brings unity to farmers. That means farmers' voices are loud and clear and are very effective when it comes to speaking to lawmakers, regulators or others.
Farm Bureau has great credibility because of its grassroots foundation. It's not just two or three people at the top setting the policy, but it comes from the membership. When the Iowa Farm Bureau tells me something, I can be sure it's coming from the grassroots. And I see that strong voice continuing well into the future."
Bernie Saggau, former Executive Director of the Iowa High School Athletic Association

"There is something magic about Iowa and the Iowa Farm Bureau has played a big part in creating that. The organization's whole philosophy of Iowa is making Iowa a better place to live and they have made that happen. They have supported our young people with their sponsorship of the boys' and girls' sports. Farm Bureau is also a big supporter of academics with the Governor's Scholar Recognition Program award.
The picture of the top scholar sits in the school's trophy case alongside all of the athletic trophies; that says a lot about the breadth of Farm Bureau's support."

Joni Ernst, U.S. Senator

"Farm Bureau provides a powerful voice for farmers. It is so impactful because the organization can take the voice of many and provide one strong, clear and cohesive message for the local, state and federal level.
Individually, farmers and other Iowans may not have much of a voice, but through Farm Bureau, they do."
Bill Northey, U.S. Undersecretary of Agriculture, formerly Iowa Secretary of Agriculture

"Farm Bureau really knows how important it is to explain today's agriculture to the growing number of people who are not connected to farming at all. I see Farm Bureau as an organization that wakes up every day working to share a positive message of agriculture.
I'm very proud of the work we have done on conservation and water quality in Iowa, and Farm Bureau has been a big part of that. It has been a leader on both developing sound conservation policy, and in promoting soil conservation and water quality to farmers.
I also see Farm Bureau as an organization that is proud of its past, but is excited about the future of producing more food, fuel and fiber while having less impact on the environment."
Jamie Pollard, Iowa State University Athletic Director
"Farm Bureau really symbolizes everything that's great about Iowa and the Midwest: hard work, commitment and integrity. That's why we at Iowa State are so excited to partner with Farm Bureau on the Farm Strong campaign. The campaign, and Farm Bureau, really represents what Iowa is all about."
Wendy Wintersteen, Iowa State University President

"Farm Bureau is a leader in Iowa on so many issues and you can see it all over, both at the county and state levels. You really see that leadership at the local level, where Farm Bureau is the organization that can bring farmers, business people and others together to work on projects.
But maybe the biggest impact that Farm Bureau has had is in its ongoing support on rural entrepreneurship at Iowa State. The program helps young men and women in Iowa obtain the knowledge and have courage to know that they can start a business, make a living and create jobs in Iowa. It's a great way to create a positive future in Iowa. Farm Bureau's ongoing support has made all the difference.
Leadership from Farm Bureau is also clear in many of the conservation and environmental programs here at Iowa State, such as the Hewitt Creek Watershed Project, the Iowa Nutrient Research Center and the Iowa Monarch Conservation Consortium. When Farm Bureau comes to the table, you know things are going to get done."
Want more news on this topic? Farm Bureau members may subscribe for a free email news service, featuring the farm and rural topics that interest them most!