Iowa Farm Bureau to launch 'The Year of the Farm Bureau' century celebration at 2017 annual gathering in Des Moines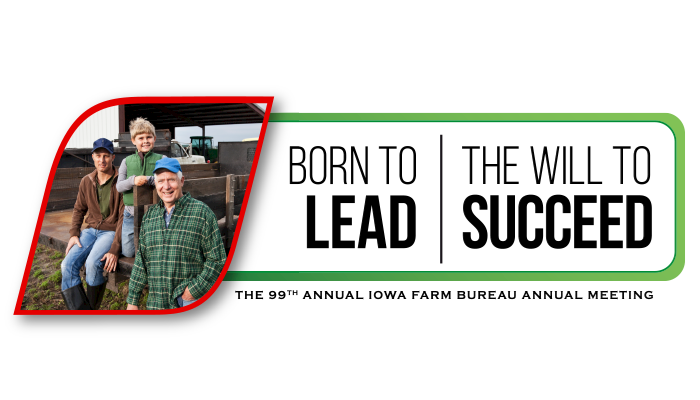 Ag tours, educational sessions on health care, tax changes and rural Iowa entrepreneurship among highlights at 2017 Annual Meeting Dec. 5 and 6 in Des Moines
Iowa Farm Bureau Federation (IFBF), Iowa's largest grassroots general farm organization, will launch a year-long tribute to their approaching century of success December 5 and 6 in Des Moines for the 99th IFBF Annual Meeting.
The theme, "Born to Lead. The Will to Succeed," speakers, educational sessions and new activities are designed to highlight the continued innovation and strength of IFBF.
In honor of the approaching century milestone, IFBF members have an opportunity to participate in one of two new ag education tours which will take place on Monday, Dec. 4. Members can tour either Hawkeye Breeders in Adel or the Monsanto Learning Center in Huxley. Buses for both sites leave from IFBF headquarters in West Des Moines. "These tours will provide our members insight into the cutting-edge technology that is used to develop improved plant and animal genetics and will highlight the diversity of agriculture we have here in Iowa," said Barb Lykins, IFBF director of community resources.
The 2017 IFBF annual meeting officially begins Tuesday, Dec. 5, with a kickoff of the organization's centennial celebration, which will occur in 2018. The meeting will again be held at the Community Choice Credit Union Convention Center in downtown Des Moines, formerly known as Veterans Auditorium. The first session of educational seminars this year will discuss how farmers are taking on the challenge of improving Iowa's water quality by taking a watershed approach. Other sessions will look at connecting with consumers through social media and creating economic opportunities through rural entrepreneurship. The seminars will begin at 10 a.m. on Dec. 5 and will be repeated at 2:30 p.m. The IFBF voting delegate session will begin Dec. 5 at 2:30 p.m.
Tuesday will also feature several competitions and recognitions for IFBF young farmer members and an evening dinner and gala. That night entertainment by SIX, a musical group from Branson, Missouri, will round out the evening, while an ice cream social for all Iowa Farm Bureau members as well as district director candidates and president receptions will be held at 8:30 p.m.
"On Wednesday, we will celebrate the successes and hard work of our members at our annual award presentation and Navy Seal Commander Rorke Denver, who has run every phase of training for the U.S. Navy SEALs and led special-forces missions in the Middle East, Africa, Latin America and other international hot spots, is our keynote speaker. "Denver's message of overcoming adversity and finding strength through unity is fitting for IFBF farmers who work hard to continuously improve the land and water and how they grow the nation's food, fuel and fiber," says IFBF President Craig Hill, whose annual meeting remarks help kick off Wednesday's gathering of members. "As we get ready to launch our centennial kickoff, it's a time to remember the importance of standing together as an industry; despite many challenges for farmers these days, Farm Bureau's innovative programs, support and guidance continues to bring purpose and pride to generations of farm families. It is farming, more than any other calling, which always has and always will be the cornerstone of economic strength for our great state and for that, we should be proud."
Check out more annual meeting details, including a detailed agenda and registration information, here.
Want more news on this topic? Farm Bureau members may subscribe for a free email news service, featuring the farm and rural topics that interest them most!