Iowa Farm Bureau recognized at 100th American Farm Bureau Convention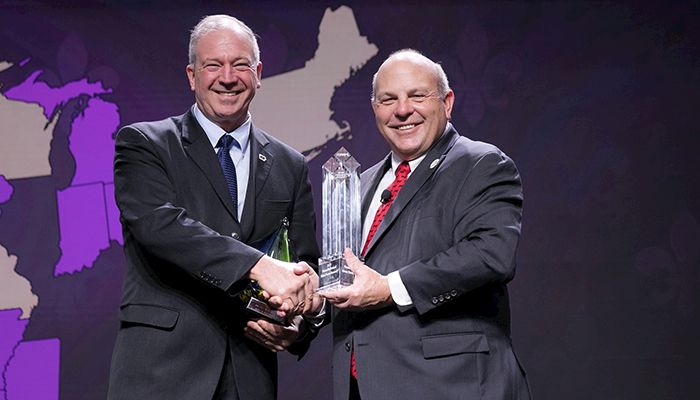 President Donald Trump Addresses Farm Bureau Members for Second Time During Administration
Iowa Farm Bureau Federation (IFBF) voting delegates joined delegates representing all 50 state Farm Bureaus this week in New Orleans during the 100th American Farm Bureau Federation (AFBF) Annual Convention and centennial celebration to approve resolutions that will guide the grassroots organization on national policy throughout 2019.
During the convention, IFBF delegates successfully advanced state-developed policy that was adopted into the AFBF national policy book, including accuracy in meat labeling, specifically, strong language to prohibit lab-grown and plant-based proteins from using labels associated with traditional meat-associated terms, such as beef, pork, or chicken. IFBF delegates also successfully moved policy against the practice of issuing small refinery waivers that undermine the biofuel requirements in the Renewable Fuel Standard (RFS), which is critical to Iowa grain farmers and rural economies.
National delegates also approved an Iowa amendment that Farm Service Agency (FSA) offices be kept open during government shutdowns. Rebecca Dostal, a Tama County farmer, and one of nine Iowa delegates at the AFBF policy conference, introduced the FSA language because the partial government shutdown has put many farmers in a very tough spot.
"There are a lot of farmers, and especially young farmers, who have loans through FSA," Dostal said. "But right now, with the shutdown, there is nobody in the office to co-sign their checks, so they can't get their loans to pay bills and order inputs for planting season."
The approved national policy would classify FSA as an "essential" government agency, which would keep the offices open during a government shutdown like the one we are experiencing now.
"Our members should feel very proud because there were several ideas and concepts that came out of Iowa and were incorporated into AFBF policy this year," says Craig Hill, IFBF president. "Our members in all 100 county Farm Bureaus in Iowa play a crucial role in our strong, year-round grassroots policy development process in Iowa which develops sound policies that resonate with other Farm Bureaus all over the country."
In addition to advocating for policy that will guide the nation's largest general farm organization with more than 6 million members, several Iowa Farm Bureau members received recognition and took home several awards during the AFBF Annual Convention. IFBF received Awards of Excellence, an honor recognizing state Farm Bureaus that demonstrate outstanding achievements in: Advocacy; Engagement and Outreach; Leadership and Business Development; and Membership Value. IFBF also received the AFBF Pinnacle Award for the fifth time in the last six years. The Pinnacle Award is the highest honor a state can be awarded for program and membership achievement in 2018.
Additionally, IFBF was presented the New Horizon Award, a recognition that honors states with the most innovative new programs. IFBF was honored for its role passing legislation reauthorizing the organization to provide more affordable Health Benefit Plans for its members facing exorbitant health insurance costs for their family and ineligible for government-subsidized health insurance.
FarmlandFinder, an Ames-based farmer resource startup company, mentored through Iowa Farm Bureau's 'Renew Rural Iowa program,' was also named the 'AFBF Entrepreneur of the Year,' marking the fourth time in the contest's five years an Iowa entrepreneur has been victorious in the competition. FarmlandFinder, a startup founded by Steven Brockshus, won the AFBF Rural Entrepreneur Challenge by beating three other semi-finalists from across the nation.
The top four entrepreneurs competed in front of a live audience and judges on the main stage in the IDEAg Trade Show at the convention this week. Brockshus' startup business, which aims to make the world's farmland-availability information easily accessible, beat out hundreds of applicants to take home a total of $30,000 in prize money as AFBF's 'Entrepreneur of the Year,' including an additional $15,000 from event sponsors Farm Credit, John Deere, Country Financial, Farm Bureau Financial Services, and Farm Bureau Bank.
Alicia Heun, a farmer from Greene County, represented Iowa in the AFBF Young Farmer and Rancher (YF&R) Discussion Meet and advanced to the Sweet 16 Round of the competition. Heun competed with participants from 34 other state Farm Bureaus in the YF&R Discussion Meet, which is designed to simulate a committee meeting, in which participants are evaluated on their exchange of ideas and information on a predetermined topic.
"It was an extremely productive week for the Iowa Farm Bureau, as several of our farmer leaders and organization received recognition and prestigious awards," says Hill. "Being presented the coveted AFBF Pinnacle Award and New Horizon Award is an honor and affirms the successful leadership of our staff, members, and grassroots organization."
A highlight of the convention was an address from President Donald Trump to Farm Bureau members, marking the second consecutive year President Trump has addressed the annual gathering of Farm Bureau members.
President Trump addressed more than 7,000 farmers and ranchers in New Orleans during the closing session of AFBF's 100th convention and renewed his promise to fight for American farmers and rural America. President Trump expressed a commitment to several key issues particularly important to Iowa farm families and rural communities, including expanded broadband access, rural infrastructure, and renewable energy, particularly his administration's efforts to pass legislation which provides for the sale of ethanol-based E15 fuel year-round.
Farm Bureau members will gather next January in Austin, Texas for the 2020 AFBF Annual Convention.
Want more news on this topic? Farm Bureau members may subscribe for a free email news service, featuring the farm and rural topics that interest them most!