Farmers tap creativity to address big challenges facing Iowans, agriculture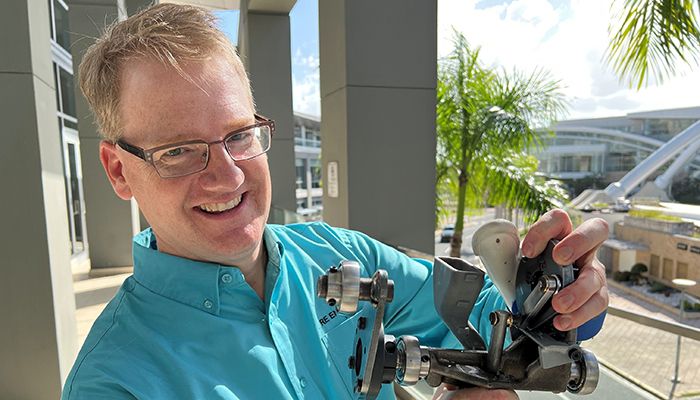 "The easiest way to plant a seed is to press it into the soil and cover it up. And that's what we do."
Jayson Ryner's invention (a planting system that presses seeds into the ground) seems unremarkable, until you realize that it could eventually revolutionize planting and discover its long list of possible benefits for farmers and the environment:
Minimal soil compaction
Better soil health
Reduced erosion  
More carbon sequestration 
Precise fertilizer application
A longer planting window (especially for farmers who use conservation practices like no till, strip till and cover crops)
Jayson created his ReEnvision Ag planting system back in January 2020, in response to exceptionally wet 2018 and 2019 growing seasons on his Floyd County, Iowa farm.
"I was super frustrated that there was no way I could get into the field [to plant]." His traditional planter with disc openers simply created too much drag and compaction to work its way through his soggy fields.  
Necessity opened a door, and Jayson walked through it. Three years later, Jayson is a top 10 finisher in American Farm Bureau's 2023 Ag Innovation Challenge, and he's eying even bigger "blue sky" possibilities for his invention.
In many ways, Jayson's story is truly unique. In other ways, it's familiar. When farmers see a challenge, innovation and action will follow.
Farmers' response to Iowa's water quality challenges is a good example. Seeing the need for more conservation and water quality protection, farmers have ramped up practices like cover crops and have begun installing conservation practices that were "invented" only recently, like bioreactors, saturated buffers, CREP wetlands, and multi-purpose oxbow wetlands. 
Another good example is how farmers have responded to the supply chain disruptions that emptied grocery store meat cases at the beginning of the pandemic. Iowans Katie Olthoff and Jared Achen saw the problem and created ChopLocal, an "online farmers market" that allows livestock farmers to sell their meat directly to consumers. Today, ChopLocal represents 44 farms and butcher shops, and the company recently placed in the top four of American Farm Bureau's 2023 Ag Innovation Challenge.
Of course, it's easy to list the challenges that remain or dissect the shortcomings of solutions that fall short of our "silver bullet" expectations. Typically, our concerns are more visible to us than the farmers who are inventing equipment, creating marketplaces, or implementing new practices to protect water quality. But it's important for us to remember that those folks are out there, with the drive, creativity, and know-how to invent an even better future for Iowa.
By Zach Bader. Zach is Iowa Farm Bureau's Digital Marketing Manager.
Want more news on this topic? Farm Bureau members may subscribe for a free email news service, featuring the farm and rural topics that interest them most!