USDA outlines coronavirus assistance plan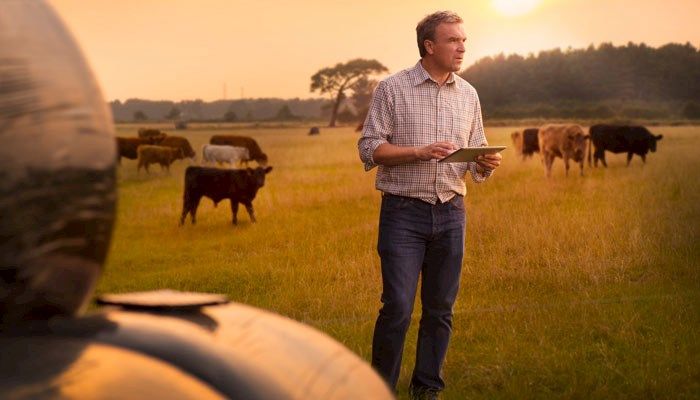 The U.S. Department of Agriculture (USDA) is hustling to get payments from the $16 billion Coronavirus Food Assistance Program (CFAP) into farmers' hands as early as next week.
The department last week announced details on aid for crop and livestock farmers who have seen price declines of more than 5% due to coronavirus-related market disruptions. Enrollment for the program opened May 26, and the USDA expects to make payments to farmers within a week after receiving their applications.
"We are moving quickly to open applications to get payments out the door and into the pockets of farmers," said Agriculture Secretary Sonny Perdue. "These payments will help keep farmers afloat while market demand returns as our nation reopens and recovers."
The $16 billion package includes $9.5 billion appropriated by the coronavirus relief package (CARES Act) and $6.5 billion from the Commodity Credit Corporation (CCC).
Iowa Farm Bureau President Craig Hill commended Congress and the USDA for their quick response to the economic disaster suffered by farmers. Prices for nearly every agricultural commodity have been hit hard, especially hog futures (down as much as 53%) and cattle futures (down 25%) as restaurants closed and packing plants shut down due to workplace illnesses.
"Immediate financial assistance is critically important," said Hill. "Iowa's agricultural ec­­onomy was weak and vulnerable going into 2020, and since the COVID-19 pandemic has struck our economy, every major Iowa commodity has suffered precipitous price declines and major food chain disruptions. It certainly has not been a run of the mill crisis and has definitely been outside of the producer's control."
Payments for corn, soybeans and other non-specialty crops will be based on either a farmer's unpriced 2019 crops in storage as of Jan. 15, 2020, or 50% of their 2019 production, whichever is smaller.
Corn will be paid an effective rate of 33.5 cents per bushel under the payment formula (50% at 32 cents per bushel from the CARES Act and 50% at 35 cents per bushel from the CCC).
For example, a farmer who had 50,000 eligible unpriced bushels of corn would receive $8,000 from the CARES Act (25,000 x $0.32) and $8,750 from the CCC (25,000 x $0.35), or $16,750 total.
Payments for unpriced 2019 crop soybeans will be calculated at 47.5 cents per bushel.
Livestock payments
For livestock farmers, payments will be figured by the number of head sold between Jan. 15 and April 15, plus the highest inventory of livestock on their farm between April 16 and May 14.

Fed cattle sold between Jan. 15 and April 15 will receive $214 per head. Feeder cattle over 600 pounds sold in that period will get a payment of $139 per head, and feeders under 600 pounds will receive $102 per head. The payment for a farm's cattle inventory between April 16 to May 14 is $33 per head for all cattle.

For hogs sold between Jan. 15 to April 15, farmers will receive $18 per head for hogs weighing 120 pounds or more and $28 per head for pigs under 120 pounds. The payment for hog and pig inventories on farms from April 16 to May 14 is $17 per head.

Crop and livestock inventories will be self-certified, although farmers should maintain documentation of their losses in case of an audit.

No indemnity payments

The aid package doesn't in­clude indemnities for hogs or other livestock that were euthanized, but Perdue said the USDA is continuing to evaluate data to determine potential needs.
Dairy producers are eligible for a CFAP payment of $6.20 per hundredweight for milk produced in January, February and March, including any dumped milk production during those months.
Specialty crop farmers who suffered 5% or greater price declines between January and April or who had crops that spoiled or weren't harvested are also eligible for payments.
Farmers will receive 80% of their CFAP payment following approval of their application. The remaining 20% will be paid at a later date if funds remain available.
"The Coronavirus Food Assistance Program nowhere begins to cover the cost of this unstable situation; however, we are grateful to have this support so we can keep our operations viable and moving forward," Hill said.
Farmers can contact their local Farm Service Agency (FSA) office to set up a phone call appointment for help with filing CFAP applications. Enrollment can be done with either paper forms or online worksheets available at
www.farmers.gov/cfap
. Applications will be accepted through Aug. 28.
There is a payment limitation of $250,000 per person or entity for all commodities combined. Income limits also apply. Individuals involved in farm corporations can receive up to $250,000 each for up to three shareholders who contribute at least 400 hours of active management or labor.
Want more news on this topic? Farm Bureau members may subscribe for a free email news service, featuring the farm and rural topics that interest them most!