Speaking up for farming is a priority for Ebert, 2016 Joslin award winner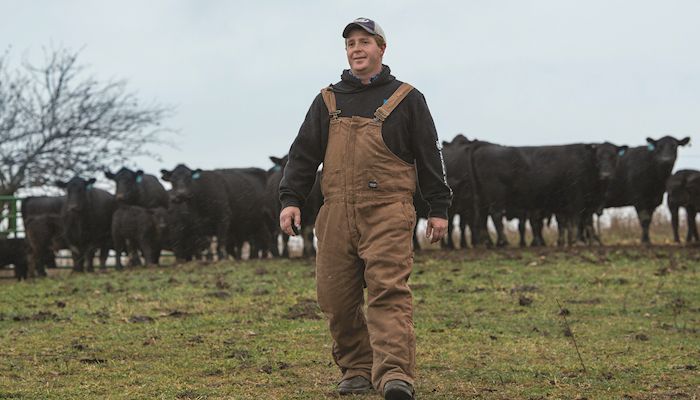 For Adam Ebert, giving back to the community and speaking out for Iowa farmers are a routine part of his day, like checking on his cattle or tucking his two kids into bed for the evening.
Ebert, a young farmer from Coon Rapids and the Guthrie County Farm Bureau president, volunteers whenever he can to promote agriculture and help others in need.
He meets with legislators on Farm Bureau lobbying trips to Des Moines and Washington, D.C. He's a volunteer firefighter and EMT. He even pulls the Guthrie County Farm Bureau's float in local parades.
"You never know when you are going to need a hand, so it's great to be able to lend one when you are able to," Ebert says.
In recognition of his dedication to agriculture and the community, Ebert will receive the 2016 Bob Joslin Award at the Iowa Farm Bureau annual meeting Dec. 6-7 in Des Moines.
The award, presented by the Iowa Farm Bureau Federation (IFBF), honors young farmers who demonstrate outstanding leadership in Farm Bureau, agriculture and their communities.
The award is named for Bob Joslin, IFBF president from 1986 to 1987, who was known for his support and encouragement of young farmers.
Ebert and his wife, Mary, started farming six years ago. They grow corn, soybeans and hay, in addition to raising cattle and hogs. They also farm in partnership with Mary's family in Guthrie County.
Overcoming challenges
Ebert grew up on a family farm in Cherokee County, as one of five brothers. However, he spent much of his childhood and his first year at Iowa State University (ISU) in crutches, after several surgeries to repair a knee condition he was born with.
Today, his reconstructed knee doesn't slow him down. But back then, Ebert didn't know how much he could do physically on the farm.
So Ebert ended up earning a triple major at ISU in agribusiness, international ag and ag studies. He interned with the National Pork Producers Council and for Sen. Charles Grassley in Washington, D.C.
Ebert still remembers a letter that arrived at Grassley's office from a constituent complaining that Iowa has too many livestock farms. "It's stuff like that, you know you have to be proactive to tell your story. Otherwise, you are always going to be defending yourself," Ebert says.
Getting back to the farm
After graduation, Ebert got a job at Nationwide in Des Moines, and Mary, an animal science major, traveled the state for her job with the Maschhoffs hog farms.
However, the Eberts realized that they would rather spend their time starting their own farm than traveling back and forth for work. Plus, the couple wanted to raise their children — Heidi, 2, and Logan, 11 months — on the farm.
Soon after moving to Guthrie County, where Mary now works for ISU Extension, the Eberts got an invite to attend the annual Iowa Farm Bureau Young Farmer commodities trip. A couple weeks after the trip, Ebert was asked to join the county Farm Bureau board.
"It's been interesting to see (the county Farm Bureau) as a resource. And it's a really good group of guys," Ebert says.
"I show up new to the area, new to the board, and didn't really know anybody. But I walked out of there with a (Farm Bureau) cap and a shirt. So I guess I was a lifer at the start," he adds with a laugh.
Getting involved
Ebert has moved up the ranks and is currently the Guthrie County Farm Bureau president. He also is a graduate of Iowa Farm Bureau's Ag Leaders Institute and participates in local and state Farm Bureau young farmer activities.
Ebert says he enjoys meeting personally with lawmakers during Farm Bureau Day at the State Capitol. He talks to state legislators about how farmers are taking on the challenge of improving water quality, yet explains that everyone has a role to play in cleaning up our water quality.
Water quality focus
Locally, the Guthrie County Farm Bureau is reaching out to summer residents at Lake Panorama, Ebert says. At Panora's July 4 parade, Farm Bureau members handed out free water bottles with labels explaining farmers' conservation efforts.
Ebert says he first learned about Iowa's Water Quality Initiative, also called the Nutrient Reduction Strategy, when Iowa Secretary of Agriculture Bill Northey spoke at a Farm Bureau meeting.
"It's pretty neat to see that (Farm Bureau) is upfront of the new programs, policies, ideas and regulations, that they are ahead and on top of that from the start," Ebert says.
It's important for young farmers to get involved in farm organizations like Farm Bureau, Ebert says, because any new regulations will have the greatest impact on his generation in the future.
But Ebert admits it can be difficult to find time to volunteer when young farmers are busy harvesting crops, raising a family and, in his family's case, fixing up an old acreage.
"You've just got to find that balance and try to spread it out," Ebert says. "You don't have to try to do everything yourself. If you can't make it to one event, then somebody else can. Just try to get more involved."
Want more news on this topic? Farm Bureau members may subscribe for a free email news service, featuring the farm and rural topics that interest them most!