The three young farmers who earned the Iowa Farm Bureau Federation (IFBF) Young Farmer Leadership Award for 2021 — Cordt Holub of Tama County, Megan Kregel of Clayton County and Michael McEnany of Story County — have very different operations, ranging from dairy to direct-marketing beef to row crops. But the three share many attributes.
Each of them is passionate about telling agriculture's story and building bridges with consumers, through direct sales, educational events and even the popular social media app TikTok. They are dedicated to caring for their livestock, preserving the soil and protecting water quality. And the 2021 Young Farmer Leadership Award winners all view their county Farm Bureaus, as well as the state organization, as ideal vehicles to pursue their agricultural goals, serve their communities and reach out to consumers.
The Iowa Farm Bureau Young Farmer Leadership Award was created in honor of former IFBF President Bob Joslin. It recognizes young farmers who are actively contributing to their communities and are growing as leaders through their involvement with their county Farm Bureau and IFBF. Holub, Kregel and McEnany will be recognized at 2021 Iowa Farm Bureau Federation annual meeting, set for December in Des Moines.
Designated charities
In addition, the IFBF will provide $2,000 community grants to local non-profits designated by each of this year's Young Farmer Leadership Award win­ners. Holub designated his Farm Bureau grant to the Little Knights Learning Center in Dysart; Kregel to the Iowa Dairy Story, a project of Iowa State University Extension and Outreach; and McEnany to Nevada Food at First, a food bank sponsored by the First United Methodist Church in Nevada.
Building on a legacy
As a fifth generation Iowa farmer, Cordt Holub is proud to be carrying on the legacy of his family's Tama County farm. As part of that effort, he's focused on conserving the farm's soil and protecting the water quality with conservation tillage, grass waterways and cover crops.
"I really take pride in taking care of my land, and my goal is to leave this place better than when I found it," said Holub, who farms with his father, Craig, and brother, Cade. "Every year we are building on our knowledge base about conservation and water quality."
The farm, Holub said, is also working on integrating cover crops into their cow-calf operation to produce needed forage. "I don't know why you wouldn't plant cover crops when you have cattle. It's just a natural fit."
Like most young farmers, Holub sees challenges ahead as profit margins continue to be squeezed by higher prices for land, equipment and nearly every other input. "It's never easy for anybody, but these days you have to be willing to hustle to make things work," Holub said.
As a Tama County Farm Bureau leader, Holub works to address another major challenge: telling agriculture's story to consumers.
"We need to be able to reach out to consumers to tell our story everywhere, whether that's to folks at the State Fair, to students through Ag in the Classroom and everywhere else," Holub said. "I really believe that Farm Bureau is the best organization to do that because of our local base and our grassroots organization."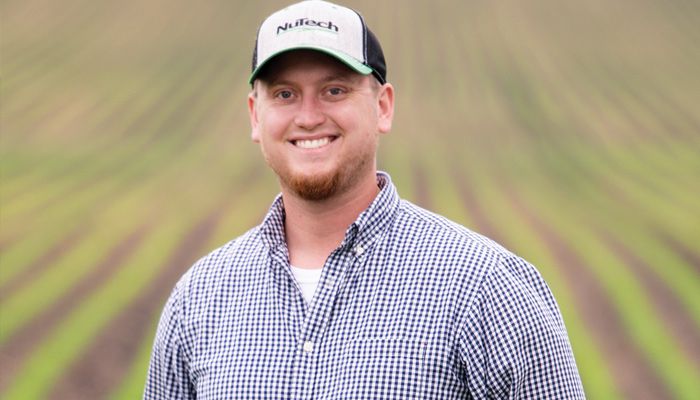 (Photo above: Cordt Holub, above, Michael McEnany, along with Megan Kregel, earned the 2021 Iowa Farm Bureau Federation Young Farmer Award. While their farms are different, each is passionate about telling agriculture's story and building bridges with consumers, through direct sales, educational events and even the popular social media app TikTok. PHOTOS / CONRAD SCHMIDT)
A passion for dairy
Megan Kregel, who returned to her family farm near Guttenberg four years ago, isn't shy about her passion for dairy. "It's not an easy life doing dairy, but once it's in your blood, it's hard to get rid of," she said. "You just develop such a connection to the cows."
The Kregel farm, which dates to 1874, has evolved over the years and now uses robotic milkers. Along with reducing labor needs, the robotic system provides the farm with a wealth of information on the herd.
"We get all kinds of daily data points, like overall health, production and reproductive status," Kregel said. "That also allows you to make better decisions and take better care of the animals."
Kregel is also passionate about promoting dairy. Along with her leadership roles in the Clayton County Farm Bureau, she's served on her county's dairy promotion committee, where a highlight has been supplying milk and other dairy products to local food pantries.
Taking to TickTok
Kregel has also taken to social media, namely TikTok, to reach an even broader audience with her positive message about dairy. She started making the short videos on the app last year and now has nearly 130,000 followers and nearly 3 million likes. "I thought it was fun and creative, so I tried it and just kept growing with it," she said.
The TikTok videos, she's found, are a great way to reach consumers and address their questions about dairy.
"The videos really show our interaction with the cows, and it's obvious to viewers that these cows are well cared for, as they are in every dairy farm," Kregel said.
"At least once a week, I get a comment or message from someone saying I changed their mind and they will start to purchase dairy products again after seeing one of my videos. That's such a rewarding part of this outreach."
Direct to consumers
Raising top quality beef is Michael McEnany's focus, and he's bringing that quality straight to local customers.
The Nevada-area farmer, who works full-time caring for pigs at a local farm, started a cattle operation in his spare time with 25 acres of rented pasture and a few cows.
As he built up his herd, McEnany decided to market his Double M Angus beef by generating orders through social media and personal contacts and then have the orders processed at a local locker.
"Direct beef selling interested me because I like being able to provide a product that consumers are looking for, and the quality they want," he said. "It gives me an opportunity to generate cash flow for my business and grow the local demand for beef."
These types of entrepreneurial endeavors are especially important for young farmers, who face stiff challenges from the volatility in crop and livestock markets, along with rising costs for land and other inputs, McEnany believes.
"With this, I'm able to have my cowherd, which is what I enjoy, and I'm able to market beef on smaller scale," he said. "If I was just selling at the sale barn, I'd have to triple the number of head I have now to get enough cash flow."
Working with the Story County Farm Bureau, where he currently serves as voting delegate, McEnany hopes to help develop more entrepreneurial opportunities for young farmers to sell in local markets.
"It will help younger farmers generate more consistent market opportunities and will require less capital investment for profitability," he said.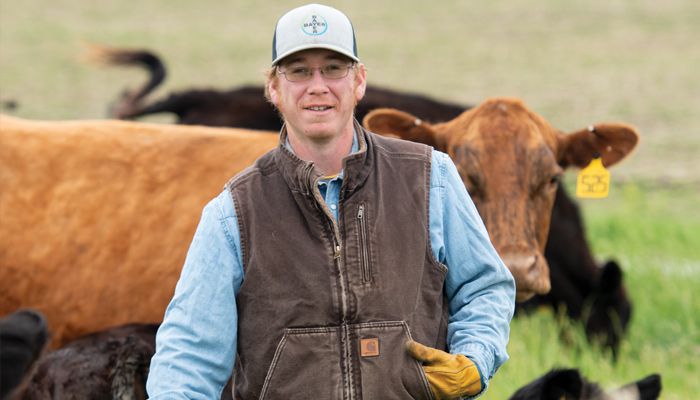 (Photo above: Cordt Holub, Michael McEnany, above, along with Megan Kregel, earned the 2021 Iowa Farm Bureau Federation Young Farmer Award. While their farms are different, each is passionate about telling agriculture's story and building bridges with consumers, through direct sales, educational events and even the popular social media app TikTok. PHOTOS / CONRAD SCHMIDT)