Iowa Farm Bureau Economic Summit features national trade, market and risk management experts to help farmers manage challenging times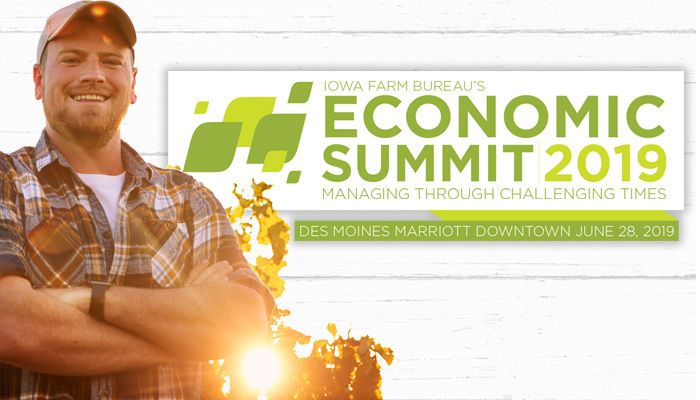 Flooding, volatile market swings, prevented planting, trade stalled—it seems this year more than ever before—the future is uncertain for many Iowa farmers. Long before this year's crops are ready for harvest, Iowa farmers need to take proactive steps to manage their risk. Iowa Farm Bureau Federation (IFBF) is bringing a variety of experts and resources to Des Moines June 28 th to help farmers manage their way through yet another downturn.
"Managing Through Challenging Times" is the focus for the 2019 Iowa Farm Bureau Economic Summit at the Des Moines Marriott-Downtown. The one-day event features a variety of risk management, banking, trade and new market experts to help Iowa farmers remain sustainable.
IFBF Senior Economist Dr. Sam Funk says the featured speakers bring national expertise to Iowa to help farmers learn how they can remain sustainable. "There's no single solution for agriculture. Many farmers are searching for how to get through this time until they can make a living in ag again. How do we manage our way through this challenging time? Some things can be controlled, and some cannot. We need to be informed on how to manage risk as best we can. We need to help our farmers focus in on the results and impacts of China, because China has been a global juggernaut for agriculture trade sales the past decade; farmers need to focus on the current trade status and impacts on markets. So, what do we see with demand for soybeans or soy meal? And when it comes to African swine fever, what should Iowa hog farmers be doing now to stay ahead of the curve? If you're going to manage anything, you must understand the scenarios and the opportunities, including managing risk and negative potential consequences. Sometimes risk can lead to rewards. Farming can be a risky venture, and the goal of our Economic Summit is to inform farmers of opportunities, changes, and strategies they can use in managing their farms," says Funk.
Farmers will hear from a variety of experts, including a Canadian farmer who grows industrial hemp who will discuss regulations, production, and what he's learned along the way. The potential of diversified agricultural practices and market possibilities of alternative crops are generating buzz since Iowa lawmakers this year approved a measure that creates the Iowa Hemp Act and was signed by Governor Reynolds. The measure authorizes the production and marketing of industrial hemp in Iowa in compliance with federal law and will be administered by the Iowa Department of Agriculture and Land Stewardship (IDALS). IDALS will submit a state plan for approval by the United States Department of Agriculture (USDA). Under the bill, a licensed grower can grow a maximum of 40 acres of industrial hemp in Iowa. "Right now, there are many questions about new opportunities like the industrial hemp market, and how or if Iowa farmers can find a profit from growing industrial hemp. So, we know there will be a lot of interest in this topic," says Funk.
Also coming to the 2019 IFBF Economic Summit is Ms. Debra Bauler, the chief information officer for Cargill Protein and Salt, who will examine the growing use of blockchain systems in the production of meat and other foods. "Farmers will benefit from learning more about this topic, because they may be able to tap into blockchain systems to set themselves apart from the rest and that's what's needed to find new market advantages during this downturn. We know there's interest in this because consumers want intimacy with their food—they want to know everything about how it was raised or grown. Walmart is tapping into blockchain trends by coming up with their own Angus beef supply chain. They want to own these cattle very early on, so they have traceability and information on these cattle. That comes with a new level of information and integration, but it's only the beginning," says Funk.
The full-day summit will feature a range of Iowa-based and national experts on other topics critical to agriculture today, including Jim Knuth, Iowa-based senior vice president of the Farm Credit Services of America, who will provide an update on the farm lending environment and factors to consider when working with your banker. Dr. Allan Gray, director of the Center for Food and Agriculture Business at Purdue University, is also on the agenda to provide attendees insight into technology use in agriculture, and how to best utilize technologies during a time of trade uncertainty for farmers. Additionally, Dr. Art Barnaby, Emeritus Professor at Kansas State University, will share his insight on farm risk management, particularly government crop insurance programs, which will likely be utilized by thousands of Iowa farmers following devastating spring flooding.
Summit registration, which includes access to all presentations and lunch, is $30 for Farm Bureau members and $150 for non-members before June 19. Tickets will be available at the door--$60 for members and $150 for non-members. Visit www.iowafarmbureau.com/EconomicSummit or contact Lavonne Baldwin (515-225-5633; lbaldwin@ifbf.org) for more information.
Want more news on this topic? Farm Bureau members may subscribe for a free email news service, featuring the farm and rural topics that interest them most!