If I need it, farmers grow it. That's what I'm thankful for this Thanksgiving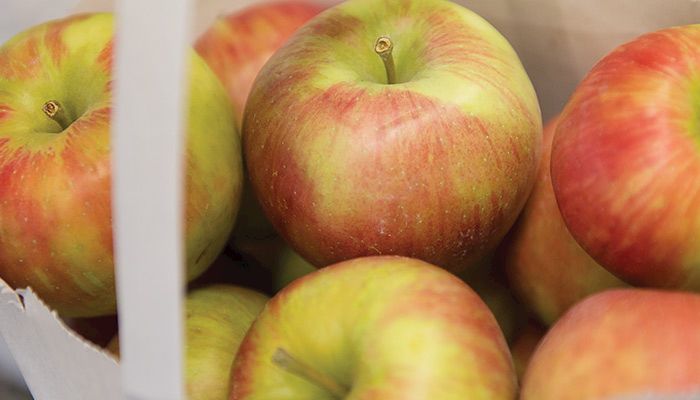 I'm pretty sure it's a sign that my husband and I are officially a boring married couple when we come home from the grocery store excited about the deal we found on apples.
A few weeks ago, my husband brought home a bag full of Red Delicious apples he found on sale for 99 cents a pound. The next week, I one-upped him and bought Honeycrisp apples for 99 cents per pound.
If you're a fan of the sweet and crunchy Honeycrisps like we are, then you understand why this was such a steal. Typically, Honeycrisp apples are in such high demand, but low supply, that they cost about $2 per pound at my local grocery store.
"They really are growing more of them now," remarked my husband, after I told him about my amazing deal.
And he's right. Over the last four years, Honeycrisp apple production has doubled, according to the U.S. Apple Association.
It's a good reminder, especially as the Thanksgiving all-you-can-eat-a-thon begins, that if consumers want something, then farmers will find a way to grow it.
For example, farmers in the Western U.S. are growing more pulse crops, such garbanzo beans, because of our ever-increasing appetite for hummus and other healthy snacks.
And as meal kits become more popular, Blue Apron and other food delivery companies are working directly with farmers to ensure a large enough supply of specialty crops for their seasonal menus.
In fact, farmers have always evolved and adapted to supply what we as customers demand. In the 1970s and '80s, Americans wanted leaner meats due to concerns about saturated fat in the diet. Now, there are six cuts of pork on the market that meet or exceed the U.S. Department of Agriculture's standard for lean protein.
And in the 1990s, Americans fell in love with foot-long deli sandwiches. So farmers here in Iowa and across the nation started raising turkeys with larger breasts to meet the surging demand for lean, white-meat deli turkey.
Now as consumer demand continues to change, farmers in Iowa – the nation's top egg-producing state - are building cage-free barns for egg-laying chickens (although, it's important to note, researchers say cage-free isn't always better for animal well-being).
Also here in Iowa, pork company Niman Ranch is looking to double the number of farmers in its supply network to fill a niche market for naturally raised pigs.
Yes, if customers demand more garbanzo beans for hummus, avocados for toast, lean turkey for sandwiches or Honeycrisp apples for my family, then American farmers will grow it.
So this Thanksgiving, I'm thankful for the farmers who grow the pumpkin for my favorite pie – and for the blessing of becoming a boring married couple who gets excited over grocery bargains.
By Teresa Bjork. Teresa is Iowa Farm Bureau's Senior Features Writer.
Want more news on this topic? Farm Bureau members may subscribe for a free email news service, featuring the farm and rural topics that interest them most!