Hill: Reynolds to be a strong voice for ag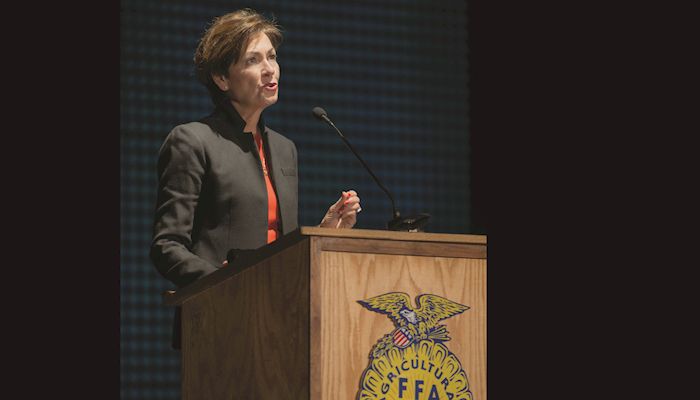 Farmers will continue to be well represented as Kim Reynolds takes the reins as Iowa's governor after Terry Branstad officially stepped down from that post last week to become U.S. ambassador to China, Iowa Farm Bureau President Craig Hill said.
"I think she's well prepared," said Hill, a Warren County crop and livestock farmer. "She's had six years of training at the governor's side. She's from rural Iowa. She understands rural issues."
Reynolds was officially sworn in as Iowa's 43rd governor on May 24, becoming the first female to hold the state's highest office. She was a former state senator and county treasurer before serving as Branstad's lieutenant governor from 2011-2017.
A vision for Iowa
"My vision for our great state embraces our past, builds a better, brighter future," said Reynolds, who resides in Osceola with her husband. "As governor, I will focus every day on four key priorities: reforming Iowa's tax structure, innovating our energy policy, educating our kids and (job) training for adults."
She said Iowa's tax code needs to be simplified to make it easier for businesses to grow and create well-paying, stable jobs.
Iowa's energy policy must continue to build on the successes of the ethanol, biodiesel and wind energy sectors that have flourished, Reynolds added.
"We must view our rich, renewable resources in ways never thought possible," she said. "Our energy plan will help us continue to lead the way in wind energy and renewable fuels. Working together, we can have the most innovative energy policy in the country."
Her education priorities include a focus on science, technology, engineering and math (STEM) subject areas that are critical for agriculture.
Branstad's new role
Meanwhile, farmers are hopeful that Branstad, who was the longest serving governor in the United States, will have a positive influence on agricultural policies as ambassador to China, which is a key export market for many Iowa farm commodities, especially soybeans and pork.
A recently announced agreement between the U.S. and China also presents opportunities for more U.S. beef exports and swifter approval of biotech seed varieties.
"It's a unique opportunity, and well-deserved," Hill said. "He will approach this role with the passion that he's had as governor. He's been a strident supporter of agriculture."
Branstad's long-standing relationship with China's President Xi Jinping, which dates back to a visit Jinping made to Iowa in the 1980s, will be a positive in his new role, Hill added.
Branstad will also be confronted with much larger issues between the U.S. and China outside of agriculture, he noted.
"We view his role there a little differently than other people do," said Hill. "As ambassador, he'll be assigned issues that reach a higher level of importance."
Reynolds selected Hawarden native Adam Gregg as her acting lieutenant governor. Gregg, 34, was previously the state public defender.
He will fulfill all duties of the lieutenant governor's office through the January 2019 inauguration, but will not be in the line of succession.
Want more news on this topic? Farm Bureau members may subscribe for a free email news service, featuring the farm and rural topics that interest them most!