FB members urge lawmakers to push for more equitable tax system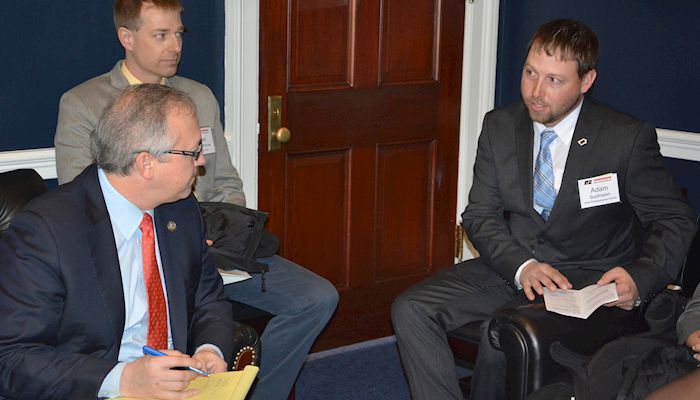 As Congress gears up for a major tax reform effort in 2017, Iowa Farm Bur­­eau leaders emphasized the need for a fairer and more equitable tax system as they met last week with members of Iowa's congressional delegation in Wash­ington, D.C.
The leaders urged lawmakers to work to permanently eliminate the estate tax, to lower tax rates across the board and to provide immediate expensing of business expenses. They also asked the Iowa delegation to work against proposals that would eliminate deductions for interest expenses.
"Ending the estate tax is a real priority for me as we get into tax reform," said Jon Bakehouse, a Mills County Farm Bureau member. "I hope to bring my son on as the sixth generation on our family farm someday. But having the estate tax will make that a lot tougher," he said.
Rick Weymiller of the All­amakee County Farm Bureau agreed that a priority of tax reform should be killing the estate tax, which is often called the death tax.
"It's really unfair because it penalizes those people who do a good job building their farms," he said. "It hurts the stability of our communities and does not promote conservation and taking care of the land."
Impact on young farmers
For young farmers, the implications of tax reform seem "pretty daunting," Dallas County Farm Bureau member Kara Christensen said in a meeting with U.S. Rep. David Young. Christensen urged Young to work to retain stepped-up basis provisions and the interest deductions.
"These are really important to farmers, especially younger farmers trying to get established," Christensen said. "And the stepped-up basis is critical for us because we are in a county that is becoming more urban all the time."
In addition to discussing poten­tial changes in the tax system, the Iowa Farm Bureau leaders stressed the need to keep exports strong by protecting existing trade agreements and enacting new ones, the importance of maintaining a robust crop insurance program and other safety net provisions in a new farm bill and continuing the push to reform regulations.
Several of the Iowans visiting Capitol Hill also asked lawmakers to reform the Conservation Reserve Program so the program targets only less productive land and establishes payments that better reflect local rental rates.
With Congress promising to dive into tax reform in 2017, Iowa Farm Bureau members told lawmakers that some proposals being floated, such as the elimination of the deduction for interest costs, would send chills through a capital intensive businesses, like agriculture.
"Farmers have to borrow, and that's what I had to do when I returned to the farm," Kyle Larsen of the Humboldt County Farm Bureau told Rep. Steve King. "If we lost that deduction, and the 179 business expenses deduction, you are probably going to lose the youth in agriculture."
Farmers also urged lawmakers to find ways to make the federal tax code more transparent and predictable. "It's an uneasy environment because you just don't know about the direction of taxes, and that makes it so hard to plan for the future," said Sharyl Bruning of the Monona County Farm Bureau.
Trade questions
Along with tax reform, the Farm Bureau members asked lawmakers to push for robust trade agreements and other measures to increase ag exports.
"We need to have strong trade agreements, whether it's multi-national, bilateral or whatever," Rich Rosenmeyer of the Kossuth County Farm Bureau told King. "They are just so important for the security of the farmers going forward."
Bruning, who feeds cattle near Mapleton, added that trade has become vital for livestock raisers, who have suffered through volatile markets. "Exports can add more than $200 per carcass on beef, and after the train wreck we had in the cattle market last year, we really need exports," she said. "And every day we wait to sign trade agreements, other countries are coming in and taking our traditional markets."
Shane DeBord of the Cass County Farm Bureau said it's critical to support agricultural trade in the current political climate. "With the production capabilities that we have now, we certainly want to protect the trade we have now and build on that," he said. "This is no time to burn our bridges on trade."
The need for a safety net
With discussions beginning on a new farm bill, Iowa Farm Bureau leaders urged lawmakers to protect crop insurance and to make livestock insurance programs workable.
"The livestock insurance program that's out there just doesn't really work," Emmet County Farm Bureau member Bryan Kruse told Iowa Sen. Joni Ernst. "It's too restrictive and doesn't really protect us from the market volatility that we've seen."
The Farm Bureau members also expressed to lawmakers the need to continue to reform the regulatory process. While the Trump administration has ordered a rework of the Waters of the United States or WOTUS rule, it's critical to keep up the legislative effort to reform regulations, they said.
"We need to make sure that regulations are really science based and take the economic impact into account," Rosenmeyer of Kossuth County said. "We need to get away from the past eight years, where the regulators just did want they wanted no matter what the law said."
Rising CRP concerns
Several Iowa Farm Bureau leaders also asked lawmakers to push for changes in the Conservation Reserve Pro­gram (CRP).
"It's really a big issue for those of us who are trying to get established," said Mindy Rodamaker of the Hardin County Farm Bureau. "We tried to get some land, but the landlord could get $320 an acre from the CRP, and we can't compete with that."
Black Hawk County Farm Bur­­eau member Jim Fitkin agreed that high CRP payments are making it tougher to rent land, especially for young farmers. "There is a lot of good land that is being put in the CRP now, and that's not what the program was designed to do," he said.
Want more news on this topic? Farm Bureau members may subscribe for a free email news service, featuring the farm and rural topics that interest them most!