Brexit ripples, trade hurdles and farm financing top discussion at Iowa Farm Bureau Economic Summit in Des Moines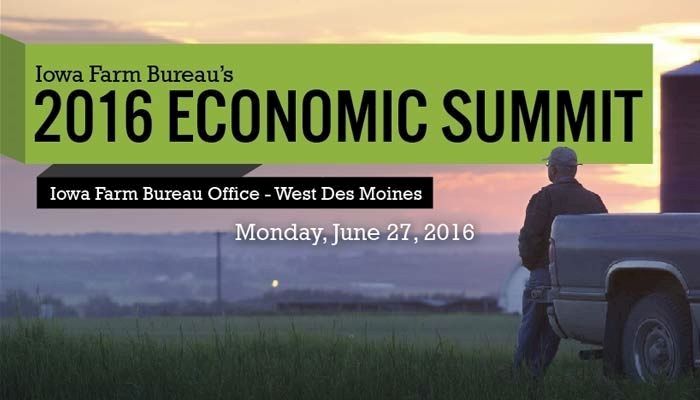 Hundreds of farmers gather to discuss market volatility
Iowa farmers are in the third year of a downturned ag economy and since one out of every five jobs in Iowa comes from agriculture, the financial struggles of farmers matters to many Iowans. National experts agree that future profitability of farming is a delicate balance involving many factors; those factors were discussed in-depth this week at the fourth annual Iowa Farm Bureau Economic Summit in West Des Moines.
Iowa Farm Bureau Federation's Director of Research and Commodity Services, Dave Miller, says there were unifying themes presented during the Summit. "For farmers today, it comes down to preparedness; we're in a period with a lot of volatility where margins are tight, but that doesn't mean we are without opportunities. Presenters this year told us that what we're seeing today is different than the downturn that led to the Farm Crisis of the 1980's. Since interest rates are unlikely to rise in the near future, the cost of money isn't the biggest concern. Instead, our emphasis needs to be on cash flow and repayment capacity. Seeking opportunities that help farmers repay their debt load matters most right now," says Miller.
Also, the recent exit of Britain from the European Union (EU), commonly referred to as 'Brexit,' and the ripples of pending trade agreements generated several questions at the IFBF Economic Summit. Meat, grain and trade experts discussed the challenges of future European exports to China and that nation's huge demand for pork. "Europe is 66 percent of the trade to China, and they shipped more pork to China than the U.S. did to the entire world. Europe is 66 percent of the global trade picture and we are just 15 percent," notes Erin Borror, an economist with the U.S. Meat Export Federation (USMEF). "We're better, but we're not back to 2011 volume. It's a different landscape, but we can't deny the EU is the big factor here."
Summit attendees were particularly interested in the outlook of the agricultural economy, especially the global trade markets, following Brexit. Nathan Kaufmann with the Federal Reserve of Kansas City says the U.S. dollar is strengthening as investors look for a safe haven in the stormy market, which make American crops and meats more expensive in world markets. Yet, there are concerns as well. "There is likely to be a cascade effect from the British vote that could hurt our exports and slow a rebound in the farm economy," Kaufmann warns.
USDA farm programs and the financing of conservation programs was also a hot topic for Iowa farmers. "There has been a nearly 35 percent increase in cover crops planted in Iowa. A recent survey shows Iowa is among the top three states in the nation to use cover crops," says Kurt Simon, State Conservationist. Simon and John Whitaker, State Farm Service Agency (FSA) director, agree there is good news to share with conservation practices, but not everyone is hearing it. Farmers are urged to report their plantings to their county FSA office in the fall, so they are included in efforts that measure and assess statewide conservation practices.
Presenters agree that the solution-seeking, innovative efforts of Iowa farmers will help them weather the economic challenges of today. "Iowa's agricultural economy is always on a continuum of change, with both global and local forces making decision making complicated and difficult," says IFBF President Craig Hill. "Nevertheless, Iowa's farmers must navigate a way to profitability if they are to be sustainable. This Economic Summit provided us with the best insight and information to enable us to be successful in our farm operations."
Copies of the presentations delivered during the Economic Summit can be viewed by visiting https://www.iowafarmbureau.com/Article/Iowa-Farm-Bureaus-2016-Economic-Summit-presentations.
Want more news on this topic? Farm Bureau members may subscribe for a free email news service, featuring the farm and rural topics that interest them most!