Ag leaders goes virtual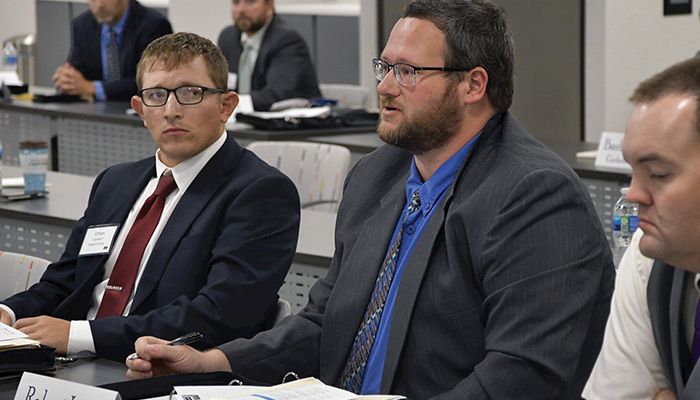 From derecho and COVID-19 support for farmers to protecting the ethan­ol industry and offering more opportunities to small meat packers and lockers, the 2020 Iowa Farm Bureau Federation (IFBF) Ag Leaders Institute class had a lot to discuss with their representatives last week.
In place of the usual in-person trip to Washington, D.C., to lobby Iowa's congressional delegation on behalf of farmers, the Ag Leaders took part in a two-day virtual visit with lawmakers and issue experts Sept. 15-16 at the IFBF office in West Des Moines.
"Many modifications were made this year to the Ag Leaders Institute due to the COVID-19 outbreak, and I'm very proud that the group rolled with the changes," said Mary Foley Balvanz, IFBF leadership training manager. "This was our first virtual D.C. trip, and these leaders used the opportunity to influence their elected officials on today's critical issues."
At the culmination of the Ag Leaders program each year, class members meet with their representatives in the U.S. House and Senate to urge support on issues important to farmers. Members share personal stories and experiences to explain the need for the issues they are talking about.
Derecho help
Josh Henik, a Linn County Farm Bureau member who farms near Mount Vernon, asked Rep. Abby Finkenauer for continued support of federal programs like the Commodity Credit Corporation (CCC) and Wildfire and Hurricane Indemnity Program Plus (WHIP+), which provide low-interest loans or reimbursements to farmers recovering from natural disasters.
"My story's not unlike a lot of farmers that were in the path of that storm. We lost machine sheds. We lost grain bins," Henik said. "While all of that stuff was insured, the process is slow to get those insurance funds out to us. Add to that, insurance doesn't always make you a 100% whole."
Henik noted that due to the widespread impact of the derecho in August, the price of building supplies such as lumber has skyrocketed, making the insurance funds not enough to cover his rebuilding costs.
"I thought this was an important story to share with her," he said. "I know she's toured the area. She's well aware of the damage … I'm hopeful she'll be able to take these stories and share them with other members of Congress."
Rural broadband
Polk County Farm Bureau member Josh Remington shared the importance of continuing broadband internet expansion to rural areas, especially as the pandemic is causing many kids to do schooling from home.
"It's really hard for some students to actually get connected to be able to be a part of their educational process," Remington explained to Iowa Rep. Cindy Axne.
Remington's wife is a teacher in the Bondurant school district.
"She actually has to complete multiple sets of lesson plans — some for those that are in the classroom, some for those that are out of the classroom and another set for those that actually can't connect to the internet," he said. "We have the ability to fix this problem, and so I was asking (Axne's) support to help us fix that."
Rural internet access was also discussed as a way to address sustainability issues. By using precision agricultural practices, which require high speed internet access, ag inputs can be applied more accurately to fields, and less will be used overall.
Ethanol
When the country shut down in the spring, Audubon County Farm Bureau member Adam Hansen said the POET ethanol plant near him was idled due to lack of demand for its product. That left him sitting on hundreds of thousands of bushels of corn with nowhere to sell it.
"We were basically stuck trying to figure out what we do with 100% of our corn that would normally go to that particular plant in Coon Rapids," Hansen said.
The plant has since reopened, but many ethanol refineries continue to run at pre-COVID levels. Hansen asked his representative, Steve King, to support a provision to allow E15 in existing E10 pumps around the country, which would instantly increase demand for ethanol.
Small meat processors
Henry County Farm Bureau member DeAnn Scott-Harp found success directly marketing beef from her cattle herd before closures of large packing plants this spring caused small packers to fill up with the overflow livestock. Her local locker was suddenly booked into 2021 and not allowing her animals to get processed, drying up that revenue source.
"I felt like I was finally earning my keep on the farm, then COVID hit and we had several issues associated with that," Scott-Harp said. "I have to drive 40 minutes to find a locker that I can work with, and locker appointments are just so far out now that it's really been a problem."
She asked Rep. Dave Loebsack to support legislation that would help finance lockers that wish to expand, as well as rule changes that make meat processed at state-inspected plants eligible for sale in other states.
"I work in Keokuk, so I have easy access to Missouri and Illinois, but I am currently unable to sell meat to people outside of Iowa," Scott-Harp said.
Want more news on this topic? Farm Bureau members may subscribe for a free email news service, featuring the farm and rural topics that interest them most!