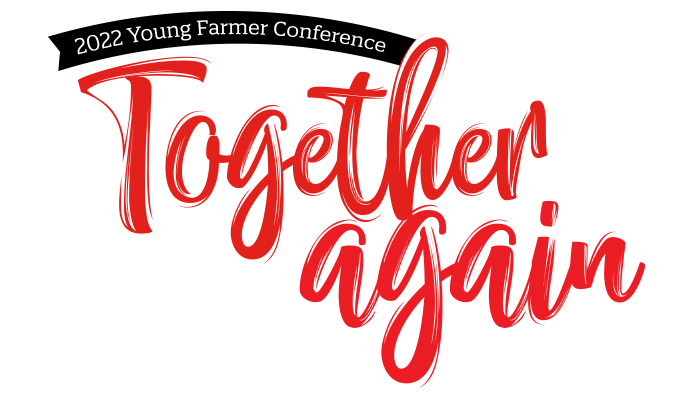 We're so excited to get back together again – IN PERSON – for the 2022 Young Farmer Conference taking place on Friday, January 28 and Saturday, January 29 at the Iowa Events Center in Des Moines, Iowa.
Friday, January 28, 2022
1:00 PM
Tour Check-in (Pre-registration required.)

1:30 PM
Industry Tours (Depart from hotel)
 1. Market to Market
 2. Capitol & State Historical Building
 3. Iowa State University Meats Lab
 4. Kemin
 5. Hawkeye Breeders

4:30/5:00 PM
Tours Return

4:30 PM
Registration & Social Hour (Cash Bar)
Apparel and Ribbon Sales

6:00 PM
Dinner (Seating by District)
Welcome - Young Farmer Chair & IFBF President

7:30 PM
Using Humor to Overcome Failure
Greg Warren, Comedian
Greg shares stories of overcoming setbacks as a West Point Cadet, a Denny's busboy, a college wrestler, and a Pringles salesman. He underlines how he has utilized humor to get past failure.

8:15 PM
District Gatherings facilitated by YFAC District Representatives
Meet your Young Farmer Advisory Committee representatives and expand your personal network of young farmer friends and contacts.

9:00 PM
Young Farmer Fun Night
Pull up a chair and enjoy casual conversation with friends and other young farmers. Challenge each other to a jousting match, a life-sized game of Hungry Hippo, or a round of human foosball. You also have the option to unwind and join Messy Missy for sign painting.
---
Saturday, January 29, 2022 
6:30 AM
Breakfast

8:00 AM
Morning Welcome - Mike Naig, Iowa Secretary of Agriculture
Young Farmer Leadership Award Winners

8:30 AM
District Gatherings facilitated by YFAC District Representatives
Find out about young farmer events in the district and provide input into future events. If it's your first time at the conference, this will help you navigate through the agenda choices.

9:30 AM
Break

10:00 AM
Breakout Sessions  – Round 1

11:15 AM
Breakout Sessions  – Round 2

12:30 PM
Lunch 
Grow Your Future Award Pitch-off & Voting

2:15 PM
Breakout Sessions  – Round 3

3:15 PM
Break

3:30 PM
Discussion Meet Orientation
Sponsored by Ziegler Cat and Altorfer Cat

3:45 PM
Discussion Meet Round 1          
Join others interested in today's critical issues for a free-wheeling discussion that helps you build communication skills, develop an understanding of important ag issues and explore how to pool knowledge to solve problems. Contestants and spectators will both learn a lot! (Spectators welcome.)

4:45 PM
Discussion Meet Round 2

Alternatives to the Discussion Meet
3:30 - 5:00 PM
Afternoon Session 1 – Farm Family Finance          
Madeline Schultz, Women in Agriculture Program Manager and Carol Ehlers, Family Wellbeing Specialist, ISU Extension & Outreach
Farm and family finances are often intertwined, impacting family budgets and benchmark practices. Finding the balance can be a challenge. Fortunately, there are tools and resources available to assist you through the process.

3:30 - 5:00 PM
Afternoon Session 2 – Grassroots Involvement in Statewide Issues    
Don McDowell, Grassroots Program Manager, IFBF
Policy is the foundation of Farm Bureau's mission. State and national legislative activities are the cornerstones of Farm Bureau's long-standing influence over public policy. Learn when, where and how to influence those making laws and regulations that impact your farm.

5:30 PM
Social Hour  

6:00 PM
Dinner
Discussion Meet & Grow Your Future Award Results
7:00 PM
That's the Way We've Always Done It!
Dr. David Griffin
It's all too common that we hear the phrase, "That's the way we've always done it". Unfortunately, this can lead to deadly consequences. Why do we continue to make this statement? How does it affect our decision making and open-mindedness to progress? We all have said this in our life. It doesn't make us bad people, it makes us human beings. However, we must still identify and understand methods to overcome this phrase so it does not lead to irreversible consequences.

8:00 - 10:00 PM
Casino Night
You can roll the dice, bet the house or double down, all with our funny money. At the end of the night, cash in your winnings for raffle tickets for an array of VERY nice prizes. Everyone goes home a winner after a night of fun and games with your fellow young farmers.
Thank You to our Conference Sponsors:


Return to young farmer Conference