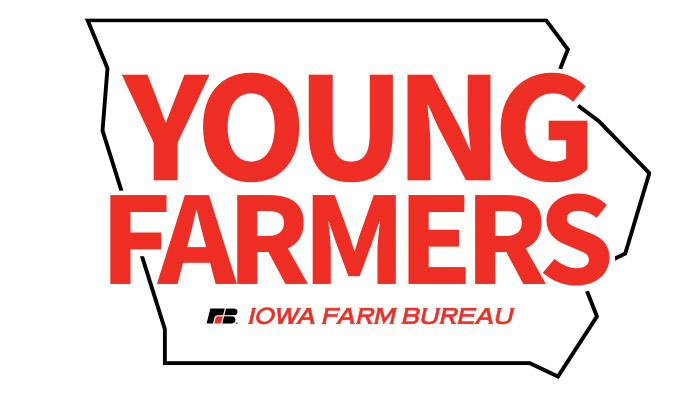 Join us for the 2024 Young Farmer Conference taking place February 2 - 3, 2024 at the Prairie Meadows Events & Conference Center in Altoona, Iowa.
Friday, February 2, 2024
12:30 PM
Tour Check-In (Pre-registration required.)

1:00 PM
Industry Tours (Depart from Hotel lobby)
 1. Clayton Farms – Indoor Vertical Farms
 2. Iowa State Fair – Behind the Scenes
 3. ISU Feed Mill
 4. ISU Veterinary Diagnostic Laboratory
 5. Foundry Distilling Co
 6. ISU Athletic Facility & Turf Management

4:30 PM
Industry Tours Return

4:30 PM
Conference Check-in & Social Hour (Cash Bar)
Merchandise fundraiser for Seeds of Hope Foundation

4:30 - 6:00 PM
Professional Headshots
Stop by the photo booth with your cell phone or camera for your own professional photo.

6:00 PM
Dinner (Seating by District)
Welcome from Young Farmer Chair, Vanessa Trampel, and IFBF President, Brent Johnson

7:00 PM
Discuss the Undiscussabull™
Elaine Froese
Elaine is a go-to expert for farm families who want better communication and conflict resolution to secure a successful farm transition. Often the conflict and high tension around the uncertainty of the future of the farm is keeping people tense and unsure of how to start courageous conversations. Yet, it's the conversations that will give breakthroughs – once you deal with the "bull" in the middle of the room. Elaine's tools will give you the strategies you need to improve communication within your farm family. You will learn how to deal with resistance and listen to your head, heart, and gut. You will gain insight into tough succession issues to have life-changing conversations – finally!

8:00 PM - 10:00 PM
Casino Night
You can roll the dice, bet the house or double down, all with our funny money. At the end of the night, cash in your winnings for raffle tickets for an array of very nice prizes. Everyone goes home a winner after a night of fun and games with your fellow young farmers.
---
Saturday, February 3, 2024 
6:30 AM
Breakfast

8:00 AM
Morning Welcome - Mike Naig, Iowa Secretary of Agriculture
Young Farmer Leadership Award & Videos

8:30 AM
District Gatherings facilitated by YFAC District Representatives
Meet your Young Farmer Advisory Committee representatives and expand your personal network of young farmer friends and contacts. Find out about young farmer events in the district and provide input into future activities.

9:30 AM
Break

9:45 AM
Breakout Sessions – Round 1

10:45 AM
Break

11:00 AM
Breakout Sessions – Round 2

12:00 AM
Break

12:30 AM
Lunch 
Grow Your Future Award Pitch-Off & Voting

2:15 PM
Breakout Sessions – Round 3

3:15 PM
Break

3:15 - 6:30 PM
Professional Headshots
Stop by the photo booth with your cell phone or camera for your own professional photo.

3:30 PM
Discussion Meet Orientation

3:45 PM
Discussion Meet Round 1          
Join others interested in today's critical issues for a free-wheeling discussion that helps you build communication skills, develop an understanding of important ag issues, and explore how to pool knowledge to solve problems. See the back page for more information.

4:45 PM
Discussion Meet Round 2
Contestants participate in two rounds, with a different question and competitors in the room.

Alternatives to the Discussion Meet
3:30 - 5:00 PM
Understanding Farm Personalities: Why We Act as We Do
Larry Tranel, Dairy Field Specialist, Iowa State University Extension and Outreach
We all have PERSONALITY. Each person is born with personality tendencies that can somewhat predict behaviors and tend to become more refined as aging and maturity occurs. Knowing your personality tendencies and that of others, has reportedly benefited many farm couple and family relationships by helping identify and manage personality differences. People can learn to gravitate more toward personality strengths and positive thoughts, attributes, and emotions, as well as to mitigate personality weaknesses and negative thoughts, attributes, and emotions.

3:30 - 5:00 PM
Ag Equipment Industry Update    
TBD

5:00 PM
Social Hour  

6:30 PM
Dinner
Discussion Meet & Grow Your Future Award Results
7:30 PM
Evening Keynote: Tim Gabrielson  
For over 3 decades, he's been entertaining and speaking across the United States. In Las Vegas, his show headlined at Mandalay Bay Casino. He's an author, keynote speaker, magician, and all-around funny guy. Tim will inspire you with his words, entertain you with his breathtaking comedy and magic, and show you how to make small choices that result in a big difference.

8:00 - 11:00 PM
Young Farmer Networking hosted by Farm4Profit Podcast
Get to know other Young Farmer Conference attendees and meet the hosts of the weekly podcast that focuses on how to boost the bottom line for farmers and business owners. They also have Farm4Fun episodes that showcase the lighter side of farming. Whether you are meeting old friends or making new ones, stick around to visit with your peers.
Thank You to our Conference Sponsors:


Return to Young Farmer Conference