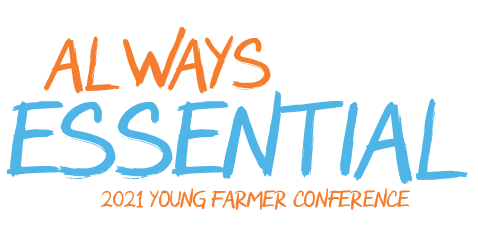 You're all essential. And this year's 2021 Young Farmers Conference is going to be (essentially) a little different. With the need to maintain social distancing requirements during the ongoing pandemic, this year's conference will take place virtually – while safely delivering you the information, education and peer interaction you've come to expect from the comfort of your own home.

It all takes place on Friday, January 29 (7-10 PM) and Saturday, January 30 (7-10 PM), where keynote speaker Jeff Havens will teach you serious solutions for overcoming business challenges in a seriously funny way. And Zach Johnson, Minnesota Millennial Farmer, will share the importance of connecting farmers to consumers. You'll also have an opportunity to learn about cutting-edge technologies, new ag opportunities and financial management techniques to help you grow and succeed on your farms, through live content-rich breakout sessions and prerecorded webinars.

The Young Farmer Discussion Meet competition (sponsored by Altorfer CAT and Ziegler CAT) will take place on Wednesday, February 10. Learn more below.

For more information on the upcoming Young Farmer Conference and to view an agenda – see below. To register, click on the Register Now button below.

Register now
After registering, check your email for the conference login details.

Thank you to our conference sponsors:

Conference Details:
Session recordings will be made available following the conference.

For those of you unable to attend the conference, all sessions will be recorded and made available to Iowa Farm Bureau members for viewing following the live event. Check back here, for details.