Young farmer leaders honored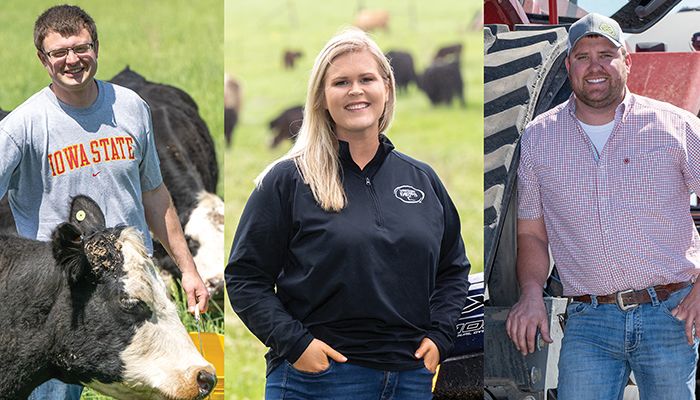 The three winners of the Iowa Farm Bureau's 2022 Young Farmer Leadership Award are committed to helping other young farmers establish roots in agriculture, even as they are working to establish and grow many aspects of their own farms.

Like many young farmers, this year's honorees — Tanner Brass of Franklin County, Clark Dolch of Adair County and Melissa Moretz of Worth County — all juggle off-farm jobs in addition to their farm responsibilities. But all three of them still carve out time to volunteer for their county Farm Bureau as well as the state organization and other local groups to promote agriculture and serve their communities.

The Iowa Farm Bureau Young Farmer Leadership Award was created in honor of former Iowa Farm Bureau President Bob Joslin. It recognizes young farmers who are actively contributing to their communities and are growing as leaders through their involvement with their county Farm Bureau and the Iowa Farm Bureau.

Brass, Dolch and Moretz will be recognized at the 2022 Iowa Farm Bureau Federation annual meeting in December. In addition, the Iowa Farm Bureau will provide $2,000 community grants to local nonprofits designated by each of this year's award winners.
Facing financial hurdles
In his dual roles as a farmer and ag loan officer, Clark Dolch is well versed in the financial challenges facing young farmers.
"As input prices continue to rise due to transportation issues, global economics and supply chain backups, young farmers are going to feel the pressure of having the capital to operate their farm businesses," said Dolch, who runs a 40-head commercial Angus cow-calf herd with his wife, Molly, and 2-year-old son.
He aims to connect young farmers with funding resources and programs that offer low-interest loans, grants or tax credits to reduce their start-up costs.
"Understanding who to talk with and the programs available is imperative to the success of the young farmers I work with," he said.
Dolch also values the relationships formed through participation in Farm Bureau and other community organizations. He has held several positions on his county Farm Bureau board, served a term on the Iowa Farm Bureau Young Farmer Advisory Committee and has been involved in numerous local organizations.
"If something works for one person, talking with them can help someone else be successful," he said. "It's what agriculture is all about — making those connections and communication with each other."

Advocating for ag
Being an advocate for agriculture has always been a passion for Melissa Moretz, who farms in Worth County with her husband, Nathan, and two young children. They raise corn, soybeans and alfalfa in addition to feeding hogs and raising cattle.
She has discovered that many people have misconceptions about agriculture, even in rural Iowa. A few years ago, her family received pushback on their plans to build a hog barn. With support from their local Farm Bureau, Moretz said, they were able to explain how responsibly raising livestock would help the young family put down roots in the community, and they eventually earned the support of most of the early doubters.
"I got a real-life lesson in how you're perceived in the public eye when things aren't necessarily known," she said. "That was my driving factor when I began to pick up my involvement in Farm Bureau, and that's continuing to push me because I don't want somebody else to go through a situation like that on their own."
Working full-time as a lending relationship officer at a local bank in addition to farming and raising a family doesn't leave much spare time. However, Moretz said volunteering for her county Farm Bureau, the Ag in the Classroom program and other ag outreach activities is vital to make sure consumers have the facts about today's farms.
"With instant access to information, it is our responsibility as a producer to share our story so consumers can gain confidence in what we are doing on the farm and why we do it," she said.

Advancing sustainability
Tanner Brass sees how farmers are using technology to become more sustainable every day through his role as a precision farming manager for Case IH as well as on his family's Franklin County farm.
With escalating prices for farmland, equipment and inputs, Brass has focused on becoming more efficient and expanding his custom farming services.
"At the end of the day, I am not farming more acres, but I have diversified my operation. That has significantly increased my farming income and lessened the need for an off the farm job," he said.
"The worst thing we can do as young farmers is to not look at alternative options. If we continue down the same path and only do things the way we always have, we will only limit our potential."
Brass also shares his story through local Farm Bureau activities and volunteering at his county fair in addition to posting photos and videos of his farm on social media. He was featured in Case IH's "Built By Farmers" commercial that aired during the 2021 Super Bowl as well as radio ads telling why he decided to become a farmer.
"I want to be sure that the general public and future generations are accurately informed of the importance of agriculture and those working in it daily," Brass said.
In addition to the $2,000 grant to a local nonprofit organization of their choice, the three winners of the Young Farmer Leadership Award will receive an expense paid trip to either the 2023 American Farm Bureau annual convention or Young Farmer and Rancher Conference, an expense paid trip to the Iowa Farm Bureau Young Farmer Conference, a Choice Hotels certificate valued at $500 and a $1,500 award from GROWMARK.
Want more news on this topic? Farm Bureau members may subscribe for a free email news service, featuring the farm and rural topics that interest them most!