Young farmer chair works to connect with consumers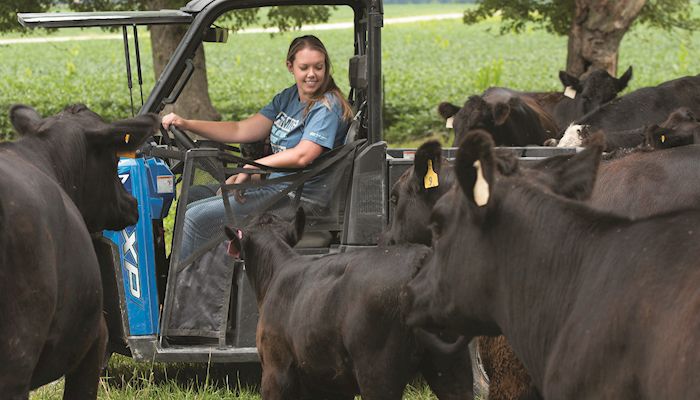 Laura Cunningham understands that a lot of folks can't relate to what her life is like as a cattle farmer in northern Iowa.
Cunningham, the new chair of the Iowa Farm Bureau Young Farmer Advisory Committee, says she tries do whatever she can to educate fellow Iowans and others about raising cattle and beef nutrition.
She invites county supervisors and bloggers to visit her cattle farm in Nora Springs. She gives virtual tours of the farm for local students, and she shares photos of the cattle and her adorable blue heeler puppy, Annie, on social media.
Cunningham says her grandfather, who was an ag education teacher at Rockford Senior High and chartered the FFA chapter there, has always been her role model. She hopes to continue his legacy by connecting with consumers, legislators and neighbors in her new role as Iowa Farm Bureau young farmer chair.
"It's really a deep part of my family to be rooted in agriculture in north Iowa. It's something that I've always carried with me," Cunningham says. "I want to do some of what he did in educating other people about agriculture."
Cunningham grew up near Nora Springs and now farms there with her husband, Aaron. She also works as a marketing specialist for Latham Seeds.
Starting with livestock
The Cunninghams raise Angus cattle, in addition to growing corn and soybeans. She says livestock are a great avenue for young people to get started in farming.
"The cattle are just a nice way for us to utilize the resources that we have and add a little value. We put the manure back on the row-crop land for fertilizer," she explains.
A few years ago, the Cunninghams started to direct-market their locally-raised beef to customers, under the name SkyView Farms.
"It's been a great way to use some of my marketing skills from work and also add some value to the farm," she says. "It has provided opportunities for some really great conversations about beef and how it's grown. I always enjoy the opportunity to help people understand what they are buying and what they see in the grocery store or hear in the media."
Cunningham first got involved in Farm Bureau after attending a "Take Root" workshop to learn more about transitioning the family farm from one generation to the next.
Soon after, Cunningham joined the Floyd County Farm Bureau board and graduated from Iowa Farm Bureau's Ag Leaders Institute.
Ag Leader training
Cunningham says her Ag Leaders training helped sharpen her leadership skills and feel more comfortable talking to lawmakers and local officials about policy issues impacting her farm.
"We've got some hot topics that have come across (county) supervisor meetings concerning livestock. Now I have the confidence to first form a relationship, get to know them and support the things they are already doing. Then if you need help with an issue, you've already got a relationship developed," Cunningham says.
Cunningham says supporting and growing Iowa's livestock industry is a priority for young farmers, who see livestock as a way to get started in farming.
"Some of the regulation that's happening in the livestock industry, especially in our state right now, is really going to open doors or close them for young farmers," Cunningham says.
"When it comes to getting into agriculture, that barrier to entry with high capital expenses is never going to change," she continues. "So anything we can do to help that regulatory process to make sure that opportunities are still there for young people to get into livestock, that's going to be key in the next five to 10 years, making sure that somehow it can still be an opportunity. That the door doesn't get regulated shut."
Access to pasture
As a cattle farmer, Cunningham says another issue important to young farmers is access to pastureland. The Cunninghams lost out on potential pasture acres because the land was instead enrolled in the Conservation Reserve Program (CRP).
"I whole-heartedly support conservation efforts, but then when it comes down to finding pastureland, we have to compete with CRP and pollinator programs," Cunningham says. "Is there a way to design programs so there is just as much incentive to manage that land with correct grazing as it is to put it into a 15-year CRP?"
Planning for conference
Cunningham says planning is already underway for the Iowa Farm Bureau Young Farmer Conference in January 2018. Topics will include niche marketing, cover crops and conservation methods, and work-life balance. Last year, the annual conference brought together 500 young farmers from across the state.
Cunningham encourages other young farmers to attend the conference and to get involved in Farm Bureau to advocate for their future in agriculture. She says Farm Bureau provides a three-fold opportunity for young farmers: to develop leadership skills, to understand regulations and policy that apply to the farm, and to develop ag knowledge as a whole, through "Take Root" farm transition workshops or grain marketing webinars, for example.
"If you're not telling your story, others are going to tell it for you. And if you don't understand how (policy) affects you, then you may be regulated in a way that negatively affects your farm," Cunningham says. "Your story has a lot of power, and it's only yours to tell. So it's important that you make your voice heard."
Want more news on this topic? Farm Bureau members may subscribe for a free email news service, featuring the farm and rural topics that interest them most!