Why Americans are more positive about farming than any other business sector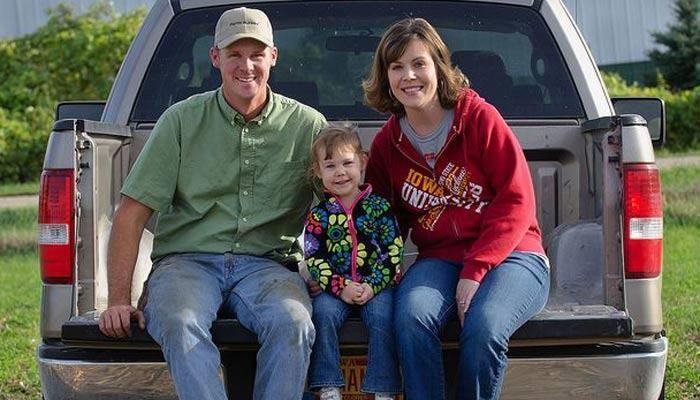 A recent Gallup poll tracking Americans' views of business and industry sectors caught my attention when it concluded "farming and agriculture is the clear leader" in positive public sentiment – for the first time in the poll's 20-year history.
Not only is farming and agriculture viewed more positively than all of the other 24 listed sectors; it gained 11 percentage-points in positive sentiment over the past year.
As someone who spends my days answering questions and clearing up misunderstandings about agriculture and today's farming practices, I'm pleasantly surprised. Even in a state like Iowa, many people aren't closely connected to farming (less than 5 percent of Iowa's population farms), and it seems like the news coverage and social media commentary about farming misses the mark far too often.
So how are Americans overcoming their lack of farming exposure and filtering out enough noise to see and admire the farming and agriculture sector?
The empty grocery store shelves and other shortages caused by Covid-19 disruptions have definitely put a spotlight on the importance of farmers and the supply chain that moves food from farms to our local grocery stores. So I can surmise that we're all feeling more aware of and grateful for the people who provide our food.
But I also wanted to seek the expertise of someone who researches consumer trust and sentiment for a living.
Charlie Arnot is the CEO of The Center for Food Integrity (CFI), a national not-for-profit organization dedicated to building consumer trust and confidence in today's food system. CFI (whose members include everyone from Costco and Chick-fil-A to Kroger and Starbucks) has years of research into consumer trust and behavior, including recent insights into Covid-19 and its impact on consumers. That research leads Charlie to his conclusion about farming and agriculture's strong standing with consumers and the sector's uptick (in positive sentiment) in 2020:
"Covid-19 created unprecedented disruption in our personal lives and society more broadly. When you couple this disruption with a highly politicized and polarized election year, it creates an extraordinary level of uncertainty and anxiety. In that context, consumers are searching for those who are trustworthy, and American farmers rise to the top of that list. The iconic farmer represents a commitment to shared values like family, community, hard work and doing 'what's right.' Those values are in short supply in some sectors, which reinforces the value farmers bring not just to agriculture, but to our communities and our nation as a whole."
It's pretty simple.
When life is crazy, we look to the people we can count on. I don't need to farm or having a technical understanding of what it takes to farm today to appreciate the work and commitment it takes to grow our food, by families that have been working the land and caring for livestock for generations.
2020 has given us plenty of reasons to feel uncertain and anxious, which makes the people we can trust that much more appreciated and valuable.
By Zach Bader. Zach is Iowa Farm Bureau's Digital Marketing Manager.
Want more news on this topic? Farm Bureau members may subscribe for a free email news service, featuring the farm and rural topics that interest them most!