What's on your ag summer bucket list?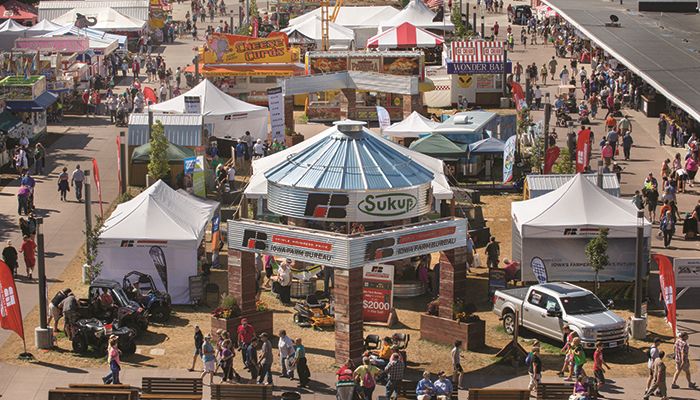 As much as we love the carefree days of summer in Iowa, these long, sunny days go by fast, and before you know it, the kids are packing up their backpacks for the first day of school.
That's why many Iowa families make a summer bucket list of must-do things to see and experience before the new school year begins.
While a trip to a waterpark or a ball game is likely on your family's summer bucket list, it's also a perfect time of year to embark on hands-on learning about Iowa agriculture.
Whether you live in the city or in a rural community, agriculture plays a vital role in our everyday lives – in the choices we make at the grocery store, the gas pump or the voting booth.
And with an understanding of agriculture, the next generation of Iowans are better equipped to make informed decisions about important issues impacting our state, including water quality, farm production and nutrition.
To get your family started, here's a do-it-yourself summer bucket list of ag adventures for all ages. Pick and choose from the list, and share the fun with your friends and family on social media.
Visit your county fair. Walk through the livestock barns to see 4-H kids prepping their show cattle and hogs for the ring, enjoy a free watermelon or sweet corn feed sponsored by the county Farm Bureau, or sign up your kids for a pedal tractor race or mutton bustin'. Several county fairs also have animal ag learning exhibits, where kids can see baby farm animals and learn more about how Iowa farmers care for livestock.
Enjoy breakfast on the farm. During June dairy month, several Iowa dairy farms, including Iowa's Dairy Center in Calmar and the Iowa State University Dairy Science Farm in Ames, host open houses. Visitors are invited to tour the milking parlor, see robotic milkers in action, learn about cow care and comfort, and enjoy free ice cream. Visit the Midwest Dairy website for info on upcoming June Dairy Month activities.
Visit a U-Pick farm. Fill a bucket with strawberries, blueberries, cherries, raspberries, apples and more at one of Iowa's U-Pick farms open in the summer and fall. Kids can get a little dirty, taste healthy produce straight from the farm and ask questions of the farmers who grow our food. For a list of U-Pick farms near you, visit the Iowa Fruit and Vegetable Growers website.
Try a fun ag activity at home. Let's face it. Sometimes, it's too hot or rainy to visit the farmers market or pick berries. The Iowa Agriculture Literacy Foundation's website offers links to online farm games and creative ideas for indoor (or outdoor) ag learning. Also, be sure to check out the foundation's fun activities at the Iowa State Fair.
Play at the Hoover Library's Century of Farming exhibit. If you're road-tripping east on I-80 this summer, make a stop at the Hoover Presidential Library and Museum to explore the new exhibit, "Tallgrass to Knee High: A Century of Iowa Farming." The exhibit is presented by the Iowa Farm Bureau, which is celebrating its 100th anniversary in 2018. It features a hands-on area for children with farm toys for creative play, a life-sized milking cow, board games, two digital game stations and farm books.
Roll through Iowa's countryside. Plan a family cycling trip on the High Trestle Trail in central Iowa. New trailside signs from the Iowa Farm Bureau showcase the many conservation practices that Iowa farmers use to protect soil and water quality. Find the signs on the High Trestle Trail between Ankeny and Slater.
Celebrate Farm Bureau Day Aug. 14 at the Iowa State Fair. Sample the best dishes by champion grillers from across the state during the annual Iowa Farm Bureau Cookout Contest Aug. 14. Also, keep checking the Iowa Farm Bureau's centennial website for updates on member-exclusive events planned at the Iowa State Fair to celebrate the Iowa Farm Bureau's 100th anniversary. You are also invited to join Farm Bureau's centennial celebration by sharing your Farm Bureau story. Visit iowafarmbureau.com/ShareYourStory to add your Farm Bureau story. Or you can share your story on Instagram or Twitter with the hashtag #ACenturyStrong or by text at 619-350-2191. Iowans who share their story will be entered into a monthly drawing for a chance to win Iowa Farm Bureau Century Strong merchandise.
Let's show how Iowa Farm Bureau is a Century Strong and remains committed to a vibrant future for agriculture, farm families and their communities.
By Teresa Bjork. Teresa is Iowa Farm Bureau's Senior Features Writer.
Want more news on this topic? Farm Bureau members may subscribe for a free email news service, featuring the farm and rural topics that interest them most!