The Iowa Farm Bureau: Nearly 100 years old and still young at heart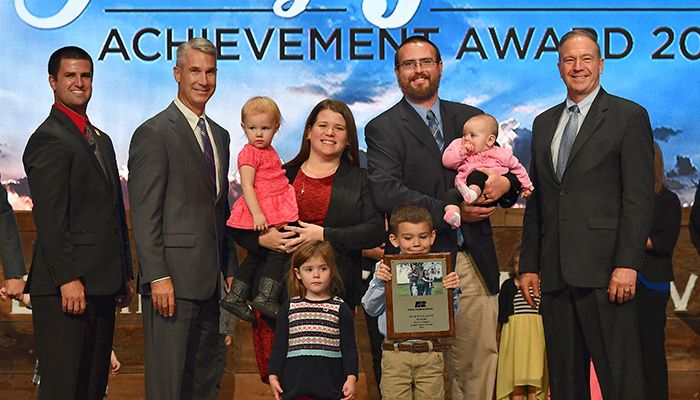 Our organization, the Iowa Farm Bureau Federation (IFBF), just completed its 99th annual meeting and is getting ready for its centennial celebration in 2018. The annual meeting was a great event, full of education seminars, inspirational speeches and chances to reconnect with old friends.
One of my favorite, and maybe one of the most instructive, moments during the gathering occurred off the main stage and out in the crowd. It happened during one of the meals when a young toddler, who was just learning to walk, took off and set her young mother in hot pursuit. Everyone in our area, mostly parents and grandparents, smiled knowingly as mom quickly corralled the giggling child and escorted her back to the family's table. There, several generations of the toddler's family waited to hug and entertain her.
That scene, I think, encapsulated the generational strength which makes IFBF so great. The Iowa Farm Bureau, which is barreling into its 100th year, is definitely not showing its age. Not a bit. The organization continues to be vibrant, energetic and ready to continue making a positive difference in agriculture, in rural communities and throughout Iowa.
A big reason for that, is how well IFBF continues to engage younger people. They are like an one of those instant energy shots. Each year, during the depths of winter, the IFBF Young Farmer Conference buzzes with some 500 young people eager to learn, share ideas and socialize. The members of the IFBF Young Farmer Advisory Committee, which celebrated its achievements at annual meeting's evening gala, remain a wonder to me. How do these young people accomplish so much, care for the land and livestock, reach out to consumers and become involved in policy, while they are starting farms and families? It's astonishing.
Farm Bureau's strength also comes from the middle-age and older members who work across the generations to make a positive difference. They provide experience and insight that's needed to direct a broad-based, state-wide organization like Farm Bureau.
IFBF's ability to harness the strength from different generations, to stand together, building on the past and look to the future is the key to IFBF's continued success. And, after the 2017 IFBF annual meeting, I'd say the organization's future looks very bright.
Hey, maybe that young toddler practicing her walking skills will grow up to be a county, state or even national Farm Bureau leader someday. With the determination she showed the other night, and the support she's bound to get from parents, grandparents and others, I certainly wouldn't put it past her.
By Dirck Steimel. Dirck is Iowa Farm Bureau's news services manager.