Young Farmer Program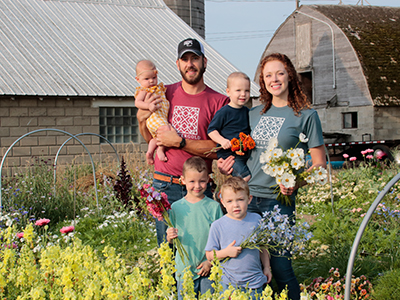 The Young Farmer program brings together young farmers from across the state of Iowa. Our young farmer members (age 18 - 35) farm on a full or part-time basis, work in the agriculture industry or just want to become more involved in agriculture. The program provides leadership and participation opportunities to encourage young members to build a stronger network and become active in the organization and the agricultural community.

Through the Young Farmer program, those with a passion for agriculture have a chance to acquire cutting edge information through participation in educational conferences, earn recognition for their achievements and continue their professional development and personal growth.
---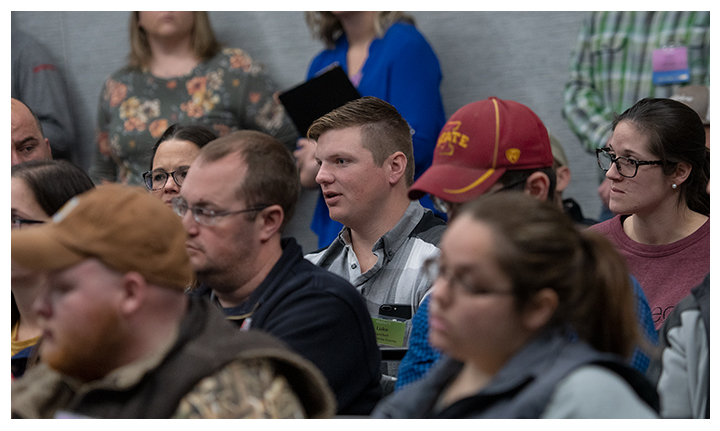 Young Farmer Conference
Save the Date! The 2024 Young Farmer Conference will be held February 2-3, 2024 at The Meadows Events & Conference Center. Registration will open in December 2023 through your County Farm Bureau. This conference is a great opportunity to reconnect with friends and peers, make new connections, network and learn from professionals in the agriculture industry – while still having a bit of fun too! You'll have an opportunity to learn about cutting-edge technologies, new ag opportunities, sustainability practices and financial management techniques to help you grow and succeed on your farms through a variety of breakout sessions.
---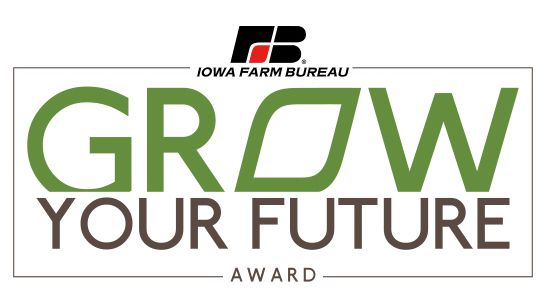 Grow Your Future Award
Iowa Farm Bureau's Grow Your Future award started with a singular mission to celebrate the entrepreneurial spirit of young farmers and encourage the development and growth of ag-related endeavors.

If you're a young Iowa entrepreneur with an innovative ag-related business – this award is for you. Apply for a chance to win a cash prize up to $7,500. Applications for the 2023 contest open June 1, 2023.                    
 
Congratulations to the 2023 winners!
First Place - Reconnected Farms
Second Place - Mud Ridge Ranch
Third Place - H8R Acres LLC
---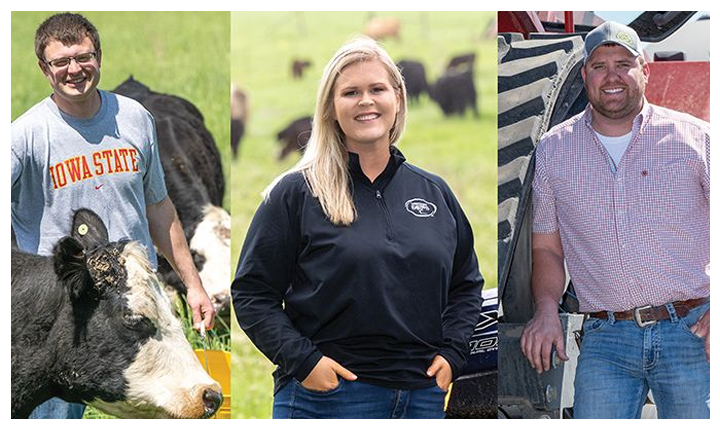 2022 winners (Clark Dolch, Adair County; Melissa Moretz, Worth County; Tanner Brass, Franklin County)
YF Leadership Award (Honoring Bob Joslin)
This award is an opportunity for young farmers who are actively contributing and growing through their involvement in Farm Bureau and agriculture to earn recognition. County Farm Bureaus nominate deserving young leaders. Participants are judged on their involvement in agriculture and leadership ability. Learn more here.

The three winners of the Young Farmer Leadership Award will be honored at the Iowa Farm Bureau Annual Meeting in Des Moines in December with a video highlighting each winner's leadership and involvement.

Prizes
The three winners will each receive:
- A $2,000 grant to local organization of winner's choice
- Expense paid trip to 2024 AFBF Annual Convention or YF&R Conference
- Expense paid trip to 2024 IFBF Young Farmer Conference
- $500 gift certificate from Grainger
- $1500 cash from GROWMARK
- Video highlighting winner's leadership and involvement

Announcing the 2023 winners:
Josh Bierbaum, Cass County
Matthew Burt, Marshall County
Ryan Gibbs, Delaware County

---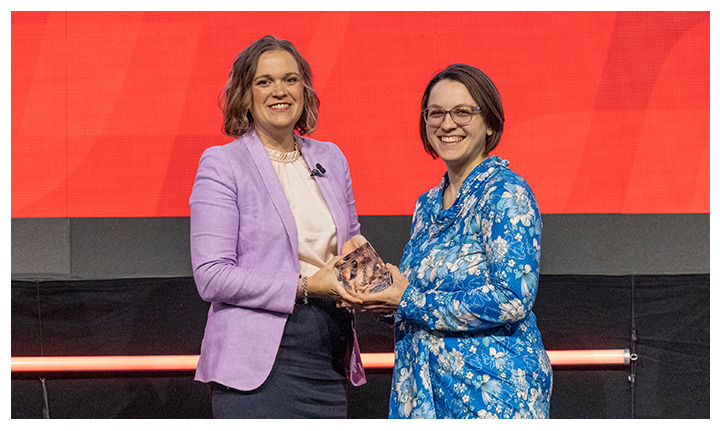 2022 Winner - Merena Henkle, Worth County
Discussion Meet
The Discussion Meet helps young farmers build discussion skills, develop a keen understanding of important ag issues, and explore how groups can pool knowledge to reach a consensus and solve problems. Individuals compete on a panel of three to six people in a free-wheeling style, as if they were sitting around the kitchen table discussing a problem. They exchange ideas and information to solve the problem. Each contestant is judged on cooperative attitude, problem solving & implementation, delivery, and analysis of the topic.

Congratulations to the 2022 Discussion Meet Final Four:
First Place - Merena Henkle, Worth County
Second Place - Molly Dolch, Adair County
Third Place - Jill Marshall, Jackson County
Fourth Place - Mary Ebert, Guthrie County

The 2023 Discussion Meet was held at the 2023 Young Farmer Conference, January 27-28, 2023. Finalists will compete at the Iowa Farm Bureau Annual Meeting on December 5, 2023. The Discussion Meet was open to Farm Bureau members who will be 35 years or younger as of Jan. 31, 2024.

2023 Discussion Meet Semi-Finalists:
Molly Dolch, Adair County
Sarah Tweeten, Cerro Gordo County
Jill Marshall, Jackson County
Hilary Lanman, Jefferson County
Larissa Schippers, Mahaska County
Logan Henry, Page County
Coltin Schachtner, Pocahontas County
Sierra Hagedon, Tama County

2023 Discussion Meet Alternates:
Ethon Smith, Fremont County
Cody Ver Steeg, Lyon County

The Discussion Meet is sponsored by Altorfer Cat and Ziegler Cat. The winner of the state competition will receive $2,500 in Cat® merchandise, an expense-paid trip to the 2024 AFBF Annual Convention in Salt Lake City, UT to compete in the national Discussion Meet, and other prizes.
---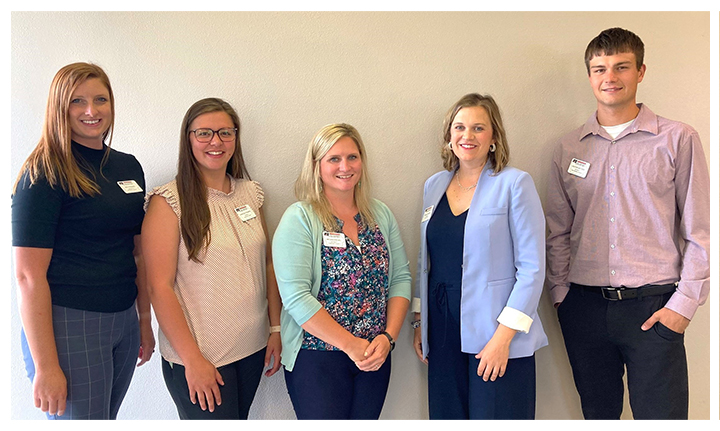 Young Farmer Advisory Committee
Contact your district representative for more information in Young Farmer activities in your area.
View the committee
.
Are you interested in serving on the Young Farmer Advisory Committee? Click
here
.
Officers:
Chair:
Megan Hansen, East Pottawattamie County
Vice-Chair:
Keaton Keitzer, Des Moines County
Secretary: 
Vanessa Trampel, Hancock County
Public Relations Co-Chairs:
Dee Pickard, Marshall County & Megan McAllister, Dubuque County
---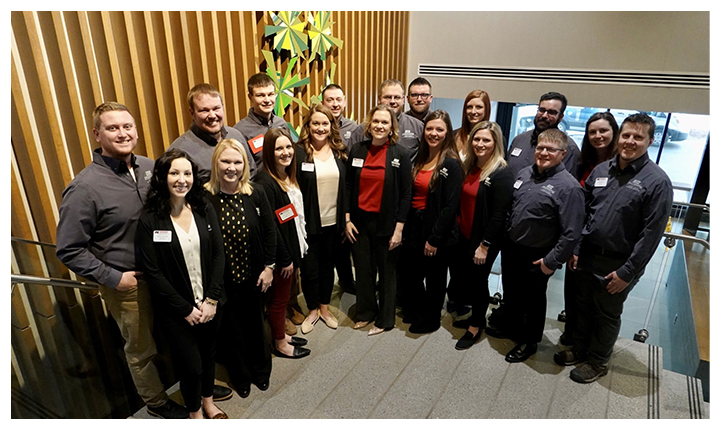 ---
Contact Info:
To learn more about Young Farmer programs and activities, contact Leadership Training Manager
Molly Shanahan
.