Perdue pledges support for trade and biofuels during Iowa visit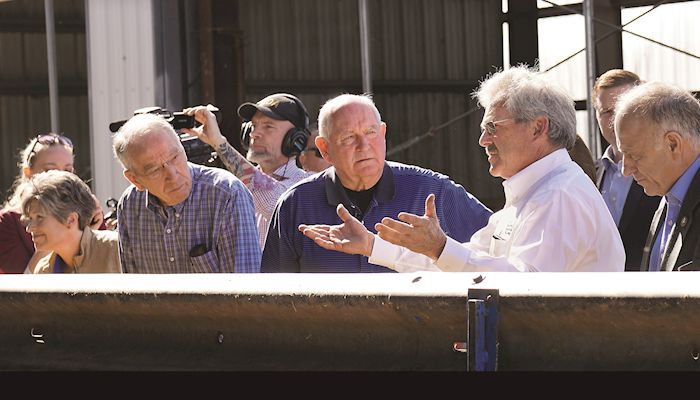 Sonny Perdue won over Iowa farmers with an enthusiastic speech pledging strong support for trade and renewable fuels last week during his first visit to the state since becoming U.S. secretary of agriculture.
"I'm impressed," said Iowa Farm Bureau President Craig Hill, a Warren County crop and livestock farmer. "We're so appreciative to have a secretary of agriculture with his experience and his philosophy. It really improves the outlook for all of agriculture to have somebody like him advocating for us."
Perdue, just over a week into his new job, said the Trump administration will fight to eliminate unfair trade barriers and open new markets for U.S. agricultural commodities.
"What are we going to do about trade? Gov. Branstad and I are going to go to China and sell all of the Iowa beef we can," said Perdue, drawing a round of applause from the crowd gathered on a Story County farm to hear his speech. Branstad is expected to be confirmed as U.S. ambassador to China in a few weeks.
"I'm going to be an unapologetic advocate for trade," continued Perdue, standing atop a hay rack under a cloudless blue sky. "If you grow it, we'll sell it."
Perdue also reaffirmed the Trump administration's strong support for renewable fuels, saying "we're not going to mess with the RFS (Renewable Fuel Standard)."
"Ethanol is here to stay," he said. "We're going to look for new technologies to be even more efficient. You have nothing to worry about."
Bill Couser, a Story County Farm Bureau member, led Perdue and other political leaders on a tour of his cattle feedlot, explaining how he uses the latest technologies to ensure animal health and protect the environment.
Renewable energy
Couser also emphasized the importance of renewable energy to Iowa's economy. He feeds distillers grains from a nearby ethanol plant to his cattle. He also pointed out DuPont's cellulosic ethanol plant and wind power turbines in sight from his farm, which are putting Iowa on the leading edge of renewable energy developments.
"This community has stepped up to the plate," Couser said. "It's so important to keep the RFS. Today, as a farmer, that's my safety net. That's our support program that our community has helped build."
Iowa top of mind
Perdue said he is still putting together his staff, sidestepping questions about whether Iowa Secretary of Agriculture Bill Northey will receive a high-level USDA appointment.
However, he said the interests of Iowa's farmers will be top of mind as he gets down to business in shaping agricultural policies.
"I'll be happy to be an adopted Iowa son as secretary of agriculture," Perdue said. "President Trump understands American agriculture is vital to the economy, and he understands Iowa is vital to American agriculture."
Iowa Sen. Chuck Grassley ad­­mitted he shouldn't have worried about not having a Midwestern presence leading the USDA, noting that Perdue has an extensive background in agriculture as a veterinarian and agribusinessman before being elected governor of Georgia. "He's the perfect person to be secretary of agriculture," said Grassley.
Focus on regulations
In addition to trade and renewable fuels, Perdue said he will be focused on rolling back onerous regulations and improving the USDA's working relationship with farmers.
"We want to let farmers farm again, and we want to let ranchers ranch again," said Perdue. "We're going to make sound science, data-based decisions. We want to do it right — honestly, ethically — but we want to feed everyone."
The administration will also consider farm labor needs as it moves to reform immigration policies, Perdue said. "The president understands the importance of farm labor. We have to be very careful that we don't disrupt the farm labor supply," he said.
Perdue also toured the USDA's National Veterinary Services Lab­oratories in Ames, highlighting the importance of early detection and rapid response in the event of an animal disease outbreak.
Want more news on this topic? Farm Bureau members may subscribe for a free email news service, featuring the farm and rural topics that interest them most!