Osage chef sources locally to create inviting dishes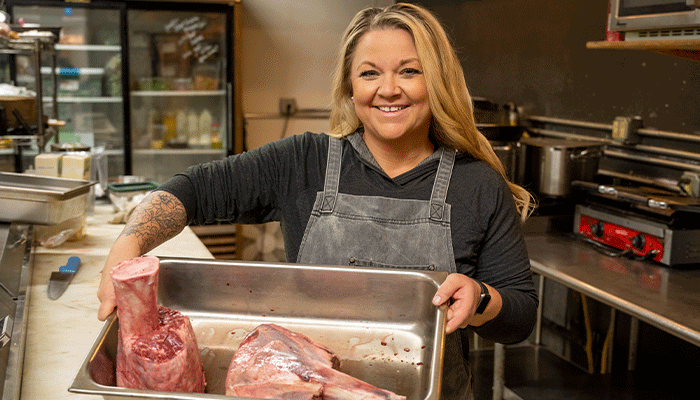 When Chef Jessica Baldus made the challenging decision to move her dessert shop from its roots in Des Moines to her hometown of Osage in 2012, she made it her mission to connect with local farmers in hopes of expanding and featuring locally sourced food.
The aim was to foster growth in a sort of local food movement that would provide this northeast Iowa rural community with superior ingredients married into impactful food dishes at a newer flagship restaurant.
Little did she know that this area of the state, and the small Osage community of 3,570 in Mitchell County, craved what she would eventually provide — delicious table fare crafted with local meat, dairy and vegetable products that has become popular with not only the natives but a regional audience as well.
It turns out there's an appetite for knowing exactly where food comes from.
"It's exciting for me as a chef to be able to take advantage of direct sales raised on and grown from some of the richest soil in the world," said Baldus, who is working with no fewer than eight to 10 producers weekly. "It's exciting for consumers to reap the benefits of flavor, nutrients and superior products and dishes created by the opportunity of these direct local sales.
"This is exciting stuff."
Meeting local producers
Take, for example, Iowa creameries and dairy processing farms. When the chef first looked to source locally, there were two direct-sales opportunities, but today there are many providing that straight farm-to-restaurant route where products are fresh daily and consumers know where the food is derived.
Or how about local beef? Baldus met Laura and Aaron Cunningham of Skyview Farms in Nora Springs 10 years ago when she first moved the business to Osage. She coordinated to provide their beef to customers at the restaurant. Since then, the Cunninghams' own vision has grown to where they now provide premium all-natural Angus beef via direct sales to customers across the Midwest.
During the COVID-19 pandemic, with supply chain shortages, the Cunninghams sold out of their product in three days. It's a testament to the thought process that consumers want to know where their food comes from, that they can stock their freezers, and it's safe.
"To learn that (Skyview Farms) will now be expanding to pork, poultry and eggs is remarkable and will continue to set the up-trend and excitement to our local food trends," said Baldus.
In addition, hobby farmers deliver fresh produce to the restaurant's back door each day, utilizing a delivery log at the restaurant's rear entrance. "If Pete has a flat of extra tomatoes, he can drop it off at our back door," explained Baldus.
"This has been a growing tool we've been using that I feel really helps the hobbyists in our community, while continuing to supply our guests with the freshest ingredients."
Returning home
Born and raised in Osage, Baldus' parents owned a restaurant where her love for hospitality and the food industry culture began, she gained appreciation for locally grown food during family meals on their small farm acreage, and kitchen habits centered on whole foods were being passed on to the next generation. 
She headed off to Des Moines after high school and worked a few years in the food industry while attending Des Moines Area Community College (DMACC). It's there where she started baking her dad's cheesecake recipe, supplying desserts to local restaurants to earn extra money for schooling, and heeded the advice of a frequent customer to take some business classes at DMACC, where she eventually formulated her first business plan.
"The small snowflake wandering around the food service industry wondering what I should go to school for quickly started snowballing, and hasn't quit growing," she said. 
Baldus opened her first re­staurant, Cache dessert shop, in 2008, and it rapidly grew amongst the thriving food culture in Des Moines. She met talented chefs, business owners and driven industry co-workers, making connections along the way, and while she was highly successful, Baldus longed for being closer to family and opted to move back home and set up shop in 2012. 
In Osage, her establishment operated initially as a bakery, then added a casual lunch option and monthly themed dinner, which became Taste Restaurant. 
A third food option — Piggyback Smoke Shack — offers barbecue staples that supplements the other eateries, and Baldus added a catering crew and provides wholesale cheesecakes to restaurants in Des Moines as well.
She's been amazed at her customers' acceptance, supporting each of the food endeavors. 
"It turns out, Osage is everything to me that Des Moines wasn't … It also turned out that Osage was missing what I was missing from Des Moines," Baldus said.
"What started as that small side project to pay for my school books has now morphed into the company that houses three businesses."
Persistent advocacy
Baldus sees herself as continually working on local food initiatives. It brings her an overwhelming sense of satisfaction to source locally and provide quality products to her customers, a vision she had when bringing her culinary talents back home.
She first asked herself, "How could I do my part in making an impact on our local food movement, hoping that local food trends not only increase, but stick? I put myself to work by networking, researching and reaching out to any farmers, growers and producers that I had been led to.
"Let me tell you, today versus that first six months 10 years ago looks magnificently different."
Healthy Harvest of North Iowa provided initial connections with local meat producers. Deliveries now come from local produce growers Twisted River Farms and Spring Creek Farms, mushrooms from Woodside Acres and supplemental meat delivery from Thomas Farmstead and Grandview, to name a few. Tellurian Brewing supplies the beer.
Baldus' favorite part of any given day is visiting local farms to pick up product in person. "I love coordinating adventures to the local farms to really dig in to see what and how they're doing," she said.
That local food oftentimes makes it onto the menu of Baldus' innovative "chef's table experience," where customers come into the restaurant and are treated to four blind meal courses. 
"Meaning they have no idea what will be prepared for them that evening," she said. "This allows me the ability to make all different sorts of purchases from the farmer, depending on their preference of sale."
One table may be presented with a beautifully executed T-bone steak from a local farm, while another may receive beef tenderloin tips sourced from a neighboring farm, braised oxtail or tacos de lengua with produce and other seasonal items.
It's a business model that works, encouraged by the customers who covet the local food.
"Knowledge is power," Baldus said. "The more I know about the food I'm setting in front of them, the more they want to know and the more they seek out those farms outside of their dining ex­perience.
"And the more they truly care about what they're fueling their families and bodies with. It's amazing to see it all click together."
Baldus will continue to push the norm of the local food culture, whether that's mentoring a younger and more ambitious version of herself through the current businesses she has built or by seeking thrills herself by taking on new growth challenges.
"Either way, I see myself continuing to stay invested in our community through the aspect of food and continuing to educate the importance of food," she said. "What we eat, how and where it's grown, and how and where it's prepared (are) all important factors in bringing us together."
Want more news on this topic? Farm Bureau members may subscribe for a free email news service, featuring the farm and rural topics that interest them most!