NASA astronaut Peggy Whitson: From small Iowa farm to outer space | The Spokesman Speaks Podcast, Episode 2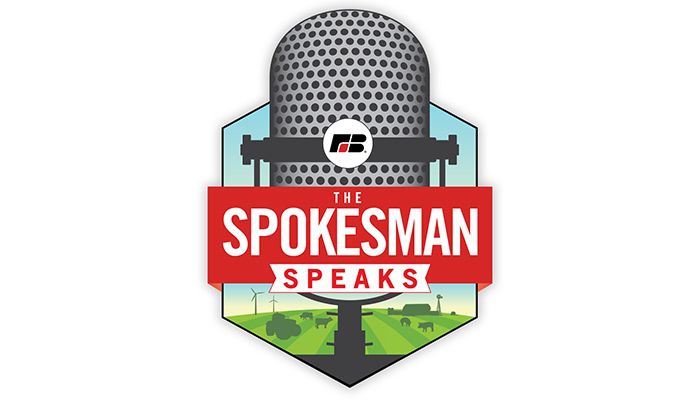 Listen to episode 2 of The Spokesman Speaks podcast in your favorite podcast app
Welcome to episode 2 of The Spokesman Speaks podcast. In this episode, we hear about China, Japan, Europe and other trade markets from the Trump administration's Chief Agricultural Trade Negotiator, Ambassador Gregg Doud, and Paul Clayton of the U.S. Meat Export Federation. Also, podcast host Laurie Johns sits down with former NASA astronaut Dr. Peggy Whitson to talk about Whitson's inspiring journey from a small family farm in Ringgold County, Iowa to NASA and outer space - where she still holds multiple records, including most total days in space by an American.
Click here to view the transcript +

Narrator: Welcome to The Spokesman Speaks, a podcast from Iowa's leading agricultural news source, brought to you by the Iowa Farm Bureau. Now here's your host, Laurie Johns. Laurie Johns: Welcome to The Spokesman Speaks podcast. I'm your host, Laurie Johns, and we're delighted that you've tuned in for December 17th edition. Earlier this month we invited a record crowd of more than a thousand Farm Bureau members to Iowa Farm Bureau's 100th Annual Meeting in Des Moines. The meeting also attracted some heavy hitting, nationally renowned speakers who shared their expertise on topics like trade, the Farm Bill, also consumer meat trends, cybersecurity and rural community development. We had a chance to sit down and talk with a few of those speakers, and if you didn't go to the meeting, we're glad to be able to bring you those interviews in the coming weeks. Today's show includes insights from Ambassador Gregg Doud. He's the Trump administration's Chief Ag Trade Negotiator. And you're also gonna hear from Paul Clayton, who is the Senior Vice President for Export Services with the U.S. Meat Export Federation. Doud and Clayton provided an update on key trade markets, including China, of course, but also key markets to pay attention to in the coming months, like Japan. Today's show is also going to feature my exclusive one-on-one interview with the record breaking, former astronaut Dr. Peggy Whitson. She had a really fun, inspiring keynote address at our Annual Meeting and Dr. Whitson and I talked about the journey that took her from a small family farm and Ringgold County all the way to NASA and into outer space, where she still holds multiple records, including the most total days in space by an American. She is amazing. You don't want to miss it. Okay, folks, let's get started. Let's talk trade. Gregg Doud: Ladies and gentlemen, this is the trade issue of our era. This is the beginning of what we're dealing with here in the 21st century. Laurie Johns: That's Chief Ag Negotiator Gregg Doud talking about the status of America's trade dispute with China. Let's listen in now as we bring you more from Doud on that topic. Gregg Doud: Let's talk about what everybody came to talk about here and that's this thing called China. And if you've ever heard me speak before, I've done this a hundred times, if I've done it once. You all have a homework assignment. On the USTR website is a 14 page document, a 200 page document, and as of November 20th, a new 50 page document, and all three of those documents refer to the findings of the investigation into China's acts, policies and practices related to technology transfer, intellectual property and innovation under section 301 of the Trade Act of 1974. This is a problem, folks. We all know it's a problem and it's got to be dealt with. This is the challenge of our time here. China's the second largest economy in the world today. They need to begin to act like it and follow the rules. And when I say follow the rules, I want to give you an example. Do you know we have two of the biggest WTO cases in history today against China in agriculture? The first one that we filed here, and we're gonna hear about it here within the next six months, is China's domestic subsidies in wheat, corn and rice. We think China has exceeded what it was allowed to do by virtue of subsidies to farmers by somewhere in the neighborhood of $100 billion. That's billion with a B folks. $100 billion. Now, we also have another WTO case with regard to their tariff rate quota administration. In the case of wheat, they were supposed to import 9.6 million tons a year. Huge numbers on corn and rice as well. They've never done it, and in fact, China became a member of the WTO in 2001. Do you know that they haven't reported what their subsidies are to the WTO since 2010. Who else in the world gets away with that? Why have we let them get away with that? This has to be addressed. What they are doing in terms of - now China has, you know, nearly half of the world's residual supply of corn, over half of the world residual supply of wheat. I don't even waste time going into the numbers. What they're doing is costing not just us money, they're costing every farmer in the world money. You know, when I had this conversation with my counterpart, end of May, first of June, I said, look, three years ago, you lowered your support price for corn in China. You know what their support price was before that? It was over $9 a bushel. Their support price in wheat today is double the world price, and I made the point to him really simple. I said, look, you may have to get to a point here, we want you to get to a point when you follow the rules that you may have to import 5 million tons of corn every two or three years. And his reaction is what you need to know. He bristled. Physically. I saw him just do this saying, you know, I don't know. I don't know that we can rely on the world to supply 5 million tons of corn every other year. Shocking to me. It took me back to see the mindset in China and the Communist Party of China when it comes to commodities, whether it's steel or aluminum or agricultural commodities, they want control. They don't want to be exposed to the vagaries of the marketplace. This is the challenge of our time, folks. Laurie Johns: A challenge, he is right. That's some pretty heavy stuff. Well, Doud said he didn't know how long it would take to address the dispute with China. He did note that the administrations most recent discussions with China have left the ball in China's court. Meanwhile, Ambassador Doud also talked about the implementation of the new U.S.-Mexico-Canada Agreement. While he also talked about the important opportunities in Japan and Europe. Gregg Doud: Now we have a big to do list here and I want to kind of go down through it briefly a little bit. This last week we finally signed the USMCA, U.S.-Mexico-Canada Agreement, which we used to call NAFTA. Those are Canada and Mexico, our first and third largest customers, 28 percent of what we do in agricultural exports. And through the first nine months we were up two percent in Mexico and even into Canada. That's 325,000 jobs. And when we first started this endeavor, the mantra from all of you was do no harm, and that was right because 88 percent of the tariff lines in agriculture with regard to Mexico and Canada were already duty free. So what we were really working on were the other 12 percent and the vast majority of that other 12 percent was dairy, poultry, eggs and sugar. Now the tough one there was the dairy side of the equation and as I reminded my boss as we began to go through this, he was really frustrated, because dairy is really hard and it's a real struggle to get your head around dairy trade and how all this works and his level of frustration was boiling over and I said, boss, you have to understand. Now you understand. There's a reason why we didn't do dairy in Canada in 1988 30 years ago when we did that first deal. There's a reason we didn't do it in NAFTA the first time around because of how hard this was you, and that's the point I want to make to all of you is you know. We opened the pork market to Argentina, I was just in Morocco and opened the poultry market and the beef market there. In the case of, of all of these issues, all the easy stuff was done a long time ago in these agricultural trade issues. What we have left is really, really, really hard. So now we're working forward and in the offensive strategy going forward here after USMCA we've notified Congress that we want to work towards Japan, the UK and Europe. And I cannot emphasize enough to all of you here as you walk out of this room and talk to the coffee shop, talk to your member of Congress, wherever you go and what you do, the importance of having an agreement with Japan. Now you say, well Gregg, didn't we have something called TPP that we were going to do and Japan was going to be a part of that. And the answer was, well, there was an agreement, but I don't, it never was able to pass Congress, so we didn't have an agreement. In fact, I would tell you from a Washington perspective, I don't think you had the votes to do TPP in Congress. And so the President, the new President, President Trump, came in and said, my boss said, look, this isn't going to work. And by the way, when you do, I was in the room when he said it. He said, you know, when you do a deal across 11 countries, you automatically go down to least common denominator. If I can do a deal bilaterally, I can get a better deal. So in regards to the TPP, we already have deals with every country except for Japan and Vietnam. And so now we're going to get busy here and having this bilateral discussion with Japan. We're also going to be working on the EU and the UK. With regard to the UK, you all see the news. We don't know what's going to happen with Brexit, but the point is we have to be ready. We can't be, well, if we have an opportunity to do something with the UK, then we start the 90 day clock and the TPA process and have to go through all these procedural moves. No, no, no, no, no, no. We have to have that done. We have to be ready to go more quickly. And so that's why we're doing what we're doing in that regard. We have an ability to move forward as quickly as we can and get going there. With regard to the European Union, the point is very simple. In agriculture, we have a $15 billion trade deficit in agriculture with the EU. And when President Trump met with the European Commission, President Juncker said, look, we've got some work to do here folks. The relationship in agriculture between the U.S. and the EU has to be addressed. And I really appreciate my boss, Ambassador Lighthizer, being very clear with his counterpart, saying we're gonna talk about agriculture. And from all of our perspective, we know that the difficulty with agriculture and trade goes back decades and I have to say that it is shocking to me in this position, as one of the first things that really surprised me is the use of, or I should say the lack of, use of science and technology in agriculture in Europe today is amazing to me, but even more amazing is this notion that Europe says that, you know, they're better by virtue of their lack of technology. And that's where I draw the line. I think that we just absolutely cannot let Europe continue to get away with circulating this false narrative that EU agriculture is superior to the rest of the world when really what it is is a non science based, backward looking trade protectionist way of doing business. Laurie Johns: As the administration works on trade deals, farmers and groups like the U.S. Meat Export Federation are working on other strategies to maintain and increase the consumption of U.S. meat. Especially in countries impacted by tariffs and in other places around the globe. Paul Clayton of the U.S. Meat Export Federation shared USMEF's plan and the progress with our members. Let's listen. Paul Clayton: This is our plan for going into these markets. The impact countries, which basically is China, Japan, Canada and Mexico. The thing we're going to be doing with that is a lot of importer education. The image building promotions. We're going to keep our name in front of these guys. We don't want them to slip away and lose market share to any dramatic level so you're gonna see it in front of them and work with them daily and that's what our staff does in each of those markets to continue to keep our image and our face in front of them. Now for other countries, those not affected by the tariffs, we're looking at a little bit different view on that. One is some of that we have to introduce new products and that's very critical because they don't eat the same type of cuts as you and I do. For instance, they don't necessarily, a lot of countries don't necessarily eat a 12 ounce ribeye steak. They may eat 100 grams of ribeye steak and share the rest. Product quality, safety and utilization. That's a big one because that is what moves the product and that's where we have an advantage with a lot of our competitors on those basic features. A lot of the other things is education and training. They have to understand the product. We get them into trade shows where they can try the product. We bring them over here, see what we do, and we really appreciate this group because a lot of you let us do that on your facilities and we really appreciate that because we do have that opportunity to show them what we do. Let me just take a minute and talk a little bit about some of the specific programs we have in market. In Mexico, we sell a lot of raw materials for process items such as hams, but in addition we're working quite a bit at the retail level with this ham and loin campaign. The thing is, we've increased the number of locations, we do various kinds of tasting demonstrations. Once you get that product into the mouth of the consumer, they all of a sudden realize those differences in quality and food safety, those kinds of things. So continuing to get the items in front of the consumers is one of our main goals. With China, this has been very difficult. We have two situations, one with market where we've lost market share with pork. Beef, not so much, but beef, we didn't really have a large market share to start with just with some of the requirements. If those requirements and further negotiations could be lowered or eased up, that would give us a greater opportunity. And some of those things that are restrictive to us today is there's a traceability component, quite frankly, that may be something we need to start getting used to with a lot with a lot of our programs. And then secondly is the ability not to have some of the growth promotants in the product. So that just restricts the amount of animals that qualify for them. One other interesting thing that we're watching very, very closely is African Swine Fever. It is a bad situation in China. It may be a 20 to 30 percent of their herd. It is moving south towards Southeast Asia, so the whole region could have some problems. It has also affected their large production areas. What's interesting from their reports, only one feral hog has been treated. Now I did see a report that there was a feral hog farm, which I'm not sure what that really is, had been affected, but, sounds like the disease is not being moved by wildlife. It's being moved around by human, whether it's transportation or whatever. Feeding ingredients that they shouldn't, such as garbage and things like that. So watching that very closely on what kind of an impact that may have on us. With Japan, here's a situation where it is not really where we have a high tariff, it's where we're not included into a program, a free-trade agreement, that we could give an advantage to our competitors. So what we're doing is, again, keeping the product and the quality, the food safety, the availability and the functionality of the product in front of the consumer, the buyers, the retailers and food service. The pound steak, here's an idea we came up with, was trying to get more volume in there, just give them a bigger piece of meat. Now we're not asking that to be by a single consumer, that's more family. And in Japan, the culture there is very family oriented and they tend to do that, and we've had some pretty good success with the pound steak. The other thing, of course is barbecue. Very, very popular here, we're introducing that all over the world and it's a little difficult in Japan, they have some restrictions, you know, obviously there's not a lot of homes there. There's a lot of apartments. They can't necessarily have open flames and things like that on their balconies, but we've come up with some ideas on how they can be in a barbecue. We really took a heavy focus on pork which we call our Mitsubishi program. This is one in which we're really focusing on the juiciness, the taste, the umami or the good meat taste and the tenderness of the product. So again, really focusing on the quality of the product. Hopping over to some of these other countries. Korea has just been a super market for us, 30 to 40 percent growth. Part of that is just the culture that's going on there. Young people are not getting married as often, and they tend to eat and eat alone. So we're even hearing that the new apartment buildings, they're not even putting big kitchens in them, just maybe a microwave or something like that. The food truck and the convenience stores plays a huge role in that. So we're playing right into those things. The food truck was restricted for a while by one of their laws, now they've opened that up, and that has been a very large, growing business for that country. Convenience stores is very interesting. Now here, we look at a convenience store and probably go to a convenience store to get gas. Well, they don't have that many automobiles in those countries and people tend to commute with rapid transit and what have you. So what happens is meals are big items in convenience stores. That way we're able to put a larger portion of meat, rather than what you see in the convenience stores such as a beef stick or a piece of jerky or something of that nature, this is an actual meal. And because they have the single lifestyle, a lot of these people are just going to these stores and purchasing those things go to a convenience store and get that. The other thing is deliveries. They can have restaurants deliver a lot of those things, which you're seeing in the United States, mostly on our coasts. We see it a lot in Denver and that is where we can have Uber or Grubhub or one of these groups actually deliver the meals and that's growing quite a bit. And that's been a big advantage for us in Korea. Central and South America has probably been one of our, our biggest growth areas and it's one that has been very prosperous for us. I know USTR is working on more and more things and with places like Argentina and possibly even Brazil, it's been a great market for us. We have been doing a, what we call a showcase. This is where we try to join up about 100 exporters with about 200 importers. We almost do, the young people won't know what I'm talking about, but we do it in kind of the speed dating format where they get about 10, 15 minutes with each one of them may get with every one of them. It takes a couple of days to go through it and it's a great opportunity to really get a handful of potential buyers through this. The other thing that we work on there is really looking at the way the market is. A lot of the countries out there in South America are still what we call a developing country. So they may not have all the refrigeration or they may not have large grocery stores. They may still have wet markets. And so we have to manage how products work through that. And so that's some of the things we're working on today. And then lastly, I think the thing that's the key here is where are we exploring other things? Primarily we're looking at western Africa and India. India mainly for pork as you know they don't consume beef. Western Africa has been a pretty good, it's a market that is starting to build some economy mainly due to oil exploration, but because the price of oil has declined a little bit in the last couple of years, which is good news for us, that market has softened a little bit and so we're having to do a little more work. South Africa, a difficult country to deal with, and they can cause us some problems with all of our meat products, but it tends to be a hub. So it's not necessarily central but is a place where there's a lot of freight traffic and then they redistributed throughout the western part. So it tends to be a pretty good market for us. Some of the hold ups, and this is true with Indian, probably the biggest holdup we have with India is, the fact of the matter is, they just don't have refrigeration. I think it's interesting that you know, we've almost got to kind of wait until they get refrigeration. That is coming. That just inherently happens with the country because we're not the only thing that refrigerated products go into. It's just the thing. You have to get a critical mass of where all of those things are going. Laurie Johns: Well there's no denying it. Trade disputes and unfortunate weather here have made 2018 a challenging year for Iowa farmers. How about something uplifting. Record breaking astronaut Dr. Peggy Whitson knows a thing or two about overcoming challenging situations and that's one of the reasons that we invited her to deliver the keynote at Iowa Farm Bureau's 100 Annual Meeting. I had the opportunity to sit down with Dr. Whitson right after her speech and we wanted to give you, our podcast listeners, a chance to sneak in and listen in on that conversation. I hope you enjoy this conversation with Dr. Whitson as much as I did. Laurie Johns: I'm joined with Dr. Peggy Whitson, former astronaut from NASA, back on Iowa farmland, right here. So it's nice to have you join us for our Annual Meeting. What a rousing inspirational message that you had for our folks. Very wonderful considering our century celebration. Peggy Whitson: Yes. No, it was a lot of fun. Not only being back in Iowa, but being able to talk to farmers since that's where I grew up and I know a thing or two about farmers. Laurie Johns: Well, yeah. And what a journey your life has been. When you talk about, describe the family farm force. Peggy Whitson: It started out as a youngster. My Dad had probably a few hundred acres and it grew and my brother has several hundred acres now and I also have several hundred acres and so all of that together is part of the family farm now that Hugh and my brother and his son are farming today. Laurie Johns: It was really interesting when you were talking about the inspiration from where you were on the family farm to deciding 'I want to be an astronaut,' and it was around those times too, and now I'm 55, and I remember my parents coming home with a gift. It was a, it was an album and it came equipped with this toy helmet and you plug in and you could hear the moon landing and oh man, we just thought we were astronauts and wasn't that great. Well you took it a step further. Peggy Whitson: Well it definitely was something I was thinking about from a very young age, and of course there were TV shows like Star Trek, which kind of egged that on and there, you know, and obviously the moon, the Apollo Landings were happening when I was from 9 on. So it was all very inspirational and I think good timing. One of the things that I enjoy about going out to speak to young people is I find the age group that seems to be most engaged and most receptive to your message is about 8 to 10 and for whatever reason they believe you when you tell them they can do this and so it's inspirational to them. Laurie Johns: And that is nice, and they need to know, too, another message, which is also, I think, well received by our farmers, had to do with resilience and patience because it just didn't happen overnight for you. Peggy Whitson: Oh, absolutely not. 10 years of applying and feeling like I was, you know, being held up on my dream. But part of the thing is I learned how to be, I think, a better astronaut in those 10 years. I learned how to be a leader and I never would have been probably the first female commander or a female chief of the office without those experiences that made me a leader and able to step into those roles. And so I think another good message is recognizing that the journey is just as important as the goal. Laurie Johns: It is and that journey takes you so many unique places, including a place that had even worst winters than Iowa. Peggy Whitson: Oh, yeah, I spent a lot of time in Russia and that actually was where I got a lot of that leadership experience because I was given the charge of being responsible and to set up a science program, a joint U.S. Russian science program in Russia to do research on astronauts and cosmonauts who were either on the Mir Space Station or on the space shuttle. And I had to negotiate deals with just, you know, charm and, you know, learning from the Russians who are very good negotiators. How to negotiate a deal and get what you needed to have this joint program work together. And so it taught me a lot of things. Laurie Johns: Most definitely. And as a mother with a daughter in STEM, who is a senior now in college, and you know, you look at the field that is opening for young women these days, it still doesn't mean it's an easy one. There are still challenges, there are still differences in pay. There are still other things to overcome, but boy, isn't the journey worth it? Peggy Whitson: Oh absolutely. And I would tell all those people don't let those stories deter you or discourage you. Get out there, do the job, prove you can do it and doors are gonna open up, just prove you can do it. Laurie Johns: And I liked some of your experiments, by the way, that certainly made our farmers chuckle, about soybeans and some of the other things that are really unusual that were going on while you were up there in space. Can you tell us a little bit more about that? Peggy Whitson: Sure. On my very first space flight while, my dad's growing soybeans here on Earth in southern Iowa, I was growing soybeans in space. I think it was the first soybean experiment done in space. And it was funded by Pioneer Seed Corn. They were looking at genetics of soybeans and how it's changed with the lack of gravity because things are very different. We take it for granted, for instance, that we have gravity pulling the roots toward them, you know, so they're geotropic, they're traveling toward the gravity. In space they curl up in a ball because they don't have gravity to tell them which way's up and down and the plants are phototropic so they grow toward the light. But then when they hit the top of the container, they turned around and went back down because they didn't have any other place to go. So it was just really interesting to be a part of that investigation. But it was very special to me obviously because, you know, I was growing soybeans, which is just like dad. Laurie Johns: Weird looking soybean plants, but nonetheless. Peggy Whitson: They still made soybeans. Laurie Johns: They did, they did. That's perfect. Well, and other things too that people probably don't realize because they might see some video or I know there are astronauts that Skype with students, you know, live from space and you see them floating around. And it looks like fun, but they don't realize the physical challenges required for that. You are beyond fit. I have to tell anybody who is listening to this right now, but that must be essential for being in space. Peggy Whitson: It definitely is. It's part of the job to be physically fit and you have to start out in good condition because you're putting your body in a situation that's not what it's made for. You know, we were made to be on planet Earth and to explore we're going to have to learn how to adapt to that new environment. The fact that you can adapt, I think, is really interesting testament to what our bodies are designed for. I think they're much more adaptable than we maybe give them credit for, but in order to minimize the risks we put on our bodies, we have to understand that. So we do a ton of scientific investigations trying to understand the effects of the lack of gravity on our body. Laurie Johns: Well then someone who has a lifetime of bad feet problems, I liked the concept of how you don't have callouses on the bottom of your feet. Peggy Whitson: Yeah, no callouses on the bottom. After about two months, all the callouses go away and you get new ones on the tops of your toes from sliding your toes under the handrails. So you actually, it's funny to me that your body just adapts. Laurie Johns: And it had to adapt then to gravity when you came back down here? Peggy Whitson: Absolutely, and that actually is much more challenging, I find. Some people have a challenge, a little bit of a challenge, adapting to being in space and others actually have more of a challenge when they come back to Earth. And for me the coming home part is the part that is not so much fun. It takes a few weeks. We do 45 days of reconditioning to get, you know, even though we're, we've maintained our muscles strength and cardiovascular conditioning, the little muscles around your knees, around your ankles, they haven't had to work to balance you and so we do all these reconditioning things to retrain your body. How to keep track of the fact that you're back on Earth. Laurie Johns: Well, last question I had to ask you is, I saw a young girl in here wearing a NASA t-shirt and I think she has high hopes for the future. What would be your advice to the young people listening right now or the parents with young people, boys or girls, listening who have aspirations of space? Peggy Whitson: Well, I think the most important thing is to find your passion. Find what motivates you, what makes you excited. Any field in math, science or engineering, you know, pick a science field and pick one that inspires you because it might take awhile to get there and you want to enjoy the process and you need to be an expert in whatever field you're in. And to be an expert, you need to enjoy what you're doing. So find your passion. That's number one. Number two, work. It takes real work. You got to be really good at it, but you need to work and make it happen. And number three, push yourself to do more than just what's comfortable, just what you think you can do. I never would have dreamed of being the first female commander of the space station, but I challenged myself to do these jobs, to expand my capabilities even though I wasn't maybe always 100 percent successful, I still tried. I learned from the less than successful experiences and became better at it and it led me to places I didn't even dream of. And so challenge yourself. Laurie Johns: A neat lady for sure. Talk about inspirational, sincere, and just so down-to-earth. Pardon my pun, for an astronaut, she's very down-to-earth. We're going to release our next podcast episode on December 31st. So, be sure to watch for it. Check back and until then, want to thank you so much for reading The Spokesman and thanks for all the great stories and the inspiration. You guys certainly motivate us. And thanks for listening to The Spokesman Speaks. Narrator: Thank you for listening to The Spokesman Speaks, a podcast by Iowa Farm Bureau. Check out more podcasts and articles from The Spokesman at IowaFarmBureau.com/Spokesman. You can also find and subscribe to The Spokesman Speaks podcast in the Apple Podcasts app, Google Play, and other popular podcast apps. We appreciate your ratings and reviews and welcome your feedback at podcast@ifbf.org

About The Spokesman Speaks podcast

Since 1934, The Iowa Farm Bureau Spokesman has been Iowa's leading agriculture news source, and today it is the largest circulation ag newspaper in Iowa. While the Spokesman newspaper is available exclusively to Iowa Farm Bureau members, The Spokesman Speaks podcast is available publicly, reaching farmers on-the-go with stories that matter to them. You can find episodes of the podcast at IowaFarmBureau.com/Spokesman or subscribe and listen in your favorite podcast app, such as Apple Podcasts, Google Play, Spotify, Stitcher or TuneInRadio.

Listen to past episodes of the podcast
Want more news on this topic? Farm Bureau members may subscribe for a free email news service, featuring the farm and rural topics that interest them most!