Making a difference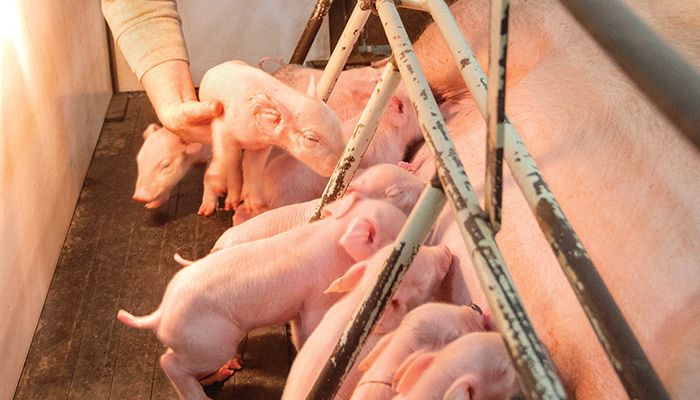 Three young Iowa farmers, Sarah Rickelman, Mike Dickinson and Brian Haeflinger, have been named the Iowa Farm Bureau Federation's (IFBF) 2019 Young Farmer Leadership Award winners.
The award, created in honor of former IFBF President Bob Joslin, recognizes Iowa farmers, ages 18 to 35, who are actively contributing to their communities, county and state and growing as leaders through their involvement with IFBF.
The three award winners will be honored at the IFBF annual meeting Dec. 3-4 in Des Moines.
Sarah Rickelman
Rickelman is a Grundy County Farm Bureau member and is sow farm manager for Juhl-Aronson Farm Partnership.
Among her many accomplishments in and outside IFBF, she oversaw the creation of the Grundy County Farm Bureau Celebration of Agriculture dinner in 2017. The first year of that event was an overwhelming success, and it has continued to grow in 2018 and 2019.
"The Celebration of Ag is my baby, my child," Rickelman said. "Before this, our county didn't have any sort of public facing activity to promote agriculture like this."
She is a 2016 graduate of IFBF's Ag Leaders program and currently serves as vice president of her county Farm Bureau board. When she takes over as Grundy County Farm Bureau president next year, Rickelman will be only the second woman to hold that post, and the youngest president in her county's history.
Growing to love ag
Rickelman grew up on an acreage, but her family wasn't active in farming. Instead, she came to her love of agriculture through 4-H and raising chickens and sheep at home.
After graduating from Hawkeye Area Community College (HACC) with an ag business de­­gree, Rickelman transferred to Iowa State University (ISU) where she earned a bachelor's degree in agriculture studies and swine production.
While at HACC, she took a part-time job at Juhl-Aronson, where she still works today.
"We're a 2,400-head, farrow-to-finish facility, which means I have a lot of animals and people to watch over. It's a lot of detail work," she said.
Her passion for hog farming led her to leadership roles at the Iowa Pork Producers Association (IPPA). While attending ISU, she served as a Pork Board Ambassador, working as the public face of pork production in Iowa for a year.
Sarah and her husband, John, have one child, William, age 2.
Mike Dickinson
Dickinson is a Harrison County Farm Bureau member who grows corn and soybeans, raises broiler chickens for Lincoln Premium Poultry and owns cow/calf pairs.
He is a 2014 graduate of the IFBF Ag Leaders program and will begin his tenure as county president next year.
Dickinson organized the first-ever Harrison County Farm Bureau Day at his local farmers market. It has since become an annual event to promote farmers who sell at the market and to share Farm Bureau's work in the area.
Outside Farm Bureau, he has served on the Harrison County Fair Board for a decade and in 2017 was appointed by Gov. Kim Reynolds to the state-wide Rural Health and Primary Care Advisory Board.
After growing up on the family farm, Dickinson became a registered nurse, working in Omaha, and farming with his father and grandfather on a part time basis.
Fulfilling a dream
This year he fulfilled his dream of full-time farming, thanks in large part to the contract broiler operation he started for Lincoln Premium, which raises chickens for sale at Costco Wholesale stores nationwide.
"I've always been looking for an opportunity to farm full-time and have looked into several different ventures," Dickinson said. "None of them made sense for us until now. This one seemed to be a really good fit."
Mike and his wife, Kara, have three children: Eli, 6; Ella, 3; and their baby, Eva.
Brian Haeflinger
Haeflinger is a Howard County Farm Bureau member who farms traditional and no-till row crops and is a partner in KMAX Farms LLC, a wean-to-finish hog operation.
He is a 2013 graduate of the IFBF Ag Leaders program and is a past-president of his county Farm Bureau. Currently, he serves as the Howard County Farm Bureau treasurer and chair of the county's young farmers program.
A focus on education
He is especially passionate about education, both through official channels such as Ag in the Classroom, as well as by hosting farm visits by local and state officials to share a farmer's perspective on important issues.
"I think this (education) is esp­ecially valuable now as more and more of our representation is moving to the cities," Haeflinger said. "They are moving further away from the culture of farming."
He is also active in the IPPA, 4-H and his church. As a fundraiser for 4-H, he and his wife, Steva, founded and managed a 5K run that, for five years, supported 4-H membership dues and community enrichment pro­grams. In honor of this, the couple was named 4-H Alumni of the Year.
The Haeflingers have three children: Ivan, 5; Eian, 2; and Levi, 8 months.
Want more news on this topic? Farm Bureau members may subscribe for a free email news service, featuring the farm and rural topics that interest them most!