Leading the way
The three young farmers named 2020 Iowa Farm Bureau Young Farmer Leadership Award winners — Heath Blomquist of Guthrie County, Laura Cunningham of Floyd County and Kate Edwards of Johnson County — have very different operations. But they still have many attributes in common.
They are passionate about building communications be­­tween farmers and consumers, and about telling the story of today's agriculture. They are all dedicated to innovation in both how they raise and market their crops and livestock. And they believe that working through Farm Bureau is a great way to reach their goals.
The award, created in honor of former Iowa Farm Bureau President Bob Joslin, recognizes Iowa farmers ages 18 to 35 who are actively contributing to their communities, county and state and growing as leaders.
Blomquist, Cunningham and Edwards will be recognized at 2020 Iowa Farm Bureau Federation annual meeting set for December in Des Moines.
Building bridges
Blomquist, who farms with his family raising corn, soybeans and hogs near Guthrie Center, is a strong believer in building relationships among agriculture and communities. Although he and his wife, Ruth, and three children live in a rural county, Blomquist is often surprised about the lack of understanding about modern agriculture that's close to home.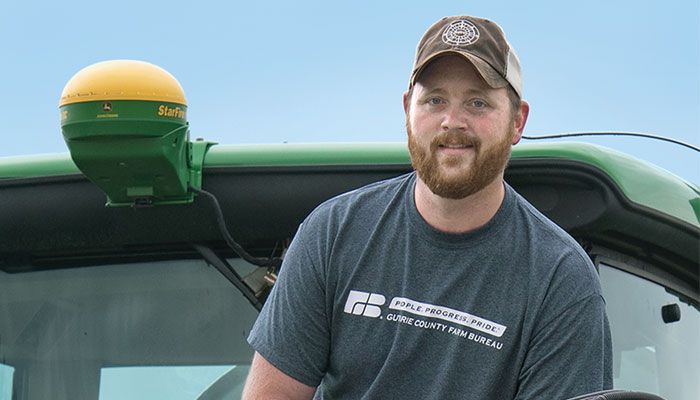 "We need to change the conversation," he said. "We need to help people know all that we are doing for the betterment of the land and the environment."
To build those bridges, Blomquist has participated in the local STEM (science, technology, engineering and math) festival in local schools to help young kids learn about agriculture. He's been a leader in the Guthrie County Farm Bureau's "grocery cart" race program, which highlights real food facts and raises donations for local food pantries.
Blomquist is also working with his county Farm Bureau to build a tractor cab simulator. The simulator, he said, will provide an opportunity to engage older students, especially those interested in agriculture. "We want to show them how interesting agriculture is and how much technology is involved."
Blomquist and his father are also incorporating new practices, like cover crops, to build soil and improve water quality. "Every year we are trying different things to make our operation work a little better," Blomquist said. "There is no right answer. It's whatever works on your farm."
Scope over scale
For Laura Cunningham, life on the farm can be a blur of activity as she and her husband, Aaron, work to scale up their operation near Nora Springs. Along with working full time as marketing manager for Latham Hi-Tech Seeds, Cunningham strives to expand the farm's cow-calf herd and build their direct-to-consumer beef business, called SkyView Beef.
"We strategically pick farm enterprises to add diversification," Cunningham said. It was improved margins that attracted Cunningham to launch SkyView Beef. "I observed that for the farmer, margin is lost to the packer-retailer exchange. By ver­tically integrating our cow/calf and feedlot enterprises and focusing on quality, we've been able to recapture margin with a focus on scope over scale," Cunningham said.
The young farmer, who is expecting the couple's first child this fall, works to establish direct connections with consumers through the retail beef business.
She also has been a leader of the Floyd County Farm Bureau efforts to engage the community through "Farm to Fork" dinners.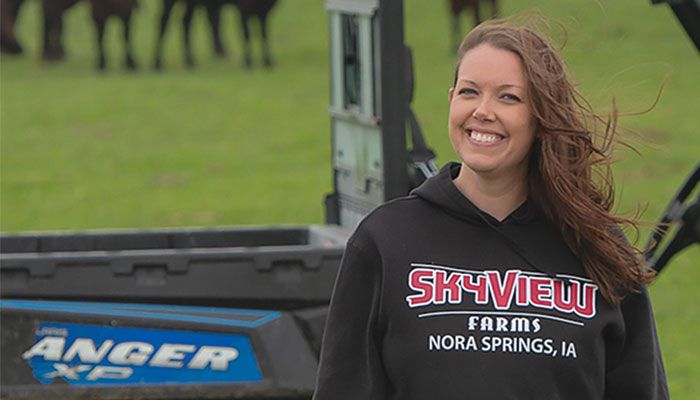 "We want to put a face on farming and answer questions about agriculture for people in our community, and the best way to do that is over good food," she said.
Agricultural education is an­­oth­­er passion for Cunningham. She works with others in her community to establish an agricultural education program and FFA in their local school district, Central Springs.
Cunningham strongly believes that ag education can be an engine for rural vitality because it shows young people there are career options in rural communities.
"About 30% of our area's work­­force is involved in ag," she noted. "But if young people don't have a connection to ag through school, they don't always see op­­portunities here at home and believe relocating is needed to find a fulfilling career. We want to change that."

Growing an ag career
Kate Edwards always wanted to be an Iowa farmer, but wasn't able to follow the more traditional paths to fulfill that dream. Instead, she moved back to the state after working in the Twin Cities and created her own way.
"I really wanted to be a typical Iowa row crop farmer," Edwards said. "But I had two things working against me. I didn't have access to land, and I didn't have any female role models in farming."
She solved the first problem by growing vegetables, which required only an acre or so, and selling them directly to consumers through a CSA marketing program, where members buy shares in a farm's harvest.
Today Edwards' CSA, Wild Woods Farm, has more than 200 members and is one of the largest in Iowa, growing produce on close to 10 acres.
Edwards also found a mentor in Susan Jutz, who helped with the agronomics of raising vegetables and with designing a successful CSA. Jutz also recommended connecting with other local farmers through the Johnson County Farm Bureau.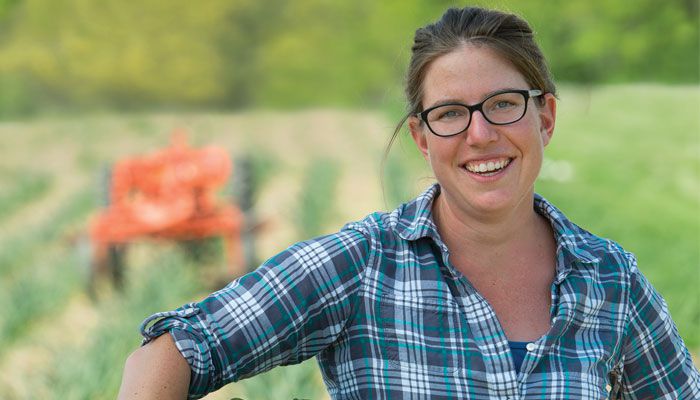 "One of things I really appreciate about Farm Bureau is that they are both community and policy oriented. That way it can help farmers in both of those areas," she said.
Edwards tries to be a role model herself, as well as a liaison. "I have 200 families that I talk with on a weekly basis, and I get to communicate about agriculture and challenges farmers face," Edwards said. "And I also have connections to more conventional farmers. It's a good position to be in."

Want more news on this topic? Farm Bureau members may subscribe for a free email news service, featuring the farm and rural topics that interest them most!