It's Christmas tree time at the Hunter farm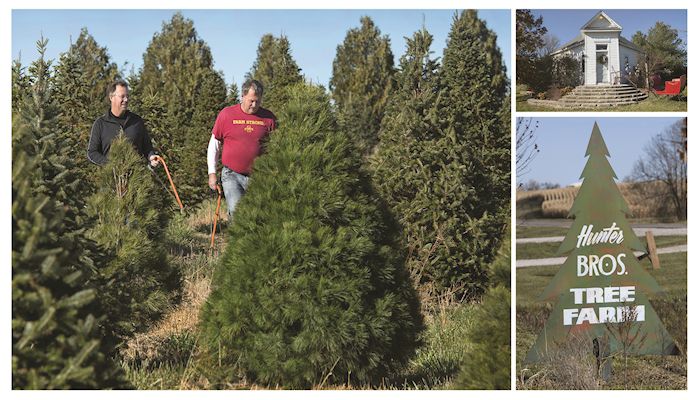 It's that time of year when Christmas comes to life at the Hunter Brothers Tree Farm near Chariton.
With its official annual open house the Friday after Thanksgiving, a new season began as guests came to choose their tree or hand-made wreath and shop the country school turned gift shop, or just to soak up a healthy dose of Christmas spirit.
Nick and Mike Hunter began growing pine trees on their Lucas County farm in the 1980s. "We were fresh out of Iowa State, where they preached diversification," says Nick. The conservation-minded brothers were also looking for ways to protect the fragile soils of their farmland in the Rathbun Lake Watershed.
The Lucas County Farm Bur­eau members harvested their first trees in 1991, selling them in town from the back of a pick-up. The operation became a family affair, and soon a barn was added for family gatherings and space to make wreaths from tree trimmings.
Around 20 "ingredients" go into the decorative wreaths that have become as much a seasonal must-have as the trees. Native flowers from nearby road ditches, twigs from various trees and bushes, and more than 100 styles of ribbons and trims adorn the original creations.
It didn't take long for the barn to become cramped quarters. When a country schoolhouse near where they grew up came on the market, the brothers seized the opportunity, purchasing and moving it to the tree farm site. Once refurbished to its former glory, the school became the perfect backdrop for a gift shop stocked full of festive decor and gifts.
A prime photo spot
The site is a popular spot for family photos and hosts an Adoptable Paws photo shoot, where family pets can have their picture taken with Santa. They briefly had a reindeer until government regulations made it impractical.
While the tree farm and gift shop are only officially open five or six weeks a year, special events stretch the season, like a recent Girls Night Out.
Around 600 trees will leave the farm over the holidays, along with the gifts, wreaths, strings of garland and boxes of greenery. Hunter Brothers Tree Farm is a full-service tree farm. Customers choose and tag their tree, sometimes weeks in advance, to have it cut, shaken free of dried needles, net wrapped and loaded on their vehicle.
Nick says they avoid having customers cut their own tree for liability reasons and to protect former customers' selections. It also ensures trees are cut at the right size for ongoing harvests.
Growing quality evergreens is an art, and one that constantly changes with customer trends. The Hunters started with pine varieties. "But now people want firs," explains Mike, "and they're much harder to grow here." Firs like porous, sandy soils. "A wet spring or a dry summer can really damage our trees." They can meet nutrient needs with fertilizer, but they can't change the natural drainage of the southern Iowa clay.
The Hunters have built a successful farming operation on enhancing their environment. In addition to the 25 acres of evergreen and deciduous trees (the purchase of a tree spade in the 1980s put them in the shade tree business), they no-till corn and soybeans, raise hay and plant cover crops.
Fragile soils
"Our soils here are fragile," says Nick. "We don't have much topsoil, and we've learned from our mistakes. Once that soil is gone, there's no getting it back."
The Hunter Brothers farm includes 16 miles of terrace and a couple dozen ponds, mostly used to water cattle. Around 150 cow-calf pairs make their home there, and a feedlot facility specializes in heifer development.
The heifer program makes use of what the brothers describe as a "good, working facility" comprised of three hoop buildings with concrete and settlement basins. All manure is captured and used as fertilizer on the cropland. "It's utilizing an asset," says Mike. "It's the best fertilizer there is," adds Nick.
The Hunters have also added buffer strips and windbreaks with the help of the Coalition to Support Iowa's Farmers.
The farm's efforts earned them the Wergin Good Farm Neighbor Award this past May.
Sponsored by the Iowa De­­partment of Agriculture and Land Stewardship, Iowa Ag Radio Network and the Coalition to Support Iowa's Farmers, the award recognizes farmers who go above and beyond in caring for their livestock and their land. They are also past winners of the Rathbun Lake Protector Award and have been recognized by the Natural Heritage Foundation for their conservation practices.
Focused on Christmas
The tree farm may be but a small part of the Hunter Brothers operation, but it is a part that feeds the family's soul. Siblings and grown children return to help.
Nick and Mike's 87-year-old mother no longer runs the store, but she still participates in events.
Old and new customers from near and far are on their way to find that special tree or decoration, or just to soak up the fresh air and holiday atmosphere.
The Hunters are ready for their arrival. "We're very excited to see Christmas around here," says Nick. "It's a very special time of year for us."
Hunter Brothers Tree Farm is located just west of Chariton and is open 9 a.m. to 6 p.m. on weekends and 3 p.m. to 6 p.m. weekdays from now through Christmas.
Queck-Matzie a freelance writer in Greenfield.
Want more news on this topic? Farm Bureau members may subscribe for a free email news service, featuring the farm and rural topics that interest them most!