Iowa Farm Bureau sets Economic Summit for June 28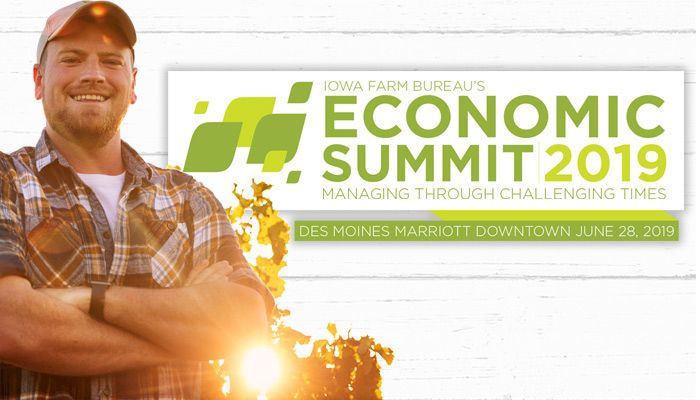 The Iowa Farm Bureau Federation (IFBF) will host a major economic summit June 28 in Des Moines to offer insights and strategies to help farmers survive agriculture's economic downturn, manage risk and research strategies to boost income.

"Farm Bureau is working to help Iowa farmers find ways to manage through these very challenging times," said Sam Funk, IFBF senior economist. "We believe that by attending the summit, farmers will be able to gain information and insight that will be instrumental in managing through the current downturn."
Farmers today face a wide array of challenges, from a very unsettled export market, to increased stress on balance sheets, to rapid changes in technology, Funk said. During the one-day 2019 IFBF Economic Summit, titled "Managing Through Challenging Times," a broad range of Iowa and national experts will provide information and insights to help farmers find strategies to weather the difficult farm economy and make the most of the assets and talents they have, he said.
"We all need to gather as much relevant information as possible in order to manage our way through this environment," Funk said. "This summit will provide an opportunity for farmers to access a broad range of important information and strategies in a compact, one-day event."
The list of presenters at the IFBF Economic Summit includes experts on farm finances and lender relationships, as well as managing risk in a volatile agricultural economy. "They will discuss strategies that are appropriate for Iowa farmers to help them navigate these challenging times and, hopefully, find ways to increase revenues from their farms."
One of the presenters, Art Barnaby of Kansas State University, is a leading expert on risk management and crop marketing strategies to increase revenue that are underpinned with crop insurance, Funk said. Another speaker, Allan Gray of Purdue University, is a leading voice on implementing technology to increase profit margins in agriculture, he said.
Alternative income

The IFBF Economic Summit will explore alternative income opportunities for farmers, in­cluding industrial hemp. The Iowa Legislature recently passed a measure allowing farmers in the state to raise up to 40 acres of the crop.
One speaker at the summit, Canadian farmer Adam Ornawka, will discuss his experience in growing and marketing hemp. An official with the Iowa Department of Agriculture and Land Stewardship will also discuss hemp rules and regulations.
The summit will also examine the growing use of "blockchain" information systems in the production of meats and other foods. This trend, which can gather information from each stage of production, will be explored by Debra Bauler of Cargill.
"Farmers will benefit from learning more about this topic, because they may be able to tap into blockchain systems to set themselves apart as preferred suppliers," Funk said. "We know there's interest in this because consumers want intimacy with their food. They want to know increasingly more about how it was raised or grown, and a blockchain system can be designed to address those demands."
Other speakers at the 2019 IFBF Economic Summit will examine the volatile export market, weather trends and land values. In addition, David Brown of Iowa State University will discuss stress management in today's agriculture. "This is a very important topic because financial and other stresses can often lead to other problems impacting relationships and personal wellbeing for many farmers," Funk said.
Summit details

The 2019 IFBF Economic Summit will be held at the Des Moines Marriott-Downtown, beginning with registration at 7:30 a.m. on June 28. Preregistration for the event, which includes access to all presentations and lunch, is $30 for Farm Bureau members and $150 for non-members before June 19. At the door, the cost is $60 for members and $150 for non-members.
Visit  www.iowafarmbureau.com/economicsummit, or contact Lavonne Baldwin at 515-225-5633 or at lbaldwin@ifbf.org.
Want more news on this topic? Farm Bureau members may subscribe for a free email news service, featuring the farm and rural topics that interest them most!