Iowa Farm Bureau members recognized and helped implement national policy at 99th Annual American Farm Bureau Convention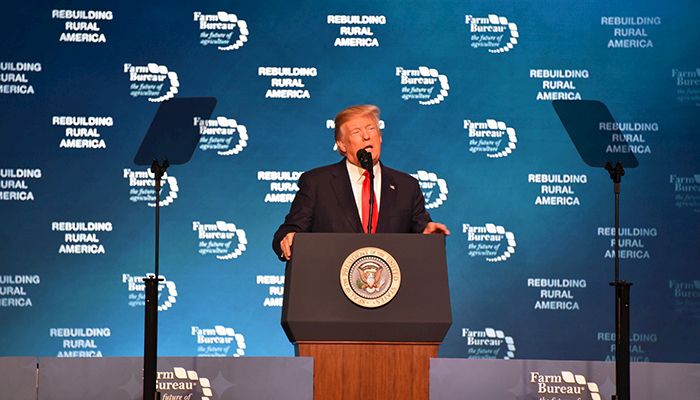 President Donald Trump Addresses Farm Bureau Members and Signs Executive Orders to Benefit Rural America
Iowa Farm Bureau Federation (IFBF) voting delegates joined delegates representing all 50 state Farm Bureaus this week in Nashville during the 99th American Farm Bureau Federation (AFBF) Annual Convention to approve resolutions that will guide the grassroots organization on national policy throughout 2018.
During the convention, IFBF delegates successfully worked to secure several important IFBF state policies as national policy for 2018. A highlight of the convention was an address from President Donald Trump to Farm Bureau members, marking the first time in 26 years a sitting U.S. President has addressed the nation's largest farm organization.
Following President Trump's address to 7,400 farmers and ranchers, promising to fight for American farmers and rural America, Trump signed two executive orders that fund and streamline the expansion of rural broadband access to help farmers have access to technology essential to remain competitive. In addition to pledging support for rural economic development, Trump also touched on other issues important to Farm Bureau members including the historic tax reform plan that will benefit farmers and small businesses, rolling back burdensome regulations, protecting crop insurance in the Farm Bill, and the importance of free trade deals.
"Farmers embody the values of hard work, grit, self-reliance and sheer determination," Trump proclaimed to roaring applause.
During the voting delegate session, Iowa Farm Bureau members advanced policy that was adopted into the AFBF policy book to improve the Conservation Reserve Program (CRP) to ensure the program maximizes water quality benefits, including targeting the program to marginal acres over whole farm retirement. CRP reforms were also adopted to place reasonable limits on CRP payment rates to ensure they don't unduly drive up cash rental rates for Iowa farmers. IFBF delegates also successfully moved policy that encouraged the targeting of marginal acres for habitat plantings to promote pollinators and monarch butterflies, while aiming to prevent and control the spread of invasive weeds.
"Our members can feel very proud because there were many ideas and concepts that came out of Iowa that were incorporated into AFBF policy this year," says Craig Hill, IFBF president. "It's a very good indication that our strong grassroots policy development process in Iowa develops sound policies which resonate with other Farm Bureaus all over the country."
AFBF policies are developed by Iowa voting delegates and Farm Bureau delegates from 49 other states to secure grassroots lobbying strength in the 2018 legislative session. The number of delegates awarded to each state is based on the state's membership total.
In addition to advocating for policy that will guide the nation's largest general farm organization with more than 6 million members, several Iowa Farm Bureau members received recognition and took home awards during the AFBF Annual Convention.
Swine Tech, Inc., an Oskaloosa-based ag technology startup, was named the AFBF Entrepreneur of the Year, the third time in four years an Iowa entrepreneur has won the contest. The Swine Tech team, led by Matthew Rooda and Abraham Espinoza, won the AFBF Rural Entrepreneur Challenge by beating three other finalists from across the nation who competed this week. Rooda and Espinoza's startup business beat out more than 450 applicants to take home a total of $30,000 in prize money, including an additional $15,000 from sponsor John Deere.
Swine Tech, Inc.'s ag technology entry has been dubbed the "Fitbit for pigs," and utilizes technology to monitor sows to reduce piglet mortalities in farrowing facilities around the world. The Iowa Farm Bureau-mentored entrepreneurs presented their business model in front of a live audience and judges on the main stage in the IDEAg Trade Show at the convention.
IFBF was presented several Awards of Excellence, an honor recognizing state Farm Bureaus that demonstrate outstanding achievements in four program areas: Advocacy; Engagement and Outreach; Leadership and Business Development; and Membership Value. Iowa was recognized for all four categories.
"It was a very productive week for the Iowa Farm Bureau, as several of our farmer leaders and organization received recognition and awards," says Hill. "Being presented AFBF Awards of Excellence in all four categories is a testament to our staff, members, and grassroots organization."
Additionally, Dustin Johnson, a young farmer from Clinton, was recognized during the closing session for making the Top 10 for the AFBF Young Farmer Achievement Award after competing against winners from the other state Farm Bureaus. Johnson was recognized as Iowa's Young Farmer Achievement Award winner during the IFBF Annual Meeting in December for his outstanding farm management and involvement in his county Farm Bureau and community activities. Johnson grows corn and soybeans, raises livestock, and is a committed conservationist utilizing no-till practices and cover crops on his farm.
Farm Bureau members will gather next January in New Orleans, Louisiana for the 2019 AFBF Annual Convention.

Want more news on this topic? Farm Bureau members may subscribe for a free email news service, featuring the farm and rural topics that interest them most!