Iowa Farm Bureau members gather for 104th Annual Meeting celebrating member achievements, young farmer leaders and new opportunities in agriculture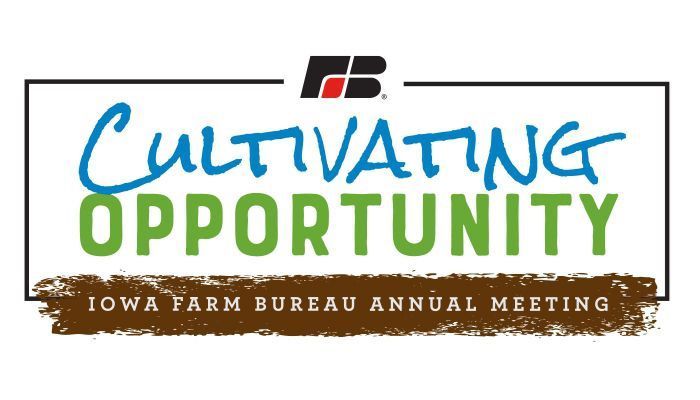 Brian Feldpausch of Grundy County elected vice president 
Members of Iowa's largest general farm organization gathered at the Community Choice Credit Union Convention Center in Des Moines this week to recognize the achievements of county Farm Bureaus, young farmer award winners and receive expert insight on topics and issues shaping agriculture.  For the first time in more than a decade, delegates elected a new vice president following the retirement of Joe Heinrich.  
Brian Feldpausch of Grundy County was elected vice president of the Iowa Farm Bureau, succeeding Joe Heinrich of Maquoketa, who didn't seek re-election. Heinrich served as IFBF vice president for the past 11 years after serving as District 6 director and holding various Jackson County Farm Bureau leadership roles.  
Feldpausch served as IFBF District 5 director prior to being elected vice president and previously held numerous leadership positions with the Grundy County Farm Bureau.  He also served on IFBF's internal study committee, legacy planning committee and county finance task force.  Brian is currently a member of the Grundy County Fair Board and serves as a BCLUW school board member.  The Iowa State University (ISU) alum has served on several boards and advisory committees, including the Iowa FFA Foundation board, ISU Ag Endowment trustee, Hawkeye Community College Ag Business Advisory Committee and various leadership roles with 4-H.  Brian and his wife, Jen, have three children, Abby, Nick and Will, and grow corn, soybeans and alfalfa and raise hogs and cattle.  
Farm Bureau members engaged in several educational breakout sessions during the two-day meeting, receiving valuable insight into building and growing a farm brand to capitalize on growing direct-to-consumer trends and desire to know more about how and where their food was made and the farm families who grow and raise it.  Members also received an update on the ongoing fertilizer crisis with insight into alternatives to combat the surging prices, cropping systems to improve soil health and continue conservation progress, ag market outlook and national policy developments shaping the new Farm Bill.  
Iowa Governor Kim Reynolds addressed members virtually during the closing session and shared her strong support of Iowa farm families and agriculture, proclaiming Dec. 5-9, 'Iowa Farm Bureau Week.'  Governor Reynolds recognized Farm Bureau as a partner in carrying Iowa forward and thanked members for their effort leading to Iowa's biofuels access bill passed during last year's Iowa legislative session.  
The meeting concluded with a motivational keynote from former NFL star, Jason Brown, who walked away from eight-figure contract offers to commit to a life of service.  In 2009, Brown's $30 million contract with the St. Louis Rams made him the league's highest paid center.  However, Brown felt called to a life of purpose and community service, and in 2014, declined additional contract offers, and instead walked away from professional football to purchase a 1,000-acre farm.  The North Carolina native returned home to farm, and he continues to donate the food he grows on his farm to service organizations within the community.  Brown's motivational message about living a life of service, centered with faith, family and farming, was met with thunderous applause from the 700 in attendance. 
IFBF Elections 
Sharyl Bruning of Monona County was elected to the IFBF board to represent District 4, left vacant when Greg Jochum didn't seek re-election.  The district is made up of 11 counties in west central Iowa.  Bruning and her husband, Dave, have three adult children, Julie, Amy and Jeff, and six grandchildren.  The Brunings farm with their son, Jeff, and grow corn and soybeans and maintain a beef feedlot.  Bruning currently serves as Monona County voting delegate, is active in Iowa Farm Bureau's F.A.R.M. Team (Farmer Advocates Reaching Main Street), serves on the Siouxland Ag in the Classroom board and has been a 4-H leader for more than three decades.  She previously served five years as Monona County Farm Bureau president and the state resolutions committee.  
Joe Dierickx of Clinton County was re-elected IFBF District 6 director, comprised of 11 counties in eastern Iowa.  Dierickx was first elected director in 2019 and farms with his brother, Paul, growing corn and soybeans, as well as providing custom planting, harvesting and spraying services. Joe and his wife, Barbara, have three adult children.  
Tim Kaldenberg of Monroe County was also re-elected as director representing District 8 comprised of 10 counties in south central Iowa. Kaldenberg was first elected to the board in 2019.  Tim farms in Albia and raises a beef cow/calf herd and feeder cattle and grows corn, soybeans and hay.  Tim and his wife, Cindy, have two adult children.  
Nine delegates were elected to represent Iowa at the 2023 AFBF Annual Convention in San Juan, Puerto Rico, January 6-11.  They include: IFBF President Brent Johnson of Calhoun County; IFBF Vice President Brian Feldpausch of Grundy County; District 4 director Sharyl Bruning of Monona County; Darrick Hall of Jones County; Deanna Brennecke of Decatur County; Craig Recker of Dubuque County; Chris Prizler of Iowa; Brian Borcherding of Franklin County and Brent Lorimor of Fremont County.  
Brent Lorimor of Fremont County was elected to a three-year term on the IFBF internal study committee.  The internal study committee serves as a liaison between the county Farm Bureau voting delegates and the state board of directors.  
Distinguished Service to Ag Award 
Joel DeJong and Dave Klocke have been named Iowa Farm Bureau's Distinguished Service to Agriculture Award recipients. 
DeJong was nominated by the Woodbury County Farm Bureau for his commitment to helping farmers apply best nutrient and management practices on their family farms.
He recently retired from a 41-year career at Iowa State University Extension, serving most of that time as an agronomist in northwest Iowa. "There's fewer people on the land than when I first started, but the relationships are still there," says DeJong. "That's been the most rewarding part—a lot of clients have become friends." 
DeJong is known among his peers as the "King of Calibration" due to his expertise in nutrient precision agriculture and manure application. He is also the board secretary of the Northwest Research Farm Association and serves on the Dordt University ag program advisory board.
Klocke was nominated by the Carroll County Farm Bureau for creating innovative solutions to help fellow farmers. He and his family grow corn and soybeans and raise pigs. 
He and his wife, Karen, founded PigEasy, LLC, a line of products to improve the well-being of pigs and increase a farmer's profit potential. They hold multiple patents for animal feeding devices and ventilation equipment to improve animal comfort and are the largest employer in Templeton. 
"I feel blessed to be in the line of work I'm in," says Klocke. "The technology that has come about and the challenge it opens up for us to tap into all the potential in production agriculture—it's just a great time to be alive."
Young Farmer Achievement Award
Tanner Brass of Franklin County, Clark Dolch of Adair County and Melissa Moretz of Worth County were honored as recipients of the 2022 Iowa Farm Bureau Federation's (IFBF) Young Farmer Leadership Award.
Created in honor of former IFBF President Bob Joslin, this award recognizes outstanding farming members under the age of 35 who contribute to their communities and demonstrate leadership within their county Farm Bureau. As part of the award, honorees each receive a $2,000 grant to give to a local nonprofit of their choice. 
Brass sees how farmers are using technology to become more sustainable through his role as a precision farming manager for Case IH. He farms corn and soybeans with his dad and does custom work for area farmers. He awarded his grant to the Franklin County Fair's Ag Learning Center with the goal to show the public the innovations and technology being used on today's family farms. 
In his dual roles as a farmer and ag loan officer, Dolch is well versed in the financial challenges facing young farmers and connects his clients with funding resources. He raises cattle and farms corn and soybeans with his family, including his wife, Molly, and two-year-old son. Dolch's grant was given to Seeds of Hope Foundation which supports young farm families facing life-threatening illnesses. 
Being an advocate for agriculture has always been a passion for Melissa Moretz, who farms in Worth County with her husband, Nathan, and two young children. They raise corn, soybeans and alfalfa in addition to feeding hogs and raising cattle. She also works full time as a lending relationship officer. Melissa awarded her $2,000 to Central Springs AgEd Boosters to support a new ag education program. 
In addition to the grant, Brass, Dolch and Moretz will receive an expense paid trip to either the 2023 American Farm Bureau annual convention or Young Farmer and Rancher Conference, an expense paid trip to the Iowa Farm Bureau Young Farmer Conference, a Choice Hotels certificate valued at $500 and a $1,500 award from GROWMARK.
To learn more about Brass, Dolch and Moretz, listen to The Spokesman Speaks three-part podcast series featuring each award recipient.
Want more news on this topic? Farm Bureau members may subscribe for a free email news service, featuring the farm and rural topics that interest them most!