Iowa Among Top States in Wind Power Generation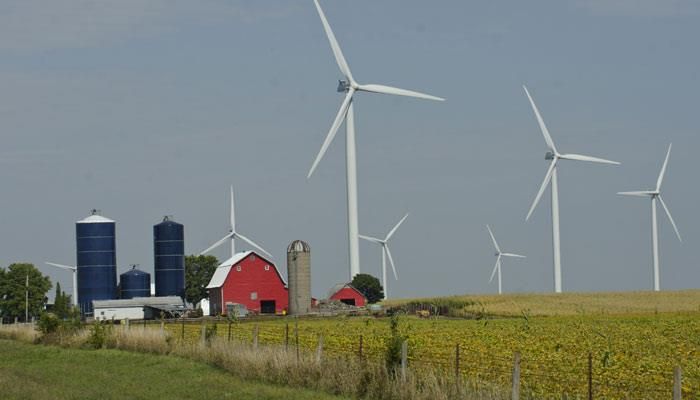 Iowa Wind Power Capacity
Installed wind power capacity in Iowa has increased, particularly since 2007 (see Figure 1). In 2016, the state wind capacity increased by 0.705 gigawatts (GW) to 6.917 GW, growing 11.3 percent from 2015 (6.212 GW). 2017 data (January-June) indicates Iowa installed capacity was equal to 6.974 GW, ranking Iowa second in the nation for installed wind power capacity, after Texas (21.450 GW). Wind power capacity in Iowa had a share of 8.2 percent of U.S. wind power capacity in 2017 (January to June, 84.945 GW).
A combination of federal and state policies have contributed to the expansion of the wind industry in Iowa. The Production Tax Credit (PTC), which is a federal tax credit incentive, was phased down for wind facilities starting construction after December 2016. In 2017, the tax credit declined 20 percent to $0.019/kWh. For wind facilities starting construction in 2018 and 2019, the PTC will be reduced by 40 percent and 60 percent, respectively. Depending on the inflation-adjusted factor employed by the IRS in each to the tax years, the amount of the production tax credit will vary.
State policies, Renewables Portfolio Standards policies (RPS), direct the location and amount of power development. According to the 2016 Wind Technologies Market Report, published by the U.S. Department of Energy in October 2017, as of June 2017, there were 29 states and Washington D.C. with RPS; Iowa is one of those states. Iowa adopted a RPS in 1983. The law required its main utilities to own or contract 105 MW of renewable energy. This requirement was met in 1999 (American Wind Energy Association (AWEA)).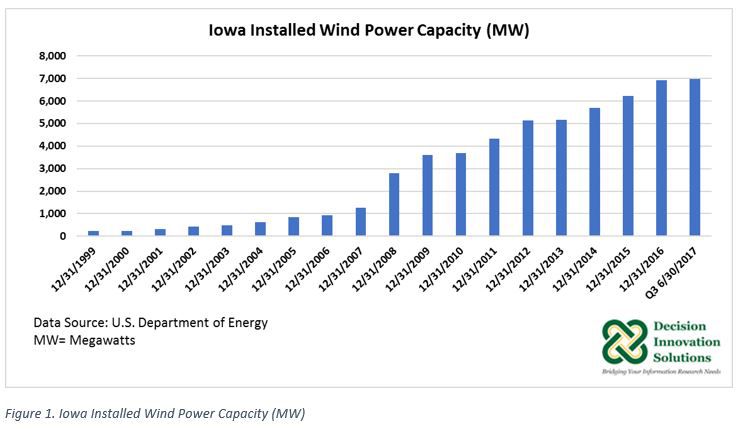 The number of records in the Obstruction Database from the Federal Aviation Administration (FAA) indicated there were 3,975 wind turbines in Iowa by November 12, 2017. The database included 60 Iowa counties with installed wind turbines. About 30 percent of all turbines in the state are located in five counties: O'Brien (318 turbines), Hancock (239 turbines), Worth (231 turbines), Pocahontas (215 turbines), and Franklin (181 turbines). Figure 2[1] shows the distribution of wind turbines across Iowa.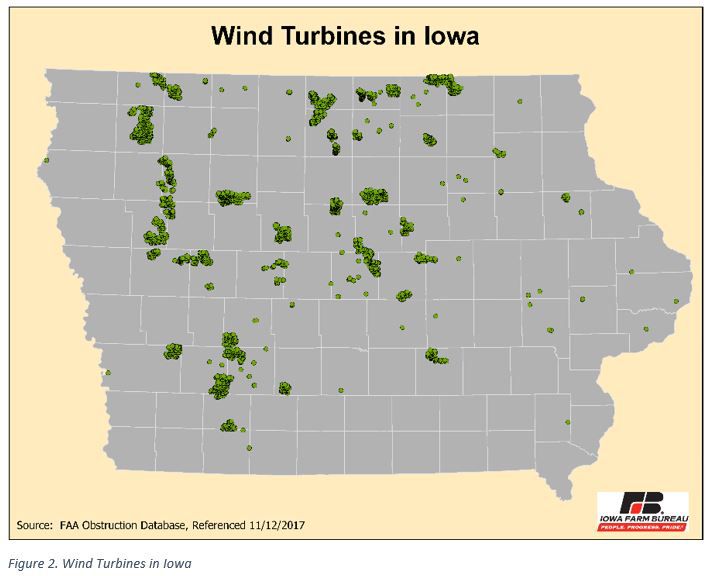 Iowa Wind Power Generation Relative to Total In-State Electricity
The amount of electricity generated by wind power in Iowa relative to all in-state electricity generated has increased since 2008. Wind capacity installed in Iowa provided more that 36 percent (20.049 million megawatt-hours) of all in-state electricity generated in Iowa in 2016 (54.791 million megawatt-hours), making Iowa the number one state (as a share of total energy generated) last year. According to AWEA, the amount of electricity generated by wind energy in 2016 was enough to power the equivalent of more than 1.85 million average U.S. households. During the first eight months of 2017, wind power generated in Iowa represented 34.5 percent (13.199 million megawatt-hours) of all in-state electricity during that period (38.255 million megawatt-hours) (see Figure 3).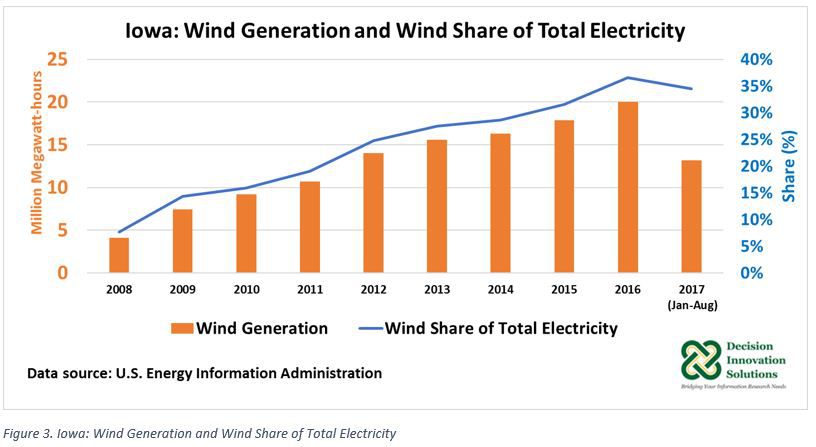 The tax reform bill passed by the U.S. House on November 16, 2017 includes a provision that if approved, as indicated by AWEA, would retroactively cut federally production tax credits, changing how business qualify for wind's energy primarily federal support policy. The Senate tax reform bill does not affect PTC.
---
[1] FAA Obstruction Database compilation and "Wind Turbines in Iowa" map were provided by Tim Johnson (Iowa Farm Bureau Federation)
Want more news on this topic? Farm Bureau members may subscribe for a free email news service, featuring the farm and rural topics that interest them most!