Hurricane to have far-reaching impact on agriculture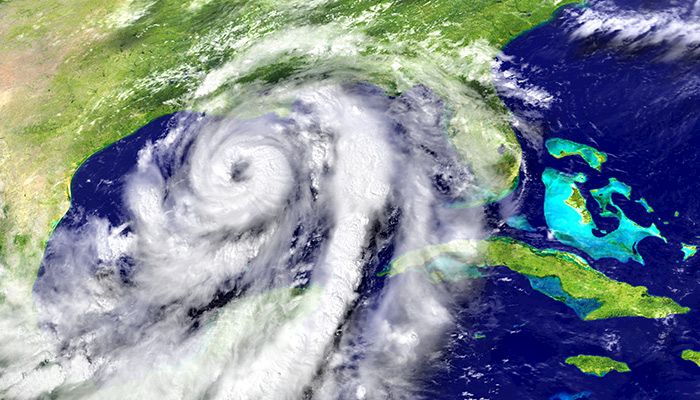 After slamming farms and ranches on the Texas Gulf Coast last week, Hurricane Harvey will continue to have far-reaching and lingering impacts for crops and livestock in Texas and across the country.
"The storm struck at a time when farmers were working to harvest a bumper crop of cotton," said Texas Farm Bureau spokesman Gene Hall.
Acres of rice, soybeans and other crops also were deluged, and cattle ranchers in the storm path were forced to move their herds to higher ground. The storm also shut down terminal elevators at Texas gulf ports, which handle about one-quarter of U.S. wheat exports.
The bigger concern for U.S. corn and soybean shippers was how much water the storm would dump on the Mississippi River shipping channel as it lingered over Louisiana, Arkansas and Mississippi late last week, said Mike Steenhoek, director of the Soy Transportation Coalition.
Shipping delays
Steenhoek said shipping delays were likely, but he's hoping they'll be short-lived. Sixty percent of U.S. soybean exports and 59 percent of corn exports travel down the Mississippi River.
"Grain handlers who export and service the Mississippi gulf region are taking Hurricane Harvey very seriously," he said. "Obviously, heavy rain will delay the ability to load ocean vessels and unload barges. Heavy winds and storm surges, if they occur, could damage the export terminals."
The storm also washed out sections of railroad lines and strained bridges and other infrastructure critical for grain movement, Steenhoek said.
The rain caused catastrophic flooding in Houston, with a record-breaking 51.88 inches of rain in Cedar Bayou, Texas,
According to the National Weather Service. Rail operations were suspended along the Gulf Coast from Brownsville, Texas, to Lake Charles, Louisiana, due to high water and storm damage.
Farmers and consumers are also facing higher energy costs after Harvey disrupted oil refinery and pipeline operations.
E15 rule change
In reaction to gasoline shortages and price spikes, the U.S. Environmental Protection Agency issued an emergency waiver for 38 states, including Iowa, that permits E15 to be used in cars 2001 and newer effective immediately. E15 sales are normally restricted to flexible-fuel vehicles from June 1 to Sept. 15 due to a quirk in federal gasoline volatility regulations.
"The shutdown of nearly a dozen refineries and extreme weather prohibiting fuel barge movement in the Gulf area, with several other refineries operating at reduced capacity has continued to limit the production and availability of fuel to areas both within and outside of the Gulf area," EPA Administrator Scott Pruitt said. "In addition, the Colonial pipeline, which has been disrupted due to storm damage, is operating at a reduced capacity."
Livestock impacts
The storm is likely to impact many facets of the U.S. livestock and meat industry, the Steiner Consulting Group wrote in its Daily Livestock Report.
Officials estimate there are more than 1.2 million head of beef cattle — about 27 percent of the state's total — in the 54 Texas counties that have been declared a disaster due to Hurricane Harvey and subsequent flooding.
"Livestock (loss) was to some extent minimal just because where the places were hit have limited numbers of livestock. From what I can gather at the moment, most of the livestock in San Patricio County is in pretty good shape," Texas A&M AgriLife Extension agent Bobby McCool said.
Texas' biggest feedlots and three of its four beef packing plants are located in the northwest part of the state, out of the storm's path, officials said.
Shipping disruptions
Flooding will also impact meat exports from the Texas gulf ports.
"At this point, we have not heard of any major damage to port and facilities, but the disruptions to transport networks will likely impact operations for many weeks, possibly months," the Steiner Group said.
The port of Houston has in­­creased in importance for U.S. meat imports and exports in recent years, especially as trade with Central and South America has grown, but the numbers are still relatively small, according to the Steiner Group.
In 2016, the port of Houston/Galveston accounted for accounted for just 1.2 percent of the pork export volume and 0.5 percent of the beef export volume. Beef imports through the port of Houston in 2016 accounted for 3.5 percent of the national total.
Texas FB sets relief fund for farms hit by hurricane
The Texas Farm Bureau has established a relief fund to address the agricultural losses inflicted by Hurricane Harvey, which left many farm and ranch families facing overwhelming odds to recover and rebuild.
"It's an historic storm and a disaster for many farmers and ranchers. The torrential rainfall wreaked havoc on Texas agriculture at the worst possible time - harvest season," said Texas Farm Bureau President Russell Boening.
Tax-deductible donations can be made to the hurricane relief fund to assist farmers and ranchers. Donations to this fund will be dispersed via an application process directly to the farmers and ranchers affected by the hurricane.
Iowa Farm Bureau members can also make donations to the Texas Farm Bureau relief fund by going to this website:
http://bit.ly/2wMo3ea
.
Want more news on this topic? Farm Bureau members may subscribe for a free email news service, featuring the farm and rural topics that interest them most!