Farm groups rally behind Trump nominee for ag secretary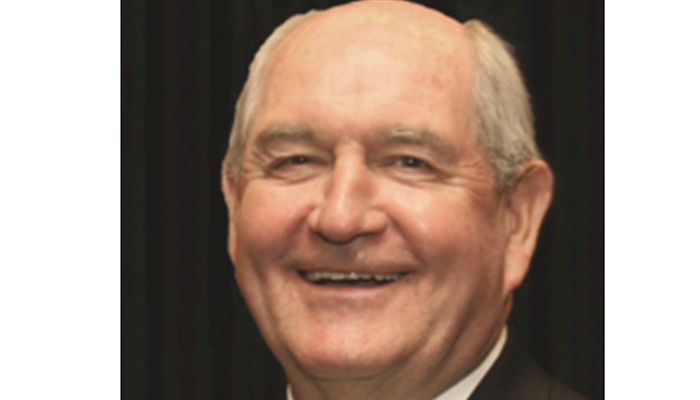 The American Farm Bureau and other major farm groups rallied behind last week's nomination of former Georgia Gov. Sonny Perdue to be the next U.S. secretary of agriculture, which ended weeks of speculation about who would fill the last position in President Donald Trump's cabinet.
The 70-year-old Perdue brings a farm background and reputation as a trade advocate to the top USDA post, where he will replace Tom Vilsack, another former governor, if the Senate approves his nomination.
"Gov. Perdue has a very good reputation within the ag industry, and I look forward to working with him as he leads the USDA," said Iowa Secretary of Agriculture Bill Northey. "He has a strong background in agriculture, having grown up on a farm, is a veterinarian and has worked in the agribusiness sector. The USDA is a critically important partner for our department, and I'm excited to continue that strong working relationship around issues of animal health, soil conservation, water quality and many others."
A long process
Perdue's name emerged from a long list of candidates in a search that dragged on for weeks as Trump sought a candidate who would satisfy rural voters who were credited with helping him win election last November. The USDA has oversight of a number of issues, including food, farming, rural development, natural resources and nutrition.
Iowa Sen. Chuck Grassley on several occasions prodded Trump to consider Iowa's Northey or another Midwesterner for the USDA post, saying farmers needed a leader with "dirt under his fingernails." Following Perdue's nomination, Grassley said he is interested to learn about Perdue's views on agriculture and see how Midwest farmers will "have a seat at the table" in the Trump administration.
"The secretary of agriculture oversees a broad swath of very important American policy that helps feed and fuel the world," said Grassley, who is the lone farmer on the Senate Agriculture Committee.
"Understanding and having an appreciation of the institution of the family farm like we have in Iowa and the Midwest, which is the strength of American agriculture, is important. This is especially true as we think about policies that will enable the next generation of farmers to make a living producing the food and renewable fuels the world needs."
Reports last week indicated that Iowan Sam Clovis, who served as national co-chair and senior policy advisor for the Trump campaign, will lead the USDA transition team and is likely to receive an appointment in the agency.
Trump ag advisor
Perdue himself acknowledged regional concerns among farmers in an email to Trump's agricultural advisory committee. Perdue was on the agricultural advisory committee during Trump's presidential campaign and served two terms as Georgia governor from 2003 to 2011.
"While I know some may be disappointed over regional or geographical concerns, I promise each of you I will diligently apply myself to learn all I can regarding the needs and challenges in this vast, wonderful industry we call American agriculture, or nature's factories," Perdue said.
Strong voice for ag
American Farm Bureau Pres­ident Zippy Duvall, a Georgia farmer who has known Perdue for years, said the USDA nominee will provide the strong voice that agriculture needs in Washington, D.C.
"I've seen firsthand his commitment to the business of agriculture as we worked together on issues facing farmers and ranchers in our home state of Georgia," Duvall said. "He understands the challenges facing rural America because that's where he was born and raised. He is a businessman who recognizes the impact immigration reform, trade agreements and regulation have on a farmer's bottom line and ability to stay in business from one season to the next."
Other leading farm groups also had positive things to say about Perdue, who ran a grain and fertilizer business in addition to working as a veterinarian. He also has worked to promote trade and U.S. exports, including specific work to boost sales to China.
Scientific understanding
"Gov. Perdue has a unique and expert understanding of both the business and scientific sides of agriculture," said National Cattlemen's Beef Association (NCBA) President Tracy Brunner. "In a time of increasing regulations and a growing governmental footprint, we have no doubt that Gov. Perdue will step in and stand up for rural America so that we can continue to do what we do best — provide the safest and most abundant food supply in the world."
"USDA touches the lives of every American, and it is among the most crucial government functions for farmers across the United States," added American Soybean Association President and Illinois soybean farmer Ron Moore. "We look forward to working alongside USDA under Secretary Perdue to ensure that the department continues to serve American soybean farmers in the most effective manner possible."
Economy, regulations
Iowa Sen. Joni Ernst said Perdue's leadership will be important as farmers navigate a downturn in the economy and wrestle with burdensome regulations.
"The picture painted of the state of our agriculture economy is far rosier than the realities on the ground," said Ernst. "Folks want strong leadership and forward thinking in the Department of Agriculture. Too often, agricultural priorities fall to the wayside, and we need to address head-on the many urgent issues that plague our farmers and producers."
Want more news on this topic? Farm Bureau members may subscribe for a free email news service, featuring the farm and rural topics that interest them most!