Dustin Johnson of Clinton County presented Iowa Farm Bureau Young Farmer Achievement Award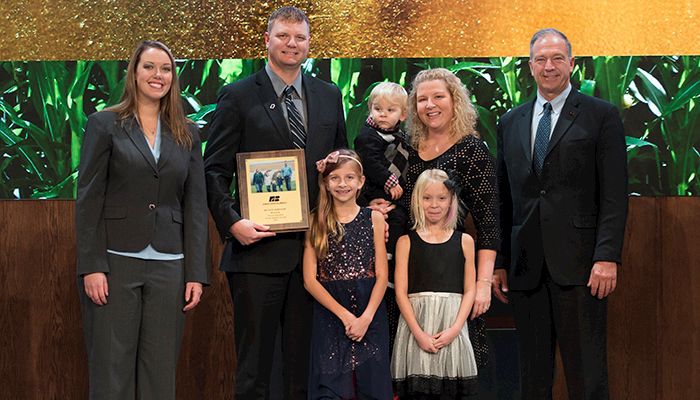 Ben Klocke of Carroll County Recognized for Commitment to Innovation
Dustin Johnson of Clinton was named the Iowa Farm Bureau Federation (IFBF) 2017 Young Farmer Achievement Award winner at the organization's 99 th annual meeting in Des Moines, Dec. 5-6. This annual award honors Iowa farmers between the ages of 18 and 35 who show outstanding management ability in their farming operations and involvement in Farm Bureau and community activities.
Johnson started his farm from scratch. Growing up near both of his grandfathers, he watched each find balance in farming, while staying involved with the community and making time for family.
"Watching those men as I grew led me down the path I'm on today," said Johnson. "I knew I needed to work hard and save if I ever wanted to farm."
Johnson went to school to study robotics and saved money after college by working at a factory. In 2007, he rented his first 75 acres of farm ground from his grandpa and bought seven steers. The Johnson family then bought sheep, which their two young daughters today show at county fair. Johnson continues to find landowners to rent from, and today farms more than 1,000 acres, while seeking other ways to be profitable. He direct-markets his growing beef herd and has gotten into custom farming as well as growing seed for cover crops.
"I am a huge believer in the benefits of cover crops and no-till," said Johnson. "The cover crop seed sales have grown as neighbors observe what we are doing. I feel this could be a potential growth area."
Johnson attributes his success in farming with his ability to implement conservation practices. Always one to embrace collaborative projects, he worked with Iowa State University Extension to create a plan to improve a piece of ground suffering from erosion and nutrient deficiencies. Using a system of no-till, cover crops, data management and "a few prayers," the farm went from 142 bushels of corn per acre to an average of 214 bushels per acre in five years.
Johnson is confident that doing the right thing for the environment and the land takes hard work, grit and integrity, but the pay-off is huge. "I will not abandon landowners who have taken a chance on me," he said. "I will continue to farm a 10-acre field to the best of my ability just as I would the 100-acre field."
Johnson has served as a board member for the Clinton County Farm Bureau for more than 10 years, currently serving as president. He's also been the young farmer chair, policy development chair, legislative committee chair, Ag in the Classroom chair, graduate of IFBF's Ag Leaders Institute and a Discussion Meet winner. Of all his accolades and responsibilities, he says being a good father and husband is most important to him.
As winner of the Young Farmer Achievement Award, Johnson receives a John Deere 590E Gator, a 90-day no payment, no interest (NPNI) John Deere Financial Certificate up to $5,000, and an all-expense paid trip to the 2018 GROWMARK annual meeting in Chicago.
Next month, Johnson will represent Iowa in the national Young Farmer Achievement Award competition at the American Farm Bureau Federation (AFBF) Annual Convention in Nashville. The national Young Farmer Achievement Award winner will have their choice of a new Ford truck, sponsored by Southern Farm Bureau Life Insurance, and a trip to the 2018 Young Farmer and Rancher (YF&R) Conference in Nashville.
Ben Klocke of Templeton is the second-place finalist for the Young Farmer Achievement Award, receiving parts on Site Bin (valued at $3,000), a 90-day NPNI John Deere Financial Certificate and a $500 Fast Stop gift card from GROWMARK. He is a fifth-generation farmer growing row crops and raising pigs in his own barn constructed with the environment, animals and his neighbors in mind. Klocke also works for his parent's sow farm, managing employees and making hiring decisions. The family has also developed and patented several pieces of equipment to use in hog farming which they manufacture and sell. Because of all his roles in agriculture, Klocke says no two days are ever the same.
This year, Klocke became a Carroll County Farm Bureau board member. He serves on the board for the Town Community Betterment Association and coaches a slow-pitch team. His future goals include running for a position on a local co-op board and investing in technology and education that can improve the land he farms and his day-to-day operations.
Want more news on this topic? Farm Bureau members may subscribe for a free email news service, featuring the farm and rural topics that interest them most!