Celebrating Iowa farms that have stood the test of time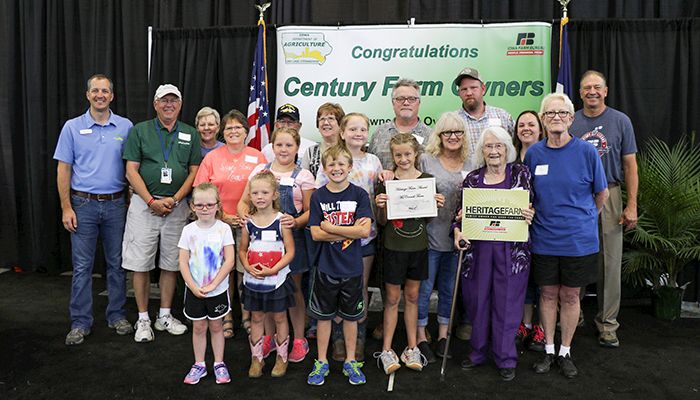 More than 480 farm families, from every corner of Iowa, celebrated a milestone this year as they accepted their Century or Heritage Farm awards during the Iowa State Fair. The annual awards, sponsored by the Iowa Farm Bureau Federation and the Iowa Department of Agriculture and Land Stewardship, really say a lot of good things about Iowa agriculture.
The awards signify persistence. To still be farming after 100 years, in the case of Century Farms, or even 150 for Heritage Farms, requires generations of hard work, backbone and a strong constitution. There are plenty of bad things out there that can knock a farm out of business, from rough weather, to urbanization to often-ruthless economics. Yet, these Century and Heritage farms have persisted for over a century or more.
These awards also highlight the adaptability of Iowa agriculture. The farm families that took home awards from the fair have adjusted to wave after wave of upgrades in technology, from horse drawn plows to tractors and other equipment precisely guided by satellites. The farms have also adapted to the constantly changing food demand, as consumers' tastes and lifestyles have shifted over the decades.
But maybe the biggest thing the Century Farm and Heritage Farm awards reveal is a deep and lasting love of agriculture in Iowa. Here are a few prime examples in Crawford, Clinton and Mahaska counties of Iowa.
These farms did not reach 100 or 150 years by accident. They did it by caring for the land, water and other resources and working decade after decade to make continuous improvements – and they'll keep doing that. They also cared for livestock, from the horses that once provided power for the farm to food animals, such as cattle, hogs and poultry. And it's a safe bet that these long-standing multi-generational farm families also cared for their schools and communities as they stepped up to do the things necessary to make them better. Iowa agriculture is always looking towards the future. But it's good to spend a little time celebrating the past and the Iowa farms that have stood the test of time.
By Dirck Steimel. Dirck is new services manager for the Iowa Farm Bureau and editor of the Spokesman.
Want more news on this topic? Farm Bureau members may subscribe for a free email news service, featuring the farm and rural topics that interest them most!