A legacy of cattle raising in eastern Iowa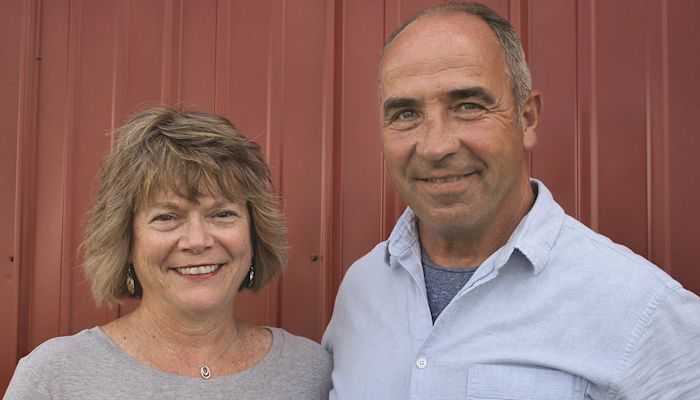 Angus cattle have been a big part of the Schmidt farm in Clinton County since it was started back in 1914.

Today Brian and Jane Schmidt live on the farm near Delmar that was first purchased by Gustave H. Schmidt in 1914. Gustave's son George and wife, Helen, took the farm over in 1937. His son Robert and daughter-in-law Irene took the farm over in 1959, followed by Brian and Jane in 1983.
It was George and his brother Ferdinand or "Ferdie" who propelled the farm to fame with their award-winning Angus cattle.
The Schmidt Farm in Clinton County will be one of 332 Iowa farms owned by the same family for 100 years honored as a Century Farm this year during the Iowa State Fair. Another 153 farms will receive the Heritage Farm award, which celebrates farms owned by the same families for 150 years.
The Century and Heritage Farm awards are sponsored by the Iowa Farm Bureau Federation and the Iowa Department of Agriculture and Land Stewardship.
George and Ferdie Schmidt didn't farm together. But they did show cattle together, and they did it very well. They took home awards for Grand Champion at the International Livestock Exposition in Chi­­cago eight times between 1937 and 1967.
"That show, and getting ready for it, was their big event of the year," Brian recalls. He was able to attend the shows from 1964 to 1967 and showed a steer in 1967, the last year the Schmidt brothers participated.
The Schmidt brothers would take 30 cattle every year to the Chicago expo. Initially, they traveled to the Windy City by train and later by truck.
Brian Schmidt operated a 120-head Angus cowherd until he was elected Clinton County Supervisor and sold the herd. Recently, he returned to cattle production, with three bred Black Whiteface heifers.
Overcoming challenges

Like any farm with more than a century in its lineage, there have been many changes and challenges. Brian's grandfather kept the farm together through the Great Depression, and he kept it going through the financial struggles of the 1980s.
Brian started a trucking operation when his daughter was in college to supplement the farm income and to help get their children through college.
"I farmed during the day and trucked during the night," he says.
Brian graduated from Iowa State University (ISU) in 1978 with a degree in farm management. He played football as a freshman and sophomore on the junior varsity team. He has always been involved in politics and organizations, including the Clinton County Farm Bureau, ISU Extension Council and serves as a citizen representative to Iowa Judicial District 7.
Teaching has been Jane Schmidt's passion. She taught at schools in both Iowa and Indiana and earned the Iowa Teacher of the Year award in 2014. She is currently an adjunct professor and student teacher supervisor at St. Ambrose University and a student teacher supervisor at ISU.
The Schmidts have three children, Kate, Benjamin and Samuel; and three grandchildren. They hope one of their children will take the farm over some day.
Meyer is a freelance writer in Garrison.

Want more news on this topic? Farm Bureau members may subscribe for a free email news service, featuring the farm and rural topics that interest them most!