Marking a century on the farm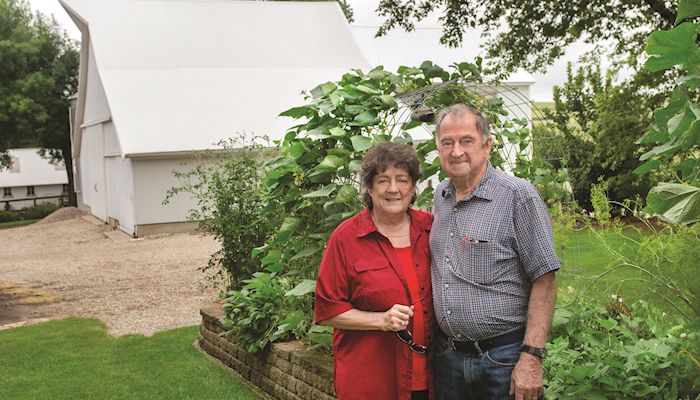 History can be heavy. Whether it's based on beliefs built over generations, or, in the case of the Kroll family of Crawford County, pieces of metal molded together through heat and time.

Bob and Annie Kroll will be honored this year at the Iowa State Fair for their Century Farm which has been in the Kroll name since Bob's grandparents, George and Elsie Kroll, bought the land in 1919. But the Kroll's mapping of their own history does not begin and end with a century plaque near their front door.
Instead, it is placed throughout their property in the form of artifact collections and art pieces representing stories that make up their life together.
"You have to do something you enjoy," Bob said, pointing out a collection of water hose spickets of all shapes and sizes. "This is something we can do together."
Bob and Annie moved to the farm in April 1969, meaning this year marks not only the 100th with a Kroll on the land, but also the 50th anniversary of their family's arrival.
The Krolls will be one of 332 Iowa farm families to receive the the Century Farm Award in 2019, which honors farms which have been in the same family for 100 years. Another 153 farms will receive the Heritage Farm award, which marks family ownership for 150 years.
The annual awards are sponsored by Iowa Farm Bureau Federation and the Iowa Department of Agriculture and Land Stewardship.
A rural paradise

Since settling down at the farm that spring of 1969, Bob and Annie have worked to shape it into their personal paradise, adding yard art, four additions to the original house, a covered bridge over Willow Creek and planting dozens of trees.
Bob also installed, over the years, 13 brick walking paths around the property, all while farming his corn and soybean acres almost single handedly — he contracts out some chemical application. "I very seldom hire anything done," Bob said. "If I put my mind to it, I can do anything."
Bob's work off the farm is also notable. He served for 30 years on the Crawford County Farm Bureau board, and twice chaired committees in Charter Oak in celebration of the city's 100th and 125th anniversaries.
Much of the art placed along those paths was made by Bob in his shop. He has a globe built with planter discs, a double-arched piece made from a large, deconstructed satellite dish, a lookout tower, and a hanging ball that can be raised or lowered using a pully system.
There is plenty of beauty on the Kroll farm in the midst of the very practical work of planting, tending and harvesting crops.
Collecting memories

But the collection doesn't stop with those objects Bob made by hand. Both he and Annie have specific categories of items they collect. For example, Bob has dozens of metal signs reaching nearly floor to ceiling in the shop.
Annie has collections of her own, including books, cards and cats. They have three cats now, two in the house, one in the shop. Earlier this year they transitioned the cats to staying inside at night after coyotes killed several felines in the neighborhood.
They raised two daughters on the farm and really enjoy welcoming them and their three grandchildren back home as often as possible.
Then, to top off the collection, is the 1961 Chevrolet Impala. Back when Bob and Annie first met, Bob owned a black bubbletop Impala, but sold it off along the way. In the early '90s the opportunity came along for Bob to get another one. He is now the proud owner of a black '61 Impala with a 409 cubic-inch engine. This is notable because that year only 142 Impala's were made with a 409 engine in the bubbletop style.
Annie said when she looks over all they have collected, accomplished or made together, the thing she is most proud of is her relationship with Bob.
"None of this would be possible without him," she said.

Want more news on this topic? Farm Bureau members may subscribe for a free email news service, featuring the farm and rural topics that interest them most!