As a self-proclaimed cheese lover, do you know these "cheesy" facts?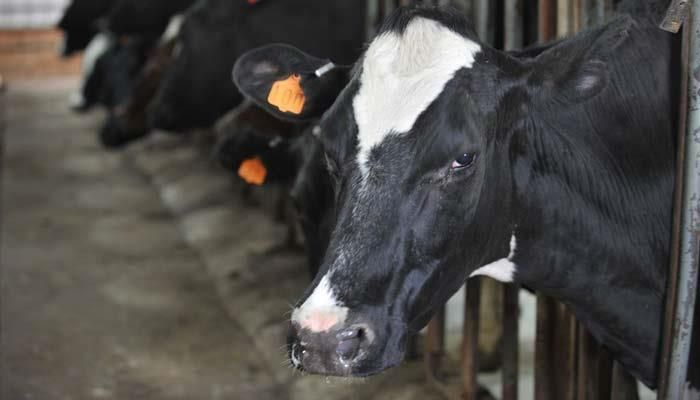 If you read my daily grocery shopping list, you'd think it sounds like a type of love letter to dairy cows. On the "must have" portion of the list: sliced cheese, shredded cheese, string cheese, cottage cheese, cheese and dried fruit "snackers", cheese pizza and every so often a creamy cheeseball.
It's no secret our family is cheese fans, and we are not alone as 100 percent of Iowans say their households also eat cheese! So as we approach National Cheese Lovers Day, I find it appropriate to not only celebrate a love of cheese with a fresh batch of cheese curds from our local dairy, but with a few facts on cheese and the dairy cows and farmers who make it possible for our families to enjoy.
1. First, Iowa is home to 1,403 dairy farms, and the cows on these farms produce 240 million pounds of cheese—ranking Iowa at 7th in cheese production in the United States! While in days past, it was common for farmers to hand-milk their cows, now farmers have incorporated new technology like robotic milkers, some of which let cows decide when they'd like to be milked! No matter the method, farmers put a lot of effort into taking care of their animals, working with veterinarians and paying attention to university research to keep up on the latest guidelines and recommendations to promote animal health. In fact, some farmers play music for their cows or have installed back scratchers in their barns—I'll take one of those, please!
2. Are you a health nut who turns to whey powder to fuel your pre- or post-workout protein drink? You can thank dairy cows for that as well. Whey is made during the cheese making process and is separated out. For those of us who are health-conscious, instead of cake, this means we can have our cheese and drink whey, too! Iowa Farm Bureau members and owners of an eastern Iowa creamery drain the whey from their cheese curds and feed it back to their cows as a source of protein. These nutrients help build strength in our bodies and the bodies of animals that help fuel our everyday goals and activities.
3. Random fact: The largest fondue set, according to Guinness World Records, consisted of a pot that was 8.5 feet wide and 5 feet 3 inches tall. Standing at 5 feet 4 inches tall, I'd for sure need a ladder to dip my pretzel or bread into this vat which contained more than 2,000 pounds of cheese. I'd also need a few friends to help me finish it off. Sounds like I know what I'm serving at this year's Superbowl party!
4. World records excluded—cheese serves as a healthy contribution to any meal or as an in-between meal snack. Of course, there are some cheeses that are a bit healthier than others. But like other dairy products, cheese is high in the calcium that builds strong bones as well as other nutrients that can help regulate blood pressure. Plus, kids tend to like it, too! For ideas on how to make cheese and dairy part of your daily diet visit the Midwest Dairy website.
Have you ever met someone who didn't like cheese? From cheese festivals, cheese restaurants to the cheese in your grocery cart—it's clear Americans love cheese! Cheese easily finds its way into every meal of the day—the melty cheddar cheese in your breakfast omelet, the slice of pepper jack cheese on your lunch sub and the plentiful sprinkling of taco-spiced cheese on your favorite Mexican dish at suppertime. But let's not forget where our appreciation lies—not just with the stores that carry our favorite blocks of mozzarella, but the farmers out in the countryside who are taking care of the animals who produce this food favorite! Perhaps I'll have to add a thank you card to my next shopping list, right below "spicy cheese curds."
By Caitlyn Lamm. Caitlyn is Iowa Farm Bureau's public relations specialist.
Want more news on this topic? Farm Bureau members may subscribe for a free email news service, featuring the farm and rural topics that interest them most!