Youth stepping up to help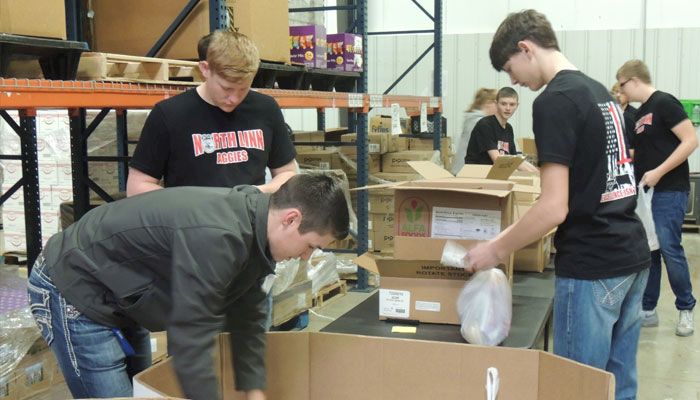 As Iowans struggled with hardship in 2020 brought on by the double whammy of the pandemic and the derecho windstorm, FFA members around the state stepped up. From handing out grocery packs to residents of Red Oak to collecting eggs for area food pantries in Troy Mills, FFA students proved they aren't afraid of doing hard work to help others.
"Being able to help like this is also a great learning opportunity for the students," said Alan Spencer, ag education instructor at Red Oak High School. FFA members in Red Oak volunteered 1,800 hours last year at Christ's Cupboard, a Christian food pantry in the community.
"Some of our students didn't know this was a need in our community. Some even had family members come in to get food," he said.
Because of concerns about COVID-19, Christ's Cupboard moved to offering only pre-packaged pick-up for food items rather than the more traditional shopping style of food collection.
Red Oak FFA members helped pack up food staples in grocery bags and then helped hand out these items in a makeshift drive-thru.
"Our chapter supplied three volunteers a week to Christ's Cupboard from May through December," Spencer said.
And thanks to the community's outpouring of support, the pantry will move into a bigger facility this spring, which will help better serve Red Oak.
"We're already set to help with the move," Spencer said.
Growing their own
Students at Troy Mills experienced disruptions from both the pandemic and the derecho, which hit the area on Aug. 10.
"We were pretty lucky up here to miss the worst of the derecho," said Tom Murray, agricultural education instructor at North Linn High School.
North Linn has a livestock barn on campus, which gives students direct experience with farm animals and a chance to help by collecting eggs and raising beef and pork.
In 2020, North Linn FFA collected, cleaned and donated more than 1,400 eggs to the Hawkeye Area Community Action Program (HACAP), a non-profit that provides food and resources to about 180 local food banks and other community service organizations.
"Because of their donations, we've been able to make a bigger impact on the community," said HACAP Communications Manager Chris Ackman. "It's really a win-win for everyone. The students get the experience of raising and caring for the animals, and we get fresh eggs to distribute out to our food pantries."
In addition to the egg collection, North Linn ag students also raised an Angus steer to market weight, worked with a local locker to process it into ground beef, and donated that meat to HACAP as well.
Lessons learned
Thanks to their work, North Linn FFA members now have a valuable perspective on community service and their own ability to help others.
"I'm not taking anything for granted anymore," said Dylan Dudley, a junior at North Linn High School. "I'll never forget during the derecho how the community really came together to help. My brother and his wife live in Cedar Rapids and had a tree fall on his house. It was nice to see neighbors come out and help, everyone pitching in."
Shortly after the derecho hit, Mercy Chefs set up in Cedar Rapids to distribute hot meals. The organization travels to dis­aster zones and then works with local volunteers to get food out to anyone who needs it.
North Linn FFA members jumped in right away, helping prep more than 3,000 meals a day. "Even though (the derecho) was a terrible event, it was really cool to see people come together to help each other," said North Linn junior Taylor Munson.
Helping in many ways
Early on in the pandemic, Iowa Gov. Kim Reynolds asked high school students to step up to help their communities. FFA chapters led the charge in many places to provide funds, volunteers and other resources.
"FFA chapter partnerships with the local community vary greatly across the state," noted Scott Johnson, executive director of the Iowa FFA Association. "This variance exists because communities vary greatly in who they are and what they do. We are grateful for our local leaders who strive to build strong relationships among the FFA chapter, the school system and local communities."
In Stuart, West Central Valley FFA members were scrambling to help their area food pantry.
"In April, our local food pantry was low on meat products," said Molly Dolch, agriscience instructor at West Central Valley High School and a past member of the Iowa Farm Bureau Young Farmer Advisory Committee. The chapter worked with a local cattle farmer to have an animal processed. "We were able to coordinate the cost of processing and have the entire lot of hamburger donated to the food pantry," Dolch said.
This donation helped fill the need for high quality animal protein in Stuart while other processing and donation activities slowed or shut down.
Want more news on this topic? Farm Bureau members may subscribe for a free email news service, featuring the farm and rural topics that interest them most!