Young farmers ready to work through tougher environment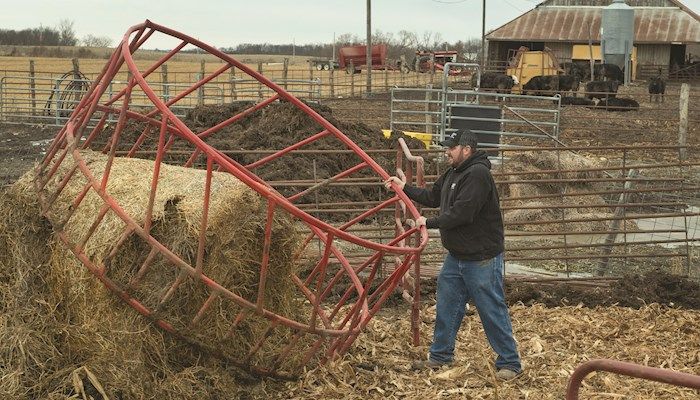 Many young Iowans got their start in farming the last couple years when farm income was record high. And now that crop prices have dropped, young farmers say they're watching input costs and cutting back on non-essential expenses.
As a fifth-generation farmer, Kevin Schmidt of Osceola County said he is following his grandfather's advice on how to withstand the current market downturn.
"We've always been a very frugal farm," said Schmidt, who grows row crops and raises hogs and cattle near Ocheyedan. "My grandpa is 91 and still lives on the farm, so he is always like, 'Don't be spending money.'"
"You just have to be very aware of where your money goes," added Schmidt's wife, Danika. "It's hard, but there are always ups and downs to agriculture."
The Schmidts joined other young farm families in learning about the market outlook, ag financial strategies, farm transition planning and more at the 2016 Iowa Farm Bureau Young Farmer Conference Jan. 29-30 in Des Moines.
The annual conference, org­anized by the Iowa Farm Bur­eau Young Farmer Advisory Com­mittee, once again attracted a record number of attendees.
More than 500 young farmers traveled from across the state, in the middle of winter, for the conference, an impressive jump from last year's attendance of just over 400 people.
Worth the time away
Even though it meant leaving their farms — and their livestock chores — for a weekend, the young farmers said it's worth the time to attend for the educational and networking opportunities.
Arthur and Jodi Campbell of Henry County said this was their second year participating in the Young Farmer Conference. The Campbells said they enjoy meeting other young farmers like themselves and getting the latest information from experts on farm succession planning, nitrogen management, livestock marketing and ag policy issues.
"There are a lot of interesting topics that you don't normally think about," Arthur said. "You learn a lot, and it's important."
"People, when you tell them you are going to a conference all weekend, it's not just, oh, it's a boring conference. It's actually stuff you can apply. It's actually hands-on that you can take home and be able to use," Jodi said.
The Schmidts said that meeting with farm succession experts at the young farmer conference convinced them to start making plans for when Kevin's dad decides to retire from the family farm.
"I'm always trying to improve on farm transition planning, so trying to find the best options and ideas for that. There are so many complex things that pop up that you never really know, so just trying to find new ideas and make it work," Kevin said.
Today, young farmers are also facing the challenge of how to adapt to the current low market prices for corn and soybeans.
Kevin said diversification into livestock production and a readiness to adopt new technology are helping his family weather the lower crop prices.
"The last couple years, we've invested in strip till so we can control some of our fertilizer (costs), and with the cattle, we use the manure for fertilizer," Kevin said. "We variable-rate fertilizer and seed to save expenses, and we've no-tilled for probably the last 15-20 years. There are quite a few things that my dad's gotten really good at. He's been an early adopter and has really pushed our farm to improve efficiency that way."
Scaling back
Aaron Mefferd, a corn and soybean grower from Pocahontas County, said young farmers are also scaling back on equipment purchases and keeping a close watch on the markets to adjust to the lower prices.
"You can't skimp on fertilizer and seed (because) all that stays the same price," Mefferd said. "As Dad would say, as a farmer, you've just got to be optimistic and hope it will get better as time goes. And it will."
Brad Cook, who also farms in Pocahontas County, agreed that he isn't cutting back on seed and fertilizer in response to lower crop prices.
"I'm not going to risk growing the best crop that I can just because of the prices," Cook said. "The biggest issue is many of these things are out of our control, like rent prices … You do scale back on some things, but a lot of it, you just can't."
Cook, a new Pocahontas County Farm Bureau board member, said he attended the young farmer conference for the first time this year as an introduction to Farm Bureau.
Young farmer focus
He said the conference and the county board meetings have raised his awareness of the many policy issues that young farmers face today and Farm Bureau's work as an advocate for farmers.
"The commitment that Farm Bureau makes to young farmers, that's kind of one of the things that I've had my eyes opened to since I've been on the board now," Cook said.
"And it's a neat thing to see all these other (young) people here involved in farming. It wouldn't matter what job it is, but when you can get together with your peers, it just pumps you up on what you've been doing. It just builds your pride up for being a farmer. It's a great feeling."
Want more news on this topic? Farm Bureau members may subscribe for a free email news service, featuring the farm and rural topics that interest them most!