Young Iowans and Kosovans bond through agriculture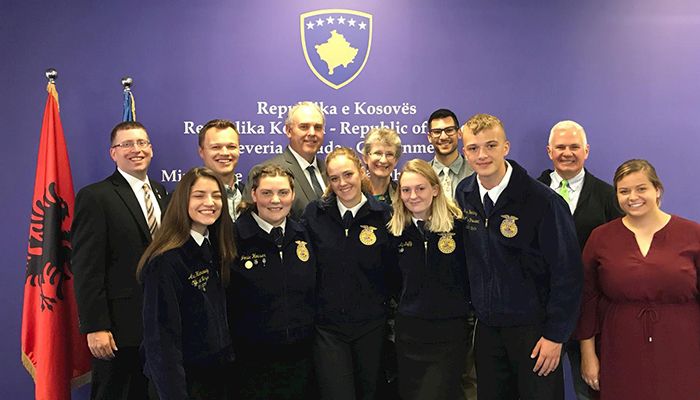 When I heard Iowa Farm Bureau is supporting a pilot project to bring together FFA students from Iowa and students from Kosovo in an agriculture exchange program, my initial thought was, "sounds cool." But as I began researching and asking more questions, I realized this particular project is more than "cool." Its impact on the young participants could very well change the future course of agriculture, both here and abroad.
Working with Iowa Sister States and Hawkeye Community College's Global Agriculture Center, Iowa FFA and Iowa Farm Bureau sent students and ag instructors from Oelwein, Union, Pleasantville, Independence and Waukee to Kosovo. This war-stricken area only gained its independence from Serbia a decade ago and is now seeking solid footing to stand on its own, but this is not without its challenges.
Kosovo is a "young" country, with a median age of 26 years old. However, the unemployment rate for this young population is 60 percent. The country is small, roughly the size of Delaware, and only 27 percent of that land is suitable for growing crops. The land that is productive does not look like the cropland here in Iowa (vast fields and fertile soil). Instead, Kosovo is home to small plots and only 15 percent of their soil used to grow a variety of foods like potatoes, berries, peppers, apples, melons and vine grapes, is considered "high quality."
As we know and proudly boast, Iowa is a powerhouse when it comes to agriculture. We're number one in corn, pigs and eggs, and many years you can also add soybeans to this list. One in five jobs in Iowa is tied to agriculture, and our state is also the second largest exporter of ag goods in the U.S. But in Kosovo, they're mainly trying to feed their own, and less than five percent of their jobs are attributed to ag.
Through this experience, Iowa youth who serve as our future leaders are seeing how some countries are trying to not only sustain a steady domestic food supply but create a thriving job market through agriculture. Here lies the opportunity for Iowans and Kosovans to learn from each other as they collaborate on a shared project they will present together at the Iowa FFA State Leadership Conference in April 2019. It could be on a variety of issues from how to create a pathway for jobs in agriculture for Kosovans; how to maximize crop production with limited land resources; how technologies can improve agriculture—the sky is the limit!
Isn't it incredible that young people from completely different parts of the world are collaborating and discussing solutions to real issues? They are leading the way by seeking the larger picture and by forging international relationships. I'm excited to see what they come up with next spring because they might not yet realize they are part of something bigger than themselves. In fact, I wonder how many of us could learn a thing or two from them?
Norman Borlaug once said, "There are no miracles in agricultural production." No, but there are invested, young Iowans who can hopefully take a simple seed of hope and grow it into a future for a recovering country. We should all be proud of our kids, who help nurture that seed!
By Caitlyn Lamm. Caitlyn is Iowa Farm Bureau's public relations specialist.
Want more news on this topic? Farm Bureau members may subscribe for a free email news service, featuring the farm and rural topics that interest them most!