USDA Seeking Comments on Conservation Stewardship Program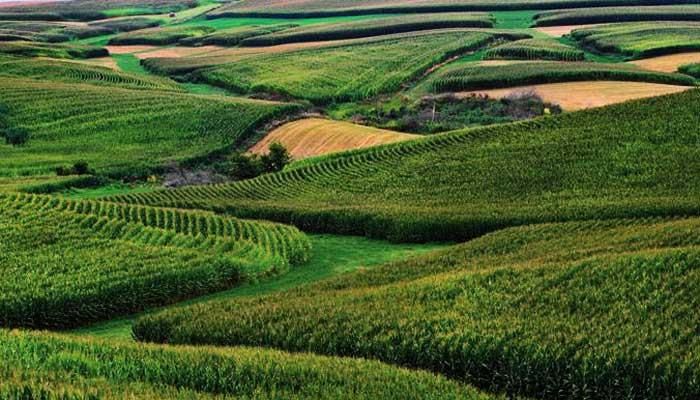 The USDA is now taking comments on a new interim rule for the Conservation Stewardship Program (CSP). Farmers have until January 13, 2020 to submit comments.
The 2018 farm bill made several changes to this critical conservation program, which helps agricultural producers take the conservation activities on their farm or ranch to the next level.
Applications for the program are accepted throughout the year. Producers may submit applications at their county NRCS office anytime to ensure their applications are considered for future periodic enrollments. The farm bill authorizes NRCS to accept new CSP enrollments until 2023, and it makes some important changes and expected improvements to the program.
In fiscal year 2019, the USDA Natural Resources Conservation Service signed 412 CSP contracts with Iowa producers on more than 118,000 acres totaling $16.3 million, compared with 499 contracts on 264,000 acres totaling $28.6 million the previous year.
An April edition of the American Farm Bureau's Market Intel reviewed changes made to CSP, EQIP and CSP Conservation Programs in the 2018 Farm Bill. These updates include:
NRCS now enrolls eligible, high ranking applications based on dollars rather than acres. For fiscal 2019, NRCS was able to spend up to $700 million in the program, which covered part of the cost for U.S. producers implementing new conservation activities and maintaining their existing activities.
Higher payment rates are now available for certain conservation activities, including cover crops and resource conserving crop rotations.
CSP now provides specific support for organic and for transitioning to organic production activities and a special grassland conservation initiative for certain producers who have maintained cropland base acres.
The program provides many benefits including increased crop yields, decreased inputs, wildlife habitat improvements and increased resilience to weather extremes. CSP is for working lands including cropland, pastureland, rangeland, nonindustrial private forest land and agricultural land under the jurisdiction of an Indian tribe.
Here are the additional changes required by the farm bill and those discretionary changes proposed by USDA for which the federal agency is seeking comment. Additional details can be found at this link. While the rule is already effective, comments can be filed online regarding proposed agency discretionary changes at this link. In addition, the USDA is seeking producer comments on how to make the program more effective and efficient. Rule changes are expected to be made at a later date after the comment deadline.
Statutory Changes Required by the 2018 Farm Bill
Converts CSP from an acre-based program to a funding-based program.
Authorizes that contracts expiring on or before December 31, 2019 may be granted a 1-year extension under the same terms and payments rates. Authorizes renewal of such contracts under the new CSP authority.
Defines new term of "conservation activities" and expands definition of "stewardship threshold."
Simplifies ranking criteria and requires that new contracts and contract renewals be ranked based on those criteria.
Authorizes that payment for cover crop activities be paid at not less than 125% of the annual payment amount and supplemental payments for resource conserving crop rotations and advanced grazing management systems will be not less than 150% of the annual payment amount.
Provides for a 1-time payment to participants who agree to develop a comprehensive conservation plan. The payment for this plan will be determined based on the number of priority resource concerns addressed and the number of types of land uses addressed in the plan.
Establishes a $200,000 payment limitation for individuals and legal entities for all contracts entered into through 2023.
Requires that states be given an allocation to support organic production based on the certified and transitioning organic operations and the organic acres of the state.
Establishes the new CSP Grassland Conservation Initiative (CSP-GCI) for assisting producers in protecting grazing land uses and waives several program requirements to facilitate enrollment under CSP-GCI. Requires that beginning in FY 2019, the Secretary shall provide a 1-time election to enroll eligible land in the initiative.
Requires that CSP be streamlined and aligned with the Environmental Quality Incentives Program (EQIP), including applications, contracting, conservation planning, conservation practices, and related administrative procedures.
Requires that to the greatest extent practicable, the program should be managed to enhance soil health.
Regulatory Changes (Mandatory) to Reflect Farm Bill Amendments
Removes regulatory language that addressed CSP implementation under the Regional Conservation Partnership Program (RCPP) since the 2018 Farm Bill removed the requirement that RCPP be implemented through CSP and the other "covered programs." (§1470.2(b))
Removes reference to acreage cap and dollar amount per acre limit (§1470.2(d))
Adds the following definitions to reflect statutory changes: advanced grazing management, comprehensive conservation plan, and management-intensive rotational grazing. (§1470.3)
Modifies existing terms to reflect changes in terminology, to more closely align CSP program administration with EQIP, and/or for clarity. (§1470.3): Modifies the definition of "veteran farmers or ranchers" to cite the statutory reference in the 2018 Act.
Clarifies "enhancement", "participant" and "stewardship threshold."
Adds a new paragraph to address state organic allocations which will be based on the number of organic and transitioning-to-organic operations in a State and the number of organic and transitioning-to-organic acres in a State. (§1470.4(b)
Requires that if two or more applications receive the same ranking, they be ranked on the extent to which actual and anticipated conservation benefits from each contract are provided at the lowest cost relative to other similarly beneficial offers. (§1470.24(c))
Adds advanced grazing management as another type of supplemental payment. (§1470.24(b))
Includes language for the one-time payment option for development of a comprehensive conservation plan. (§1470.24(c))
Payment limits: Maintains the statutory payment limitation and establishes a regulatory $200,000 contract limit for all contract participants, with the exception of formal joint operations. (§1470.24(g))
Incorporates language about opportunity for participants to renew their contracts in the first half of the fifth year of the 5-year contract. (§1470.26(a))
Adds a separate section outlining the requirements and parameters of CSP-GCI. (§1470.28)
Proposed Regulatory (Discretionary) Changes by USDA to Reflect Farm Bill Amendments
Modifies existing terms to reflect changes in terminology, to more closely align CSP program administration with EQIP, and/or for clarity. (§1470.3):

Modifies "eligible land" to include public land when the land is a working component of the participant's agricultural or forestry operation.

Specifies eligibility requirements for all applicants sharing in the risk and participating in day-to-day activities. (§1470.6(a))
Expanded the potential scope of bundles and provides NRCS with discretionary authority. (§1470.7(c))
Adds organic producers or producers transitioning to organic as a category of producer with a targeted ranking pool. (§1470.20(d))
Clarifies the annual payment structure and adjusted the timeframe for implementing the first conservation activity to align with EQIP. (§1470.24(a))

Adds language stating that, unless a waiver is granted, participants will not receive payment for conservation activities initiated or implemented prior to contract approval. (§1470.24(f))

Payment Limits:

Establishes a regulatory $400,000 contract limit for all joint operations. (§1470.24(h))

Adds language to allow for contract increases due to minor adjustments made to conservation activities at the discretion of NRCS. (§1470.25(c))

Removes the requirements associated with an operation crossing ranking pool boundaries to increase applicant flexibility. (§1470.20(d))

M

odifies language to provide greater consideration to a participant's circumstances with respect to operational changes. (§1470.25(b))

I

ncludes an eligibility restriction for renewal-eligible participants who choose not to renew in favor of competing for a new contract. (§1470.26(c))

Removes language related to training NRCS staff. (§1470.8(c))
Adjusts definitions to conform to those in other NRCS or Department regulations. (§1470.3)

Remove identification of the NRCS Chief as a Vice President of the Commodity Credit Corporation (§1470.2(a))

Modifies and simplifies language throughout the regulation to improve clarity, organization, readability, and to reduce duplicative information.
Want more news on this topic? Farm Bureau members may subscribe for a free email news service, featuring the farm and rural topics that interest them most!