Trump in Iowa extols advances in ag technology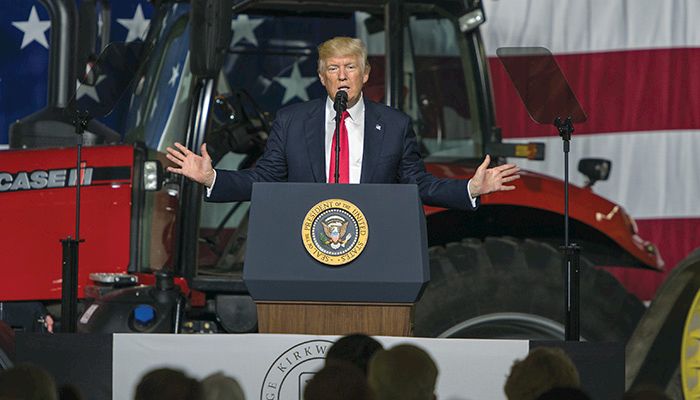 Investments in infrastructure, technology and training "will usher in a new era of prosperity of American agriculture and for the American farming family," President Donald Trump said last week at an agriculture-focused speech at Kirkwood Community College.
"Today, we embrace new technology that will power agriculture into the future," he said. "I know the future of agriculture has never looked brighter."
Trump said his $1 trillion infrastructure plan, including a mix of public and private investments, would rebuild schools, roads, highways and airports as well as extend enhanced broadband internet access to underserved areas of rural America.
"We will rebuild and grow American agriculture," said Trump. "We have to make sure American farmers have the infrastructure projects they need to compete and grow against world competition, because that's who you're up against."
His comments drew boisterous applause from the 250 farmers and agricultural industry leaders at the invitation-only Kirkwood speech, which preceded a larger rally in Cedar Rapids.
"It sounded good," said Jacob Handsaker, Iowa Farm Bureau Young Farmer Committee chairman, who was one of nine Iowa Farm Bureau leaders attending the speech. Handsaker raises crops and pigs in Hardin County and also owns an excavating business with his family. "Knowing that we've got someone at the top that's going to support us really brightens the outlook for all facets of agriculture and construction, and the American worker in general."
Iowa Farm Bureau President Craig Hill was among those greeting Trump upon his arrival at Kirkwood, which was part of a White House initiative to showcase the administration's commitment to technology investments. The delegation also included Ag­­riculture Secretary Sonny Perdue, Commerce Secretary Wilbur Ross and former Iowa Gov. Terry Branstad, who is the new U.S. ambassador to China.
"To think that the president of the United States, with that complete contingent, would come here and spend their valuable time talking about the future of agriculture was very impressive," said Hill, a Warren County crop and livestock farmer. "All of them together, celebrating technology in agriculture and the innovations that make us so productive."
The Kirkwood visit included a tour of the college's nationally-recognized precision agriculture facilities. Kirkwood's agricultural studies program, which has about 575 students enrolled, was recently ranked No. 1 in the nation based on the total number of agriculture degrees awarded by a two-year college.
Learning about ag
"I just learned more about agriculture than I ever thought I'd learn," said Trump. "We saw how today's farmers can adjust application rates of fertilizers in their fields with just the touch of a smartphone. They showed us how they use precision agriculture to produce crops more efficiently and for far less cost. They demonstrated how drones are used to gather data on crops and how simulators are used to train students in the next generation of farming equipment."
Training essential
The president said vocational and technology training is essential to helping farmers "compete and win on the world stage." He also noted that high-speed internet is as critical for rural areas as it is for cities.
"Wall Street wants it badly. Farmers do, too," Trump said.
The president also reaffirmed his support for ethanol, pledged to eliminate "job-killing regulations" and promised better trade deals that would level the playing field for U.S farmers.
"American farmers are the absolute best at what they do, and they can compete anywhere if they're given a level playing field," said Trump. "We're cracking down on foreign agriculture trading abuses. We've got the right people on our side, and the world is going to like us even better."
Branstad's work
Branstad's long relationship with top officials in China will help on trade issues with the world's second largest economy, Trump said, bringing the former Iowa governor on stage with him.
"His legacy will endure for a long, long time in this state," said Trump.
Branstad, meanwhile, praised the president for finalizing a deal that reopened U.S. beef exports to China, which had been blocked since 2003.
"We've been trying to get American beef into China for 13 years, and you've already got it done," Branstad proclaimed.
Health care, tax reform
Trump said his administration is also working on health care and tax reform, including eliminating the death tax, while heaping effusive praise on farmers and their "beautiful way of life" throughout the speech.
"It's a truly noble American profession," he said. "Our farmers' work ethic feeds America, and their toughness and grit defines America. They're tough, and they're smart."
Hill said health care is a pressing issue for many Iowa farmers with thousands of policy holders at risk of losing coverage unless reforms are made before the end of the year.
Health insurance providers an­­nounced earlier this year they will no longer offer individual policies in Iowa due to excessive costs.
"We need a fix for the Af­­fordable Care Act," said Hill. "We need a stopgap measure or a complete overhaul in order to protect our many thousands of farmers who will be without insurance Jan. 1."
Want more news on this topic? Farm Bureau members may subscribe for a free email news service, featuring the farm and rural topics that interest them most!