Tour provides insights on Kansas City ag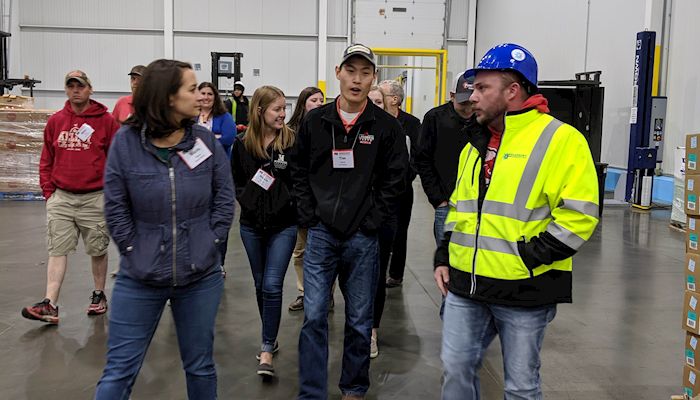 When crops come off the fields this fall, what becomes of the corn, soybeans and livestock products once they are sold and delivered?
At least a portion of those materials will end up in Kansas City at any number of shippers or processors visited last week by Iowa Farm Bureau's 2019 Young Farmer Ag Insight Tour.
A group of 16 young farmers from across the state set out in the rain June 21 for a quick two-day trip, which focused largely on the shipping and processing of ag products.
The trip included a tour of Logistics Park and the surrounding area that includes facilities for BSNF, DeLong Company and Coldpoint Logistics. The three companies represent vital components in the movement of ag products to market.
"It was really interesting to hear different perspectives from different parts of agriculture, from ag in large cities to the end products of corn and soybeans," said Nathan Meyers, a Boone County Farm Bureau member from Boone who traveled with his wife, Marla.
"The sheer volume of freight cars being shipped out of this BNSF railyard as well as DeLong is impressive," said Ellen Flickinger, a Hardin County Farm Bureau member from Hampton. "I knew it was massive, but just being able to see it and put it in relatable terms when you stack the cars side-by-side, the mass amount we're shipping from the heartland is amazing."
Moving freight
At BNSF, the group watched as dozens of freight containers were stacked two high on rail cars heading primarily to the West Coast for shipping overseas. The facility features four, six-stor­y-tall cranes that straddle the tracks, lifting and loading each container like a child building a stack of toy bricks.
In total, at the Kansas City facility, BNSF moves about 420,000 freight cars each year.
Almost anything could ride in these freight cars, but many contain soybeans and dry distillers grains loaded just outside the BNSF gate by DeLong Co.
Delong is the fifth largest container shipper in the U.S. today. At its Kansas City elevator, the company loads semi-length containers, one after another, with beans and grains.
"It was interesting to see products being loaded," said Carla Dorale, a Crawford County Farm Bureau member from Charter Oak who traveled with her husband, Adam. "You see the trains go by, but you don't really think about it. Now I've seen what the train operators do day to day."
Shipping grains is complicated, but moving frozen meat from the Midwest to Asia is a whole other deal entirely.
Coldpoint Logistics, also located adjacent to the BNSF railyard, freezes, stores and ships meat and other perishable food products — such as vegetable-base margarine — in temperature-controlled freight cars across the country and to Asia.
Adam Nordblad, Coldpoint as­­sist­­ant general manager, gave the group a tour of the company's facility, leading visitors through increasingly cold storage rooms until arriving at the two-story-tall blast freezer. The giant freezer is so cold, it can take fresh beef from a live temperature to zero degrees F in 24 hours.
"Essentially, our business mod­­el is to store and ship products. We don't produce the products ourselves," Nordblad said.
Tariff impacts
"What sticks with me from the visit was discussion and information on tariffs," said Kaitlin Ihns, a Cedar County Farm Bureau member from Wilton. "At ColdPoint ... , they said that trade disputes weren't directly affecting their business, or at least not to the extent that you'd think it would."
In fact, according to the tour, ColdPoint is shipping greater volumes of product to China than it ever has. The facility opened in 2017 with a planned four phase, five-year build schedule. But increases in business have forced that timeline to speed up. The company will be done with its fourth phase next year, well ahead of schedule.
Before leaving Kansas City, the group heard a presentation on corn processing at Ingredion. The company makes sweeteners, starches, nutrition ingredients and biomaterials that are used by customers in everyday products from foods and beverages to paper and pharmaceuticals.
"You don't realize how much we use these products in our everyday lives," Nathan Meyers said. "Not a lot of our consumers know that either. I was really interested to hear from Ingredion and how they use corn and rice and other products that farmers produce in the United States."
Other stops on the tour included two urban agriculture facilities run by Cultivate Kansas City and the Roasterie, a Kansas City-based coffee maker founded by Iowa native and Iowa State University grad Danny O'Neill.
"I thought the trip was great," Marla Meyers concluded. "The diversity in the stops this year was really wonderful."
Nathan Meyers agreed: "I think we're both glad we came. It gave us the chance to meet new people and see a different part of the country."
Want more news on this topic? Farm Bureau members may subscribe for a free email news service, featuring the farm and rural topics that interest them most!