Three surprising ways trees benefit Iowa's landscape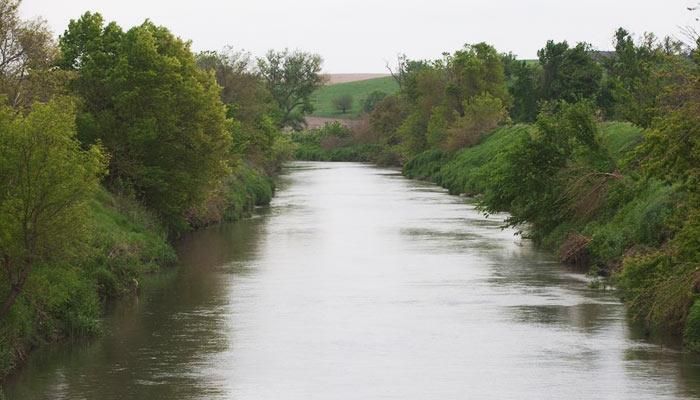 With Arbor Day approaching on April 27, it got me thinking about the true beauty trees bring to Iowa's rural landscape. They provide our state parks and favorite fishing spots with a lush cover for outdoor lovers to enjoy, but trees serve a purpose, no matter where they're planted.
There are tall trees the tallest one in Iowa being a 140-foot eastern white pine at the White Pine Hollow State Preserve. And, there are trees that are standouts because of their unique history, like the tree in the middle of the road or the "Plow in the Oak", both found in Audubon County.
But for farmers, trees aren't just beautiful, they're essential.
When planted properly and taken care of, trees serve three essential roles, which go far beyond the need for shade or 'curb appeal' which may be the first thing that comes to mind for urban dwellers.
1. They're beneficial for livestock. Trees can provide cattle with a shaded canopy where they can relax and cool off during the hot summer months. And on hog farms, trees can help reduce energy costs because they reduce high winds and snow buildup near a barn's air fans. And there's more….
2. Trees are natural air filters. According to an Iowa State University study, when trees are planted in the right place, they can decrease downwind odors on hog farms by up to 15 percent. Tree plantings on livestock farms has become so popular, that the Coalition to Support Iowa's Farmers (CSIF) offers the Green Farmstead Partnership Program, to help livestock farmers plan for and plant these "natural filters." The Green Farmstead program also helps farmers improve neighbor relations, because they realize that trees create a pleasing "visual screening" of their barn, making a fast-growing hybrid willows a popular option on livestock farms! Since the partnership's inception in 2009, 150 Iowa farm families have partnered with Trees Forever and the Iowa Nursery and Landscape Association to plant trees that meets their farm's goals.
3. Trees also work on farms to promote water quality. Many farmers today are planting trees to create a "riparian" buffer strip, a heavily vegetated area along a stream bank. These strips can catch potential nutrients before they reach water sources, plus they provide a nice habitat for wildlife.
During Arbor Day, both urban and rural-living Iowans should take time to appreciate the contributions and many purposes of trees in rural Iowa. As a soon-to-be new mom, I hope my son's childhood will be filled with memories of exploring our state parks, catching his first fish along a tree-lined stream and being pushed on the tire swing at his papa's farm. Yes, trees are there for us all, but not just on Arbor Day—but year-round.
By Caitlyn Lamm. Caitlyn is Iowa Farm Bureau's Public Relations Specialist.
Want more news on this topic? Farm Bureau members may subscribe for a free email news service, featuring the farm and rural topics that interest them most!